Gmail users voiced some concern this week over a strange email informing them that their "rights may be affected." However, the email is actually a message about a Google Plus lawsuit settlement.
The email, which has a subject line of "Notice of Class Action Settlement re Google Plus," had some people convinced that they'd been targeted by hackers.
Those who had accounts on the Google Plus social network prior to it being shutdown, the email states, could be eligible for a "cash payment."
"You are not being sued," the email, purportedly from Google, sternly begins. "This notice affects your rights. Please read it carefully."
Users were also suspicious over the web address included in the email: GooglePlusDataLitigation.com. To make matters worse, the website crashed soon after the email went out, according to 9to5Google, further convincing users that the claims were fraudulent.
So what's the deal with the email anyway?
It turns out the email isn't a scam. Google confirmed the legitimacy of the email on Wednesday, according to Fast Company.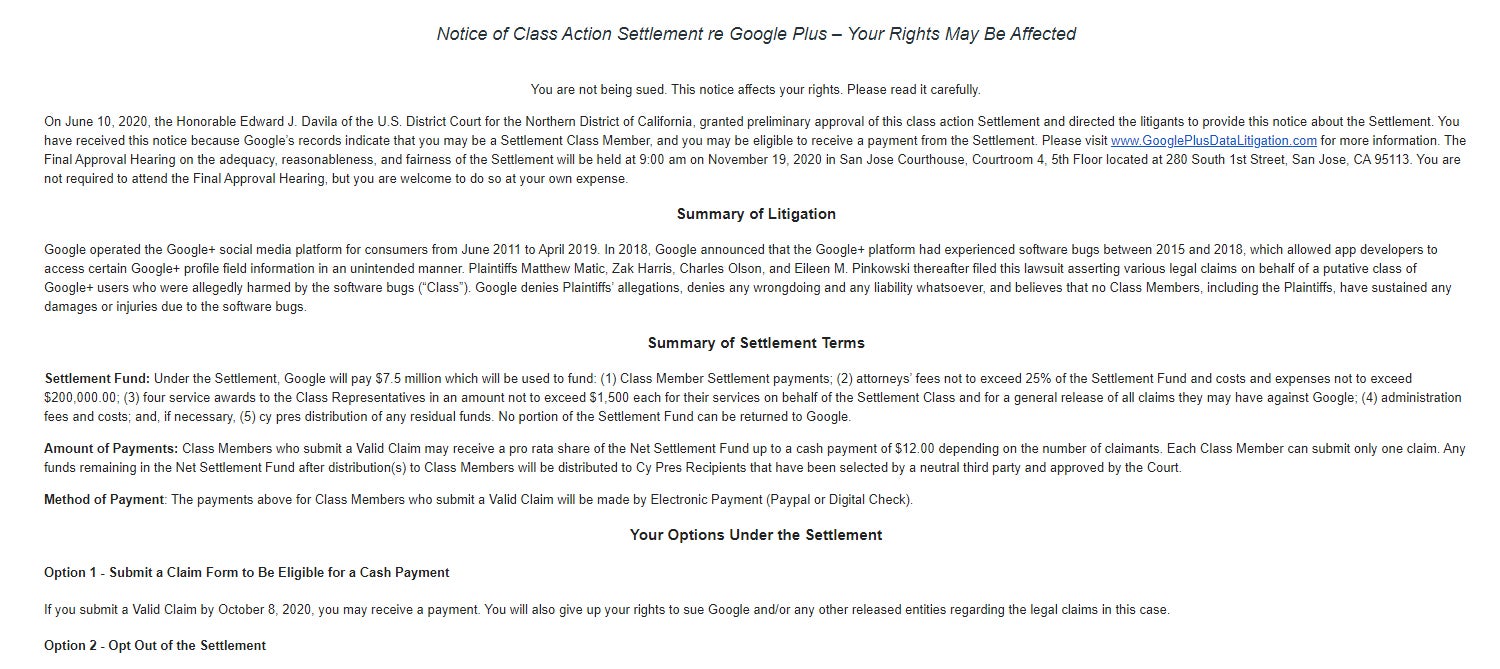 Back in 2018, a class action lawsuit was filed against the company after it was discovered that the private data of hundreds of thousands of Google Plus users had been exposed. And even though Google knew, the company opted to hide the revelation from the public, according to a Wall Street Journal report at the time.
Well, that lawsuit was settled this year for a meager $7.5 million. As stated in the email, users are eligible for up to $12 as part of the settlement.
And although the site linked in the email is run by a third-party company, Google also confirmed that it is the official site for the settlement.
The email defines those who are part of the settlement class as "all persons within the United States who (a) had a consumer Google+ account for any period of time between January 1, 2015 and April 2, 2019, and (2) had their non-public Profile Information exposed as a result of the software bugs Google announced on October 8, 2018 and December 10, 2018."
Google Plus was shuttered in 2019.
Those interested in filing a claim and collecting a few dollars have until October 8. By doing so, however, you waive your right to future litigation in the case.
READ MORE:
H/T Fast Company