Googling something to find an answer is second nature for many people. Which guy was in that movie? What time the does the train run? How do you spell the word "instantaneously"? Google knows. It also knows what's in that pizza you're eating. 
Last year, Google quietly debuted a tool for easy, quick nutritional comparison, a way to help people make healthier food choices. Google didn't do much to publicize the tool, which came out in May 2013, so it's not a well-known feature. It's easy to use, though: if you want to compare nutritional facts between two food items, just type in "compare x and x" and a handy chart will pop up with relevant nutritional information culled from the U.S. Department of Agriculture's National Nutritional Database.
Here are a few examples
: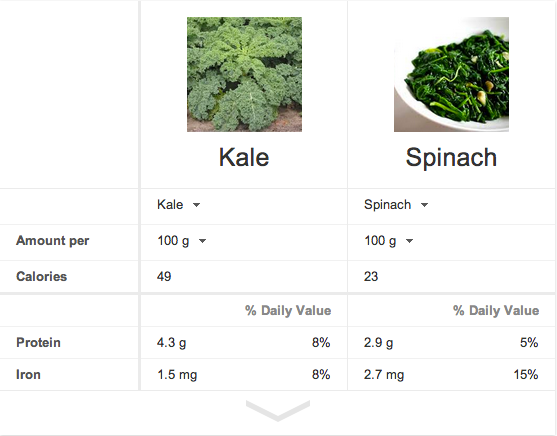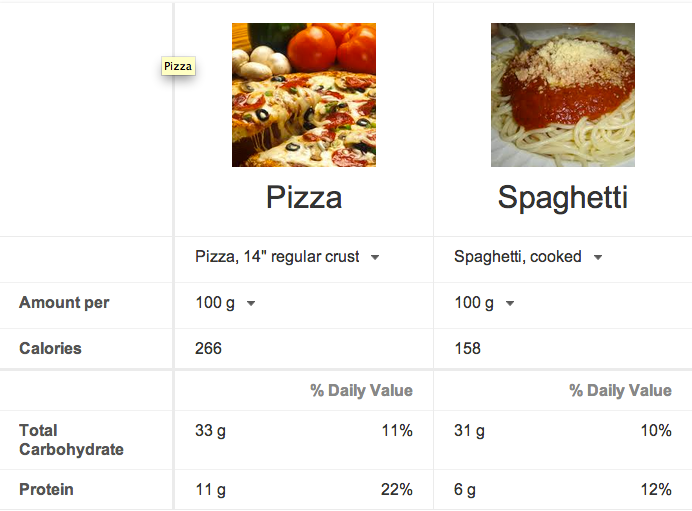 Redditors unearthed the little-known service, and NPR recently talked to Google spokeswoman Krisztina Radosavljevic-Szilagyi about it.
"We noticed that people were doing a lot of food and nutrition searches—multi-step searches on one food and another food," Radosavljevic-Szilagyi told NPR's The Salt blog. "These things are often compared to one another, so we thought, why don't we make it easy?"
So you can play "Eat this, not that" with food items using Google. Unfortunately there's no break down by brand, so you can't compare a McDonald's Big Mac with a Burger King Whopper, for example. Perhaps that'll be the nice quiet update. 
H/T NPR | Photo via Flickr/Thebusybrain (CC BY 2.0)