Google Glass (at least in concept) is supposed to decluter our digital interactions; the whole idea is to stop us from looking down at the phone in our hand and get us to engage with the world and our device at the same time. However, a new study from the University of Central Florida finds that Glass is far from an anti-distraction panacea.
The UCF study took 40 young people and put them in a car simulator where they would have to brake sharply in response to the car ahead of them doing the same. 
"Researchers compared text-messaging participants' reactions on each device to times when they were just driving without multitasking," the UCF news article explains. "Those using Glass were no better at hitting their brakes in time, but after their close call returned to driving normally more quickly."
UCF research engineer Ben Sawyer, who led the study, said, "While Glass-using drivers demonstrated some areas of improved performance in recovering from the brake event, the device did not improve their response to the event itself."
Many states are weighing whether to update their distracted-driving legislation to account for new technological realities. In February, as eight states considered such laws, Google sent lobbiysts to state capitals to argue against the bans.
The states considering Google Glass regulations are Maryland, New York, Illinois, Delaware, Missouri, New Jersey Wyoming, and West Virginia.
In a statement to Reuters, Google said, "While Glass is currently in the hands of a small group of Explorers, we find that when people try it for themselves they better understand the underlying principle that it's not meant to distract but rather connect people more with the world around them."
The Google Glass FAQ warns customers to stay alert while wearing their headsets. "Most states have passed laws limiting the use of mobile devices while driving any motor vehicle," the page says. "Even when you're following the law, don't hurt yourself or others by failing to pay attention to the road. The same goes for bicycling: whether or not any laws limit your use of Glass, always be careful."
Sawyer, who worked with UCF's Minds in Technology (MIT2) Laboratory and the Air Force Research Laboratory on the study, noted that multitasking, no matter the platform, was the biggest predictor of a delayed response to an abrupt stimulus.
"Messaging with either device negatively impacted driving performance," Sawyer said. "Compared to those just driving, multitaskers reacted more slowly, preserved less headway during the brake event, and subsequently adopted greater following distances."
The study did not find that Google Glass led to worse performance in the test, just that it produced a similar lag in response time.
Indeed, Glass produced marginal benefits in one secondary facet of the study: Glass users recovered from the abrupt braking incident more quickly than smartphone texters. And with the proliferation of comparable HUD technology being built into many new vehicles on the market, it feels like a debate over the use of wearables while driving is brewing.
In fact the Daily Dot's Taylor Hatmaker, who used Google Glass regularly, calls it "perfect for driving." 
"With Glass giving me directions I didn't have to take my eyes off of the road, ever," she says. "It completely does away with the temptation to glance over away from the road when you hear a notification, since it brings that information right to you without interrupting your concentration."
Drivers using Google Glass also benefit from its built-in directions app, which eliminates the need to glance over at a GPS unit just as it does the need to check a smartphone screen for a text message.
"The navigation features were awesome and intuitive," Hatmaker said, "assuming you weren't out driving in the wilderness somewhere where you'd lose the connection."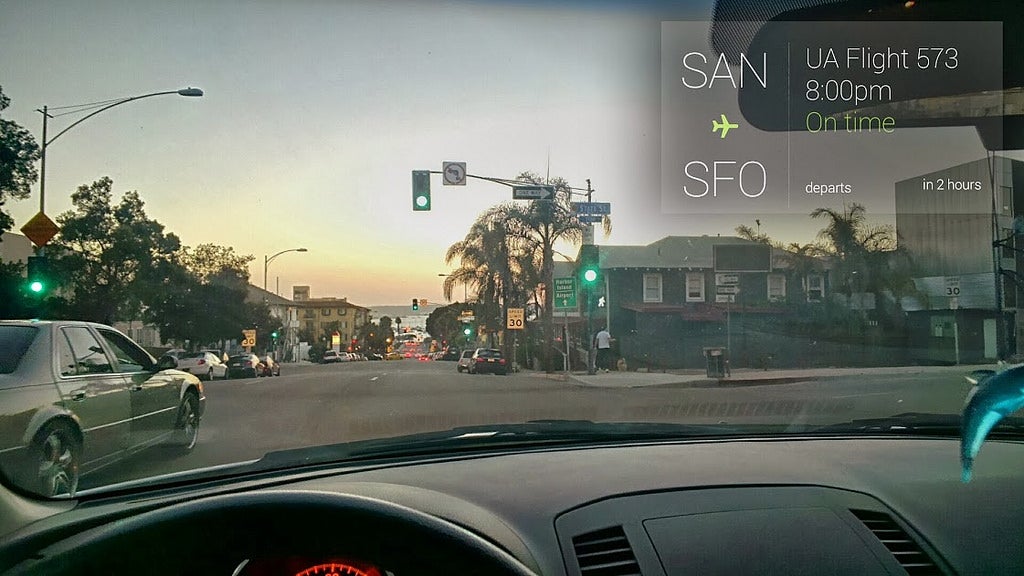 Photo via Richard Masoner/Cyclelicious/Flickr (CC BY-SA 2.0)
The UCF study points to a concerning trend in society generally—the use of technology in situations where it is risky—but its findings reinforce the fact that Google Glass itself is not a more serious threat than other devices that many states already regulate on the roads.
"People who haven't used Glass don't believe it's that much safer 'til they try it out and then they get how uninterruptive" it is, Hatmaker explains.
Sawyer, from the UCF research team, said, "We hope that Glass points the way to technology that can help deliver information with minimal risk."
H/T iDigitalTimes | Photo via Ted Eytan/Flickr (CC BY-SA 2.0)