Google Earth just got overhauled in time for Earth Day, and its new features will make you want to spend hours navigating a virtual version of our planet. You can now do that without having to download and open a separate app. Google added Chrome browser support to its virtual globe program—making it as simple to launch as Maps.
Not only is it much faster than previous versions, but it's also a lot prettier. The first major update in two years adds 3D maps for select locations. Those areas load with an impressive amount of detail and an added layer of depth that traditional satellite images fail to capture.
Here are two examples.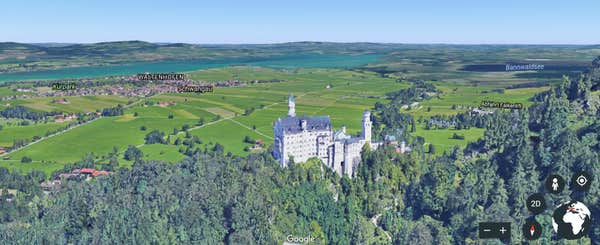 First up is Neuschwanstein (the inspiration of Disney's Sleeping Beauty Castle), a gorgeous castle nestled in the mountains on the edge of the German Alps. The 3D rendering captures the detailed structure in the foreground, and the picturesque town of Schwangau in the background.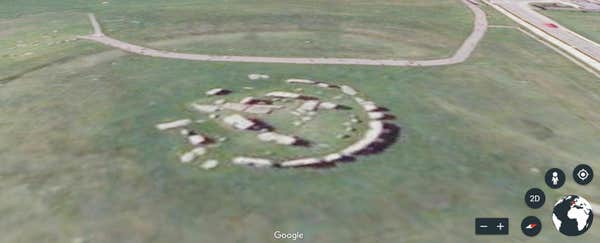 Now here is an image of Stonehedge, which clearly hasn't been given the same treatment.
We had pretty good luck finding 3D renderings for major travel destinations, like Mount Everest, the Grand Canyon, and Statue of Liberty. It's a visual improvement that will make you want to dive back into Google Earth and spend the rest of your day discovering new places. The quality of the image will depend a lot on your internet connection so keep that in mind while you navigate the urban jungle of New York City.
Other new features include Voyager, which gives you an interactive guided tour of areas complete with street images, photos, and 360-degree video. There are more than 50 Voyages available now, including one on Mayan culture, national parks, and the Galápagos Islands.
Google retains its popular Street View feature, but adds "I'm feeling lucky," which transports you to a random designation with interesting additional information. That info is usually provided on Google's Knowledge Cards, which you'll be familiar with if you've ever used Maps.
All of these changes can be experienced at earth.google.com or on the Android app. iOS users will have to wait for the update to roll out soon.