The large, bold text at the top of GoFundMe's website reads, "Crowdfunding for Everyone!" And that's true, provided you don't work in the adult industry, promote the legalization of marijuana, use profanity, support euthanasia, support a woman's right to choose, or practice witchcraft.
Following a slew of likely unwanted media attention, the fundraising site, responsible for raising upwards of $450 million, has decided to specifically ban campaigns related to a number of topics. While most of the items no longer permitted on the website seem perfectly obvious—you can't raise money to build your own Breaking Bad–replica meth lab, sorry—others run on the more benign side of the First Amendment. There's an unmistakable difference, for instance, between asking for money to buy marijuana and supporting a campaign to decriminalize it. 
But according to GoFundMe's new guidelines, "content associated with or relating to" marijuana is off-limits. Likewise, anything that's "sexually suggestive" is banned. That could easily apply to numerous forms of literature and art. "Treasonous behavior" is also not cool. (Sorry, Guy Fawkes fans.)
A press release, issued by GoFundMe on Tuesday, reads: 
While the vast majority of fundraising activity we see is both heartwarming and inspiring, there will always be those who attempt to challenge GoFundMe's existing Acceptable Use Policy. In an effort to foster the most positive environment possible, today we're releasing a detailed list of subject matter that is not permitted on GoFundMe.
The company goes on to say its new guidelines are to "ensure a positive experience for all visitors." (The visitors who don't enjoy drinking, swearing, or having sex.)
Being a private company, it's GoFundMe's prerogative to decide what kinds of content it wishes to promote. Until now, however, those decisions have been made solely in response to campaigns that receive large numbers of complaints. 
Last week, a crowdfunding page started by an Illinois woman seeking an abortion was removed from the site. In an email obtained by the Daily Dot, a "Customer Happiness" representative told the 23-year-old, "In this particular case, your campaign contains subject matter that GoFundMe would rather not be associated with." The company later agreed to forward the donations after a press inquiry and several pro-choice groups responded with emails. 
Abortion, and anything "associated with or relating to" it, is now restricted. At time of writing, however, there were still dozens of anti-abortion campaigns running, some of which were specifically raising money to pay for so-called "community outreach" events outside women's health clinics. At present, it's unclear if the ban will be applied retroactively or even strictly enforced.
Recently, supporters of Darren Wilson, the Ferguson, Mo., police officer who shot and killed 18-year-old Michael Brown, used the website to raise over $235,000. The new guidelines could possibly have led the company to shut down that controversial campaign. The terms ban criminal charges related to heinous crime; content relating to criminal acts; and criminal defense funds relating to violent acts. (Officer Wilson, however, has not been charged with a crime.) A separate page, which raised up to $7,300 for a police officer accused of sexually assaulting at least eight women, was shut down last Thursday before the new guidelines were published.
Yes, sorcery made the "no" list, but it was mentioned alongside "unexplained sciences or absurd claims." Logically, this rule could eliminate campaigns opposing evolution or climate change. But we hope the people trying to send 14-year-old Josh to "the real-world Hogwarts" haven't woken up to a cancellation email.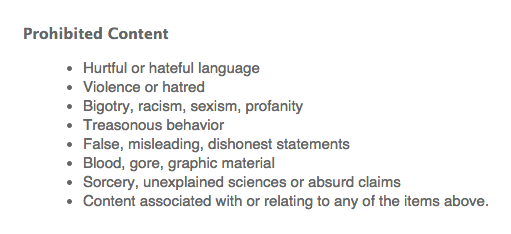 According to the company's statement, GoFundMe will continue reviewing campaigns on an individual basis. "While these guidelines may not cover every unique scenario, GoFundMe will always review questionable campaigns on a case-by-case basis and take appropriate action where necessary," it said. 
Update 9/11/14: GoFundMe has responded to a request for comment regarding its acceptable-use policy. The last sentence seems to contradict the company's actual written acceptable-use policy, which quite clearly states that content associated with or elating to abortion is not allowed on its website.
The purpose of our Acceptable Use Policy is to set standards that help ensure GoFundMe will be used in appropriate and impactful ways that are suitable for all audiences.

 

GoFundMe's policies exist to protect our brand from certain materials and subject matter whose proponents span the political spectrum. For example, GoFundMe may not be used to fund an abortion or to purchase firearms.

 

As part of the revised Acceptable Use Policy, we will review the specific purpose of a given fundraising campaign in order to arrive at a decision that is best for the GoFundMe brand and community. At this time, GoFundMe makes no distinction and places no restrictions on a pro-life or pro-choice group's ability to fundraise for rallies or protests.
Photo via 401(k)2013/Flickr (CC BY 2.0)