George Santos, a Republican who ran unsuccessfully for the New York's 3rd District seat, says his pharmacist fiancé was fired after they rang in the New Year at Mar-a-Lago.
Santos is now casting blame on the New York Times after it reported on his Instagram posts that showed them at the party.
"My fiancé & I had to leave our home this evening with our 4 dogs thanks to the @nytimes publishing of my Instagram showing me attending the #MarALago New Year's Eve party. My fiancé a pharmacist who worked 12h/7days shifts for 9 months was fired! The violence against us is real," Santos tweeted on Jan. 2.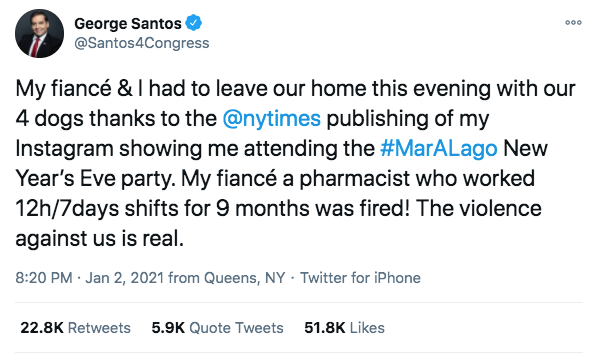 The event, which featured musical performances by the Beach Boys and Vanilla Ice, was mocked online and denounced as a potential super-speader event.
Many pointed out that Santos himself posted his and his fiancé's attendance at the New Year's Eve event to his verified social media accounts, where he boasts thousands of followers, and are confused as to how the New York Times is responsible for the repercussions his fiancé faced.
"Dude, you put images of yourselves on Instagram, partying at a maskless, tone-deaf super-spreader event. Fun fact: social media is accessible to the public, and it's fair game for reporters amplifying it," one user pointed out.
"That's not violence. Those are consequences for being a dumbfuck maskless at a party while your fiancé works with the public giving medicine and you represent your district. Fuck off," Tony Posnanski tweeted.
Others shared similar sentiments.
"Weird someone working 24/7 as a healthcare pro would attend an indoor event without a mask. Seems like a good reason to find a new profession," Joe Lockhart tweeted.
Santos' tweet even made its way to the popular "byebyejob" subreddit, where redditors likewise criticized the healthcare worker for attending a maskless event during a pandemic and are pointing out just how nonsensical the tweet is.
"*Posts a pic of him doing something reprehensible….blames a newspaper for the public reacting to his actions * YUP. Makes perfect sense to me!" one user sarcastically wrote.
"The pharmacist, who so gladly attended without a mask, is also a healthcare worker who doesn't give a shit about the health of his patients/patrons. Good riddance," another said.
Santos also took aim at the newspaper on Instagram. "@Nytimes you have exposed my family to danger and have striped (sic) one of us of our livelihood! This is unAmerican," he wrote, according to the Daily Mail.
It remains unclear why the couple felt like they had to leave their home.
Santos plans to run again for New York's 3rd District in 2022.
---
Read more of the Daily Dot's tech and politics coverage