Rep. Matt Gaetz (R-Fl.) has it on good authority that the president doesn't mean the things he says.
Like his Republican colleagues, Gaetz spent the morning trying to discredit former Special Counsel Robert Mueller during his testimony before the House Judiciary Committee.
Even as he was getting dragged on social media for lobbing an assortment of unsubstantiated conspiracy theories at Mueller, Gaetz, in his quasi-official role as GOP millennial, also had his Twitter admin furiously tweeting clips from the hearing itself and the many, many interviews he did in the run-up to it.
The most interesting was Gaetz's interview with VICE News.
The President will often set out an idea and state that it is his view, and he does that as a straw man so people can debate with him so a decision can come out of that discourse. The President did not fire Mueller. #MuellerHearings pic.twitter.com/rNvCkNngKF

— Rep. Matt Gaetz (@RepMattGaetz) July 24, 2019
The clip begins with Elle Reeve asking whether Trump was "speaking in hyperbole when he said, 'Go fire Mueller.'"
Gaetz's response: "Yeah actually. No, he was."
Gaetz, who was not present when Trump told then-White House counsel Don McGahn to fire the man investigating his campaign, launches into a convoluted explanation about why he knows Trump didn't mean what he said.
"Like, what the president was doing there, in my, based on my frequent discussions with the president: He will set out an idea and state that it is his view and he does that as a straw man," Gaetz says.
This, according to the man whose Twitter bio boasts that Trump says he is "handsome," is to encourage debate so that a decision may be reached.
"It's not a lie. When he says, 'Well I think we oughta fire Mueller.' What he's doing is trying to vet out the arguments," Gaetz continues, adding for extra credit, "And, by the way, I think he should've fired Mueller."
Most who responded to the clip were less than impressed.
It would be nice if you applied all this effort to represent your constituents rather than carry water for Trump.

— Mission Critical (@EarthConcepts) July 24, 2019
He attempted to fire him Mueller but Mcgahn refused that order from Trump. Doesn't matter if the action was carried out, that IS obstruction of justice when you try to get rid of someone investigating you!

— Lisa❄️ (@LiLesah) July 24, 2019
https://twitter.com/JerrickXavier/status/1154035301859414017?s=20
Had the first American to get slushied read the Mueller report, Gaetz would know that the report actually says that Trump ordered McGahn to fire the special counsel. Not that he floated the idea, or said, hey, maybe we oughta, but that he made a direct order to his subordinate, who refused to carry it out.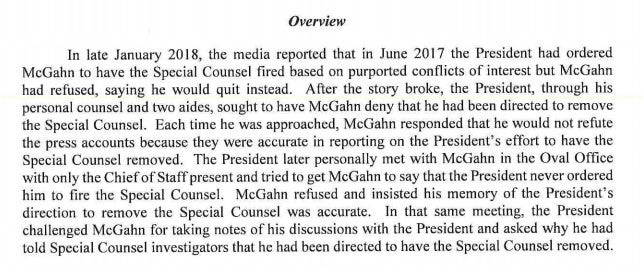 But wait, there's more.
When first the New York Times then the Washington Post reported the attempted firing, Trump repeatedly tried to force McGahn to dispute the stories and to write an official letter to this effect for their files. McGahn refused. In response, Trump, according to the report, told then-White House Staff Secretary Rob Porter "something to the effect of, 'If he doesn't write a letter, then maybe I'll have to get rid of him.'"
If you ask Gaetz, Trump didn't mean any of that.
READ MORE: 
Got five minutes? We'd love to hear from you. Help shape our journalism and be entered to win an Amazon gift card by filling out our 2019 reader survey.