There's a glaring void in the greeting card aisle, and it's one that a Florida Assistant State Attorney is hoping to correct. How do you wish those special "crack hoes" in your life a happy Mother's Day? Thanks to Kenneth Lewis, you don't have to spend hours pondering the right words.
Lewis, one of the state's top prosecutors, posted the following to his personal Facebook page, which is open for public viewing, on Mother's Day: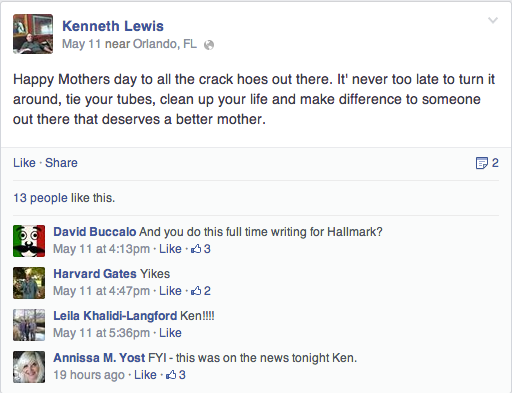 Photo via: Facebook
Though the comment section on the status doesn't reflect it, Lewis is facing a wave of backlash the insensitive remarks. Suprisingly, he likely won't be battling any repurcusions at work. WFTV's Mario Boone reached out to Lewis's boss, Ninth Circuit State Attorney Jeffrey Ashton, for a response: 
I have been made aware of certain statements attributed to Assistant State Attorney Kenneth Lewis on social media.  I do not agree with the political sentiments expressed by him and I find some of the words he chose to be both offensive and dehumanizing. Political speech is protected by the first amendment of the United States Constitution and I do not police the private thoughts, views or expressions of those in my employ.
Many found the response to be disappointing, especially considering Lewis' roll as a prominent prosecutor who is paid tax dollars to provide a fair and just trial to criminal defedants and victims. Channel 9 news spoke with those outraged by Lewis's comments, including Nichol Rolle, who was born crack-addicted and given up for adoption at age 2. 
When reached for comment about his remarks, Lewis told WFTV he was too busy preparing for a case for an interview. He did confirm that the post was his, saying "It's an inspirational message to do the right thing."
In the days following, Lewis posted again on his personal facebook page about how free speech has come underfire. First, with a post decrying the suspension of Miami Dolphins Don Jones for his reaction on Twitter to Michael Sam's kiss. Then, he posted this comment with a link to a USAToday piece about the cost of free speech when it comes to Don Jones and Donald Sterling:
Remember the last regime that told you how you have to think and that punished you for thinking in a way that was different from "the mob"? That mob was called the SS and that place was Nazi Germany. The results weren't pretty there and they won't be pretty here. The Land of the Free in the National Anthem should be changed to the land of the spied on and land of the politically correct according to the left.