A family-owned brewery caught up in the anti-LGBTQ hysteria sweeping the nation has officially closed its doors. Far-right figures are taking credit for forcing them out of business.
Over the last year, right-wing extremists have become increasingly obsessed with transgender people and drag shows. They've likened LGBTQ people and drag performers to groomers, a slur for the way pedophiles prey on their victims. The rise of homophobia and transphobia has correlated with bomb and death threats against schools, hospitals, and individuals who've been targeted by online influencers for abuse and harassment.
Drag shows and story hours where children are present have been one of the main events targeted by the far-right.
Hix Farm Brewery in Cookeville, Tennessee found itself in the maelstrom of hate earlier this year.
On a grey January day, a group of masked protesters carrying Nazi flags and signs emblazoned with messages about "grooming" lined up on the street across from the brewery while it hosted a drag show hosted by local nonprofit Upper Cumberland Pride.
Local news reported that the show was 18-and-up and there were no children present. This fact didn't deter the protesters shown on a Facebook video shouting homophobic slurs from across the street during the event.
Weeks later, Hix Farm Brewery announced on Facebook that they were being evicted. The post didn't directly mention the anti-LGBTQ protest, but it did say that they were experiencing "our most challenging time yet."
"We are being politely asked to leave our building by our landlord," the post stated. "It's a good business decision for them and their family in the long run."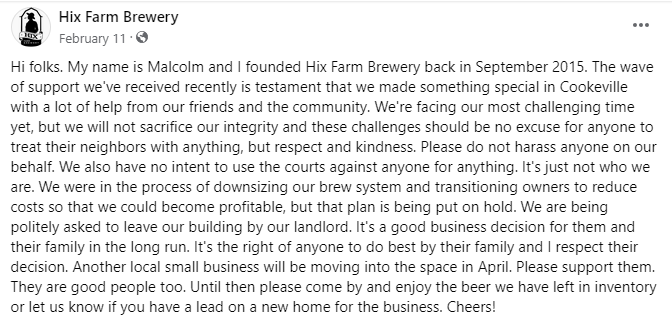 The brewery didn't immediately respond to requests for comment sent Wednesday afternoon.
Hix Farm Brewery subsequently launched a GoFundMe and held fundraisers to help with relocation costs.
The GoFundMe is still live, but they appear not to have been able to raise enough funds in time. The brewery recently closed down.
Far-right figures are thrilled that the brewery shut down. They're also taking credit for it.
A group called Tennessee Nationalists announced the news on Tuesday. Tennessee Nationalists baselessly accused the brewery of being "pedophiles" and claimed it "attempted to have adult men dress in women's lingerie and dance provocatively in front of children."
"Small victories are better than no victories. And they compound," Tennessee Nationalists wrote. "Stand up, get active, and fight for your children's and grandchildren's future."
Its subscribers celebrated in the comments. "Hail total Aryan victory," wrote one. "…Whites are taking their own side and taking a stand. Make it happen NEAR YOU."
Another commented, "This is only the beginning. We won't stop until they're all gone." Multiple people reacted to this comment with Nazi and antisemitic emojis.

Groups like The Western Chauvinists and Aryan Freedom Network Official reposted it.
"Put the enemy out of business," Western Chauvinists wrote of Hix Farm Brewery closing.
Western Chauvinists, which is how the Proud Boys describe its group, then offered an idea for indoctrinating the next generation to their way of thinking: "Nationalist Storytime."
"Translate some of the best of Our Authors into children's stories and read them to gatherings of kids," it wrote.

We crawl the web so you don't have to.
Sign up for the Daily Dot newsletter to get the best and worst of the internet in your inbox every day.