Well, well, well, look what we have here!
"Earlier today, we accidentally released a version of Slingshot, a new app we're working on. With Slingshot, you'll be able to share everyday moments with lots of people at once.  It'll be ready soon and we're excited for you to try it out." This is all the information a Facebook spokesperson is willing to give about the company's new app, Slingshot, which was mistakenly released for a brief time today. 
But lucky for us, it was a rather detailed leak, so we have plenty to talk about already!
This was the product description, according to InsideFacebook:
Slingshot lets you quickly share moments—little and big—with all your friends. Shoot a photo or video of what you're up to and sling it to a bunch of people. They won't be able to see your shot until they sling something back. Tap on a shot to react, or simply swipe it away."

• Stay in touch: Capture photos and videos of moments you want to share with friends

• Go shot for shot: To unlock new shots, first you have to sling something back

• Enjoy it while it lasts: Once you swipe a shot away, it'll no longer be viewable

• Send a quick reply: After unlocking a shot, respond with your reaction

• Get creative: Express yourself with captions and drawings

• Look when you want: View unlocked shots later if you're busy
Reports saying Facebook was readying a new messaging app to challenge Snapchat (Poke, the sequel) have circled for months. Now, they're clearly true. Like Snapchat, once you view the photos and videos, they're gone, although Slingshot users will have to physically swipe to make the media disappear. Like Snapchat, users will be able to draw and caption their photos.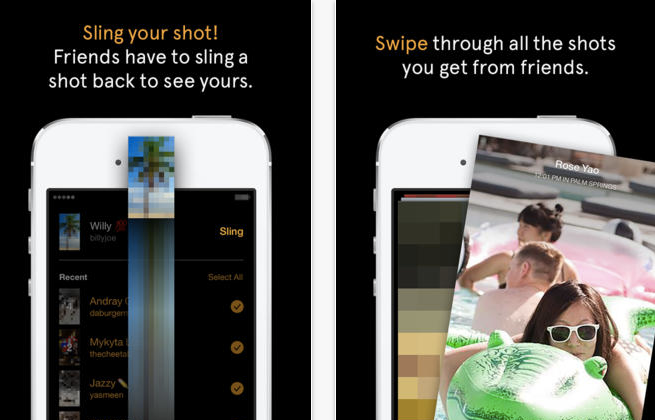 But the original hook here is that users will have to respond to something before they open it, which may increase engagement… or it may lead to oddly disjointed messages, since people won't know what they're getting before they have to respond. It can't just be a back-and-forth conversation, since users won't be able to simply respond to messages. You effectively respond to a note before you know what it is. That's a bold move for Facebook, since it's entering the photo-based messaging app game late (er, twice, after the first time royally bomed). 
As Facebook expands its roster of standalone apps, it's making a savvy long-term strategy move by unbundling and focusing effort on maintaining its dominance as an app creator, but it can't just presume that a Facebook-branded product will automatically succeed, and Slingshot's tardy debut means it needs to be damn good. 
H/T InsideFacebook | Illustration via Jason Reed