Today, Facebook launched a TV, movie, and music discovery feature that identifies songs, films, and shows based on sound. So now if you're on your phone, writing a status update while listening to Beyonce or catching up on The Good Wife, the new feature will use the microphone on your iPhone or Android to pick up the sound and identify it. Once it's identified, users will see more information, like an album cover or the show's episode number. You will then have the option of including what you're watching or listening to in that status update.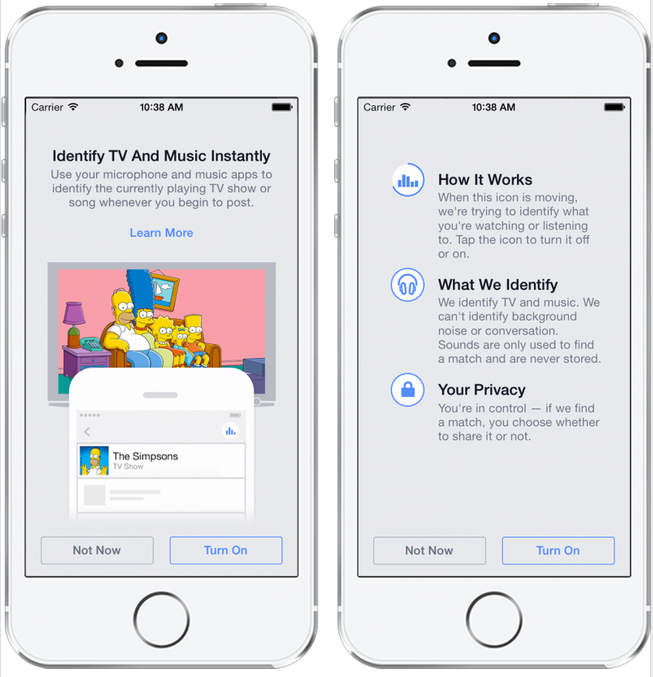 Facebook has basically introduced a Shazam competitor that's only accessible once you've started to write a status update. According to the Wall Street Journal, Facebook signed deals with 160 U.S. television stations so the feature can identify live TV in under 15 seconds, as well as courting Spotify and Rdio so users can play song previews. The feature took over a year to develop. This is not a small add-on. This is a full-fledged media discovery and ID tool, tucked into the status update box.
Considering the company's focus on establishing a standalone app roster, it's surprising that it's taken a technology like this and inserted it into the main Facebook app at all, let alone stuck it a tiny part of it.
Facebook stands to gain access to valuable data if people use this feature. It can leverage information about what people are listening and watching to in order to bolster ad revenue. Facebook has been trying to entice users to use it as a real-time conversation forum like Twitter, introducing hashtags and hiring celebrities to encourage chatter around big events, but it hasn't really worked. This feature may give Facebook the insight it wants into what people are watching and hearing even if it can't convince them to actually post about it. That's why the set-up now is to its detriment. By placing the feature inside the status update, it sends users a message that the tool is meant to be used for posts. That means people who want to use it as a Shazam alternative, where they just want to know what song is playing, will be deterred… and Facebook may lose access to data it would have if the feature was given its own tab (or even launched as a standalone with Facebook integration).
The feature is rolling out over the next few weeks, and will only be available to U.S. users. It will be on by default, but users can toggle it off from within their status update box by tapping the new icon. Any concerns about accidental oversharing while listening to Nickelback and writing status updates can be avoided. 
And don't worry too much about Shazam. Reports claim Apple is integrating it into iOS.
H/T 9to5Mac | Illustration by Fernando Alfonso III