In Facebook mobile's most recent update, in addition to individualized photo-sharing capabilities, there's now more personal information that appears on your profile. Now, when someone views your page from an iPhone, they will see relevant information like your workplace, mutual friends, or upcoming events you're attending.
This isn't too much of a change, as all of these things are already present on your profile, now they're just front and center. You used to have to do a little digging to find this stuff, but it's immediately the first thing users will see now.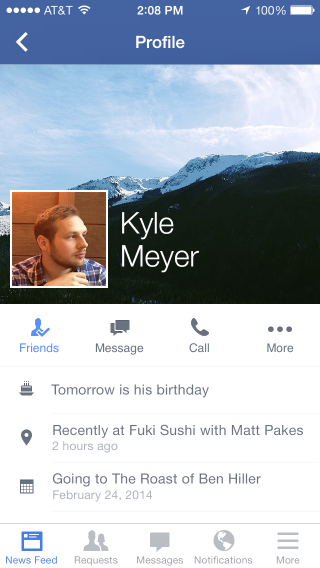 Monday's update also affects what you see on pages. At the top of the screen on a page, you might see an address and map, or ratings and reviews.
The update hasn't rolled out to Android yet, but is available on all smartphone browsers, according to the Next Web. It seems like Facebook is always working to display more of our public information, but this update is making information that's already available conveniently displayed and more organized than before. 
Photo via melentia2012/Flickr (CC BY 2.0)