This past summer, Facebook users were alerted that they'd have to download a separate messenger app if they wanted to send messages via mobile. It was irritating, for sure, and just further proof that the social site was attempting to take over the world. And with Facebook's announcement that it's hit 500 million Messenger users, that's a lot of world soundly in its pocket.
And then there's WhatsApp, the messaging app acquired by Facebook in February, which announced recently it'd reached 600 million active users.
When five-year-old WhatsApp made its announcement in August, it distinguished between active and inactive users. CEO and founder Jan Koum tweeted at the time "Now serving 600,000,000 monthly active users. Yes, active and registered are very different types of numbers." Facebook didn't make this distinction. Regardless: It's a lot of users.
Per its newsroom blog, "Today more than 500 million people are using Messenger each month and we're more committed than ever to make it the best possible messaging experience."
Other global messaging apps are a big part of the game, with WeChat, Skype and Viber at 438, 300, and 209 million, respectively, according to Statista. However, in just three years of existence and mere months of mandatory use, Messenger controls just a shade under 20 percent of global messenger users.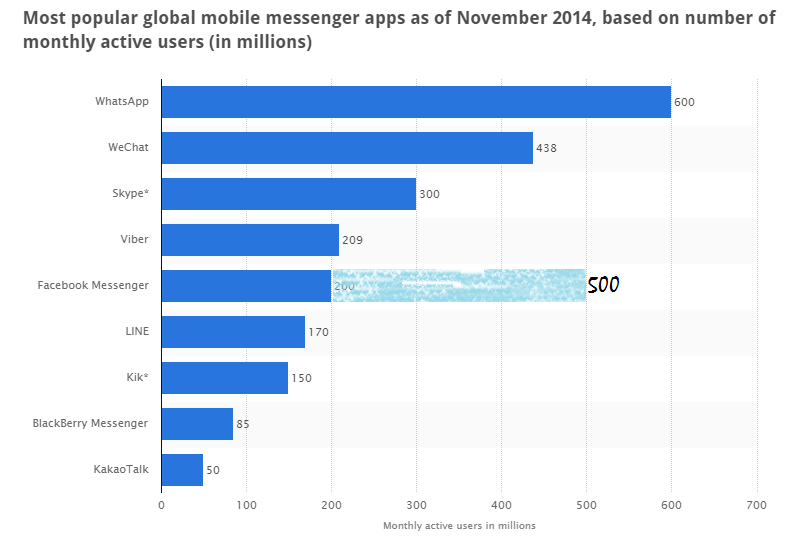 Image via Statista, edit via Molly McHugh
With over a billion users at its disposal, Facebook is poised to overtake WhatsApp in the not-so-distant future as the mobile messaging app of choice. Which doesn't matter a whole lot, since both apps are yielding big returns for the social network.
Photo via BuzzFarmers/Flickr (CC BY 2.0)