You might remember way back in 2013 that Facebook attempted to buy Snapchat for $3 billion. The deal did not go through.
But now the world's biggest social network has launched Slingshot, its second attempt at an ephemeral messaging service that sends self-destructing photos and 15-second videos to friends. The app is available for iOS and Android phones today in the U.S. and will launch later on around the world.
Slingshot encourages users to send pictures and movies to groups of friends. If you're on the receiving end, you're required to share something yourself before you can see what was sent to you. This "forced reciprocity," as some critics call it, is meant to uniquely change the way interactions take place on ephemeral mediums like this, to make sure that communication is a two-way street.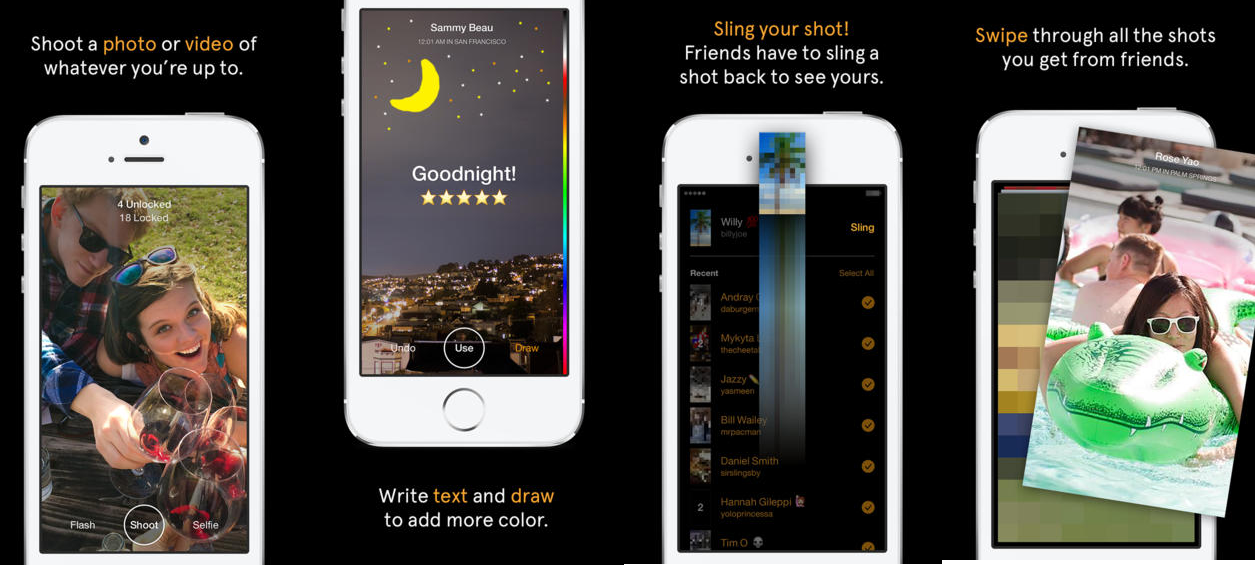 As with Snapchat, users can add messages or drawings to images and video before sending it off to friends. Once you do that, you can see any messages that have been sent to you.
"Photos and videos that don't stick around forever allow for sharing that's more expressive, raw and spontaneous," the developers wrote in a blog. "We can connect the same way we like to live: in the moment."
"Because the photos don't stick around for long, there's way less pressure to create something awesome," Will Ruben, the product manager who led the 10-person team, told the New York Times.
Slingshot has been in development for the past six months after a three-day during a Facebook Creative Labs hackathon late last year.
Creative Labs—an initiative by the company to let small, relatively independent teams build new, stand-alone mobile apps—is part of a larger push by Facebook to focus on creating a constellation of different mobile applications, each serving a specific purpose rather than a single, unified app attempting to do everything. It's a strategy that being increasingly embraced by companies across the social media landscape that are coming to appreciate that consumers are increasingly comfortable with a fragmented social media experience.
The original concept behind Slingshot—that "forced reciprocity" means that more people will become creators—is a really interesting one on paper. Whether or not that translates into a hit is a big question that remains to be seen.
Additional reporting by Aaron Sankin; Illustration via Jason Reed