Facebook is finally going to stop trying to make fetch happen. Actually, it's going to stop trying to make Poke and Camera happen, its two standalone, blatant copycat apps it launched to compete with the respective success of Snapchat and Instagram (before buying the latter of the two).
The two apps are no longer available in the App Store for download, though functionality will continue to live on in Facebook's native app. 
Per a Facebook rep: 
Thanks for reaching out. I can confirm that Poke and Camera are no longer available to download in the App Store. 

 

Since their launch in 2012, we've incorporated elements of each app into the Facebook for iOS and Android apps, including the photo upload flow used today. Neither app has been updated in some time and we've decided to officially end support by removing them from the app store.  
Killing Poke and Camera flies directly in the face of Facebook's new app strategy. Instead of app features that live inside the Facebook app proper, the company wants to create standalone services that integrate with and feed the social network, and bring new users' data to its hub without requiring them to open up Facebook itself. Instagram has done this for Facebook, as has Messenger, and we need look no further than the massive WhatsApp acquisition for confirmation that Facebook is more than happy to buy users by scooping up the massively popular apps they love.
Facebook's Paper app, largely lauded a beautiful success, is arguably one of the first apps that its launched on its own as part of this new strategy. The app is slick and useful, and Facebook has put effort into making it look like its own app, not just like a tab within Facebook. Despite these success, Paper has not been a huge hit yet and has experienced fairly slow growth.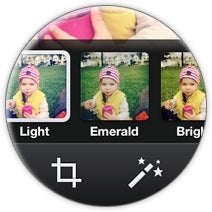 So does the death of Poke and Camera mean that Facebook is already abandoning the standalone app strategy? Very likely not (very, very, very likely not). Poke and Camera were bad apps: The things they did had already been done, and done better, by other apps first. Snapchat and Instagram were remarkably popular apps that had incredibly active and loyal audiences, and Facebook looked like a jealous little brother trying to introduce its own (worse) versions… which is made more embarrassing by the fact that it's the big, huge, way-too-old-to-be-pulling-that-crap older brother.
Shutting them down is more an admittance that, yes, those were bad/not timely ideas than a complete about-face on how it plans to build out future features.
H/T The Verge | Photo via Tom Newby Photography/Flickr (CC BY 2.0)