Facebook is stepping up its efforts to end fake news.
The social network is rolling out a "related articles" feature designed to help you avoid false news coverage. You'll start seeing additional reporting on the same topics under popular or suspicious news links before you click on them—an addition Facebook hopes will help you make informed decisions about stories posted to your feed.
The social network will also update its machine learning algorithms to find potential fake news articles based on user comments and reports. It will then send those articles over to its fact-checking partners who will make the ultimate decision on whether a story is true or false. If they need to intervene, the fact checkers will publish their own take on an article and include it in the related articles section with the byline "Third Party Fact Checker."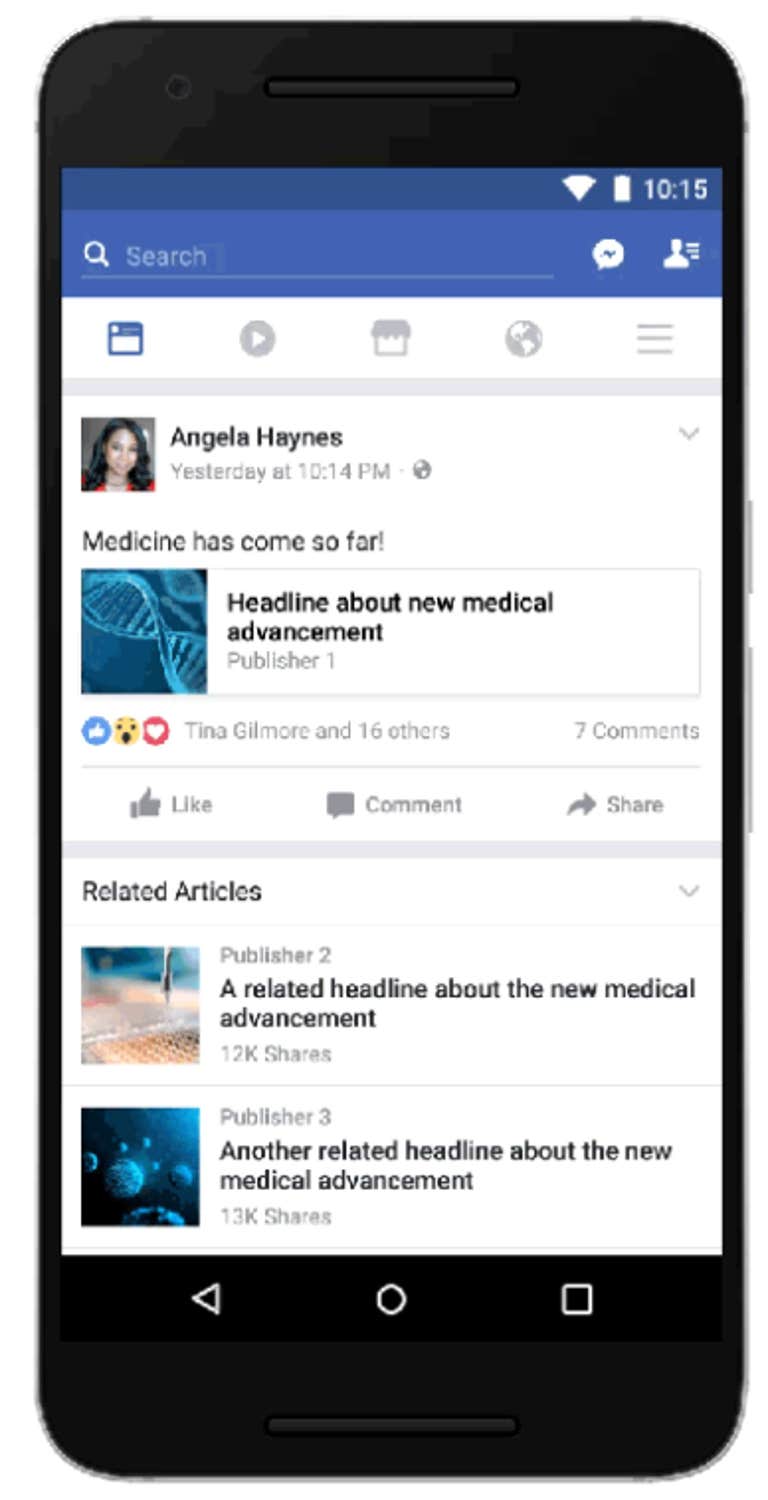 The idea is to give people different angles of a single topic so they decide if an article appears suspicious. This should keep users from pressing on fake news, and more importantly, sharing it with their followers—a phenomenon that got Facebook in a heap of trouble during the 2016 presidential election.
As TechCrunch points out, Facebook started showing related articles to people in 2014, but only after they clicked on a link. In April this year, it started testing its pre-click related articles to fight against fake news. It also added warning labels to potential fake news posts with help from Snopes, AP, PolitiFact, and other news agencies.
"We don't want to be and are not the arbiters of the truth," News Feed integrity product manager Tessa Lyons told TechCrunch. "The fact checkers can give the signal of whether a story is true or false."
The fact checkers, however, won't determine which articles are filed into the related articles section. That's left up to algorithms, which Facebook claims will omit posts that people are commenting as false. Fortunately, the related news section, which shows small thumbnails and additional story headlines under an original news post, will not contain ads.
The feature is reportedly launching in the U.S., Germany, France, and the Netherlands today, because Facebook secured fact-checking partners in those countries.