Ever since the rapid rise, and almost equally rapid fall, of #Kony2012, clicktavism has largely gotten a bad rap. The idea that social media can be a vehicle for people to help solve a problem on the other side of the world simply by click links on Facebook or Twitter has been widely mocked. It is now a common trope in hand-wringing criticisms of lazy, self-obsessed millennials who could have never won World War II.
Yet sometimes, Facebook and its 1.3 billion users can be leveraged for truly heroic purposes.
In a Thursday morning blog post, Facebook announced a partnership with several international aid organizations designed to raise money to combat the spread of Ebola in West Africa.
Over the next few weeks, Facebook users will see a little box pop up at the top of their news feeds with a link to donation pages for the International Medical Corps, the Red Cross, and Save the Children.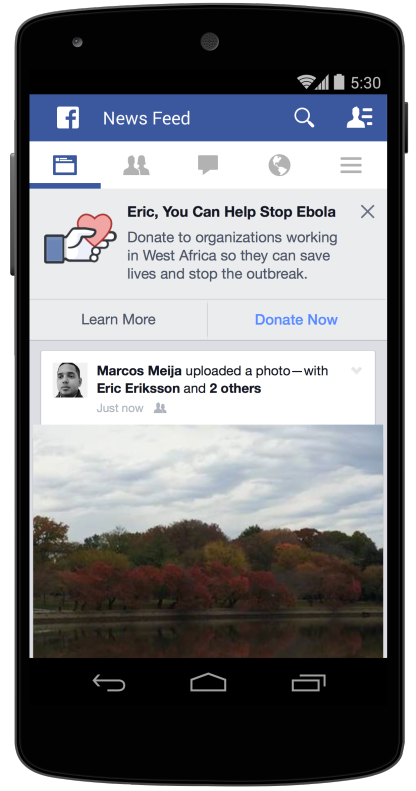 Image via Facebook
All three groups have at least a three-star governance rating on Charity Navigatior—Save The Children has a perfect four-star rating—so you probably don't have to worry about your money being wasted. The button is similar to the "I voted" button that Facebook deployed to help increase turnout during this week's midterm elections.
In addition to raising funds, Facebook is also joining with UNICEF to deliver notifications to people in regions affected by the disease. The alerts will offer information about the symptoms of Ebola, as well as treatment options. The company is also working with a coalition of nonprofit groups to deploy a network of mobile satellite communications terminals to Ebola-stricken countries, where they will provide aid workers with Internet, voice, and text message connectivity.
Facebook's announcement comes a few weeks after company founder Mark Zuckerberg made a very public commitment to fighting Ebola using his own vast fortune. Zuckerberg donated $25 million to the Centers for Disease Control Foundation, a private group affiliated with the government agency (which, as a public institution, cannot accept individual donations).
"We need to get Ebola under control in the near term so that it doesn't spread further and become a long term global health crisis that we end up fighting for decades at large scale, like HIV or polio," Zuckerberg wrote in a post on his Facebook page. "Grants like this directly help the frontline responders in their heroic work. These people are on the ground setting up care centers, training local staff, identifying Ebola cases and much more."
The World Health Organization estimates that the recent Ebola outbreak has killed over 4,800 people so far.
Photo by Brian Solis/Flickr (CC BY 2.0)