Dubai, the world's leader in ostentatious architecture, is taking it to another level with its latest project. To avoid the blistering desert heat, Dubai Holding officials are planning to build a climate-controlled city—an complete indoor world that has everything you need. 
The Mall of The World, as it has been dubbed, is slated to be a 48-million-square-foot fully enclosed structure. To put that in perspective, the world's largest building, the Boeing Everett Factory in Everett, Wash., is 4.3 million square feet.
The building isn't the only record-breaking feature. The Mall of The World will contain the largest indoor theme park in the world (the glass roof of which can be opened in the winter), 100 hotels with 20,000 rooms, and the world's biggest shopping mall, coming in at 8 million square feet.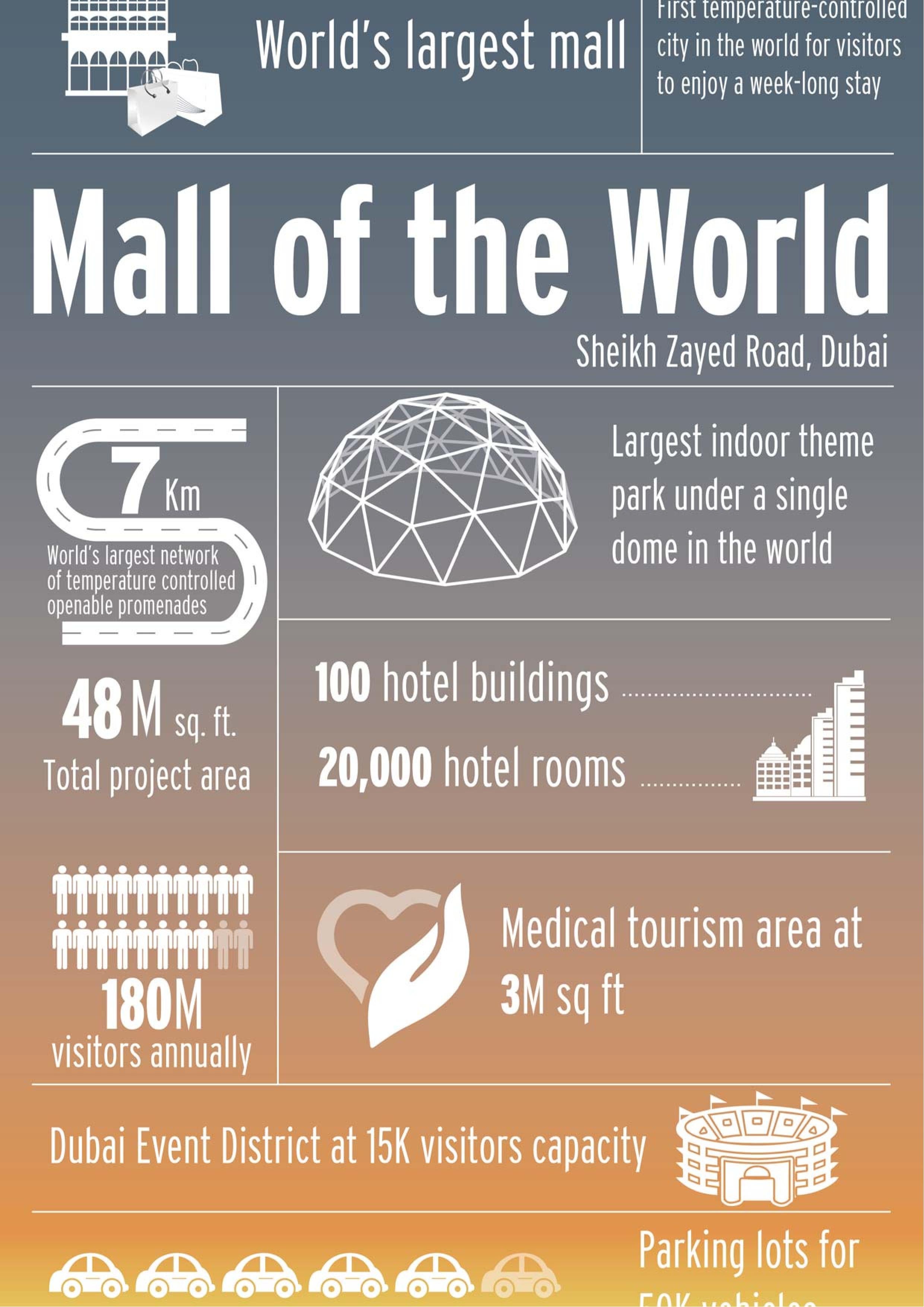 Plans also include a wellness center that will provide top of the line healthcare, and a cultural center, with plans to model a theater district after Broadway and the West End, and shopping areas inspired by London's Oxford Street and Ramblas street in Barcelona. All of these areas will be accessible thanks to a 4-mile long temperature-controlled promenade, the roof of which can also be opened in the cooler winter months. A tram network will run the entire length of the structure.
Dubai Holding CEO Ahmad bin Byat told Reuters the project will cost $8.6 billion over the next 10 years. "This is a long-term project and we are betting strongly on Dubai," Byat said.
All of this, according to officials, will be energy-efficient and environmentally-friendly. Because is there anything more environmentally-friendly than never actually going out into the environment?
H/T Mashable | Photo via Michael Theis/Flickr (CC BY-ND 2.0) | Infographic via Dubai Holding