Down (the hookup app formerly known as Bang With Friends) is one of the apps at the forefront of the digital matchmaking denizen. Many others are part of this same game, playing to the lowest denominator and entertaining us all the while—Tinder, Grindr, Lulu. We can't get enough of their "Hot or Not" dating design, letting us flip through and mentally (or actually) rank others. There's no mistaking it: 2013 was the year of the hookup app. 
While Bang with Friends is dead, measuring your Facebook friends on their bangability remains one of the saucy elements that drew over a million people to Down's older iteration, though the scope has been reoriented to focus more on dating than straight-up booty requests. The creators developed the "bangability" measurement by graphing how frequently users are selected as a potential partner. To use the app, people choose which of their Facebook friends or friends-of-friends they're interested in dating or hooking up with romantically. Back when it was Bang With Friends, the appeal was limited by the app's explicit name and bro-tastic vibe, but the new iteration is more about "an honest, simple, sex-positive way to break the ice and discover mutual feelings," according to Matt Slusarenko, Down's marketing VP. Aw, when you put it that way, it sounds downright sweet.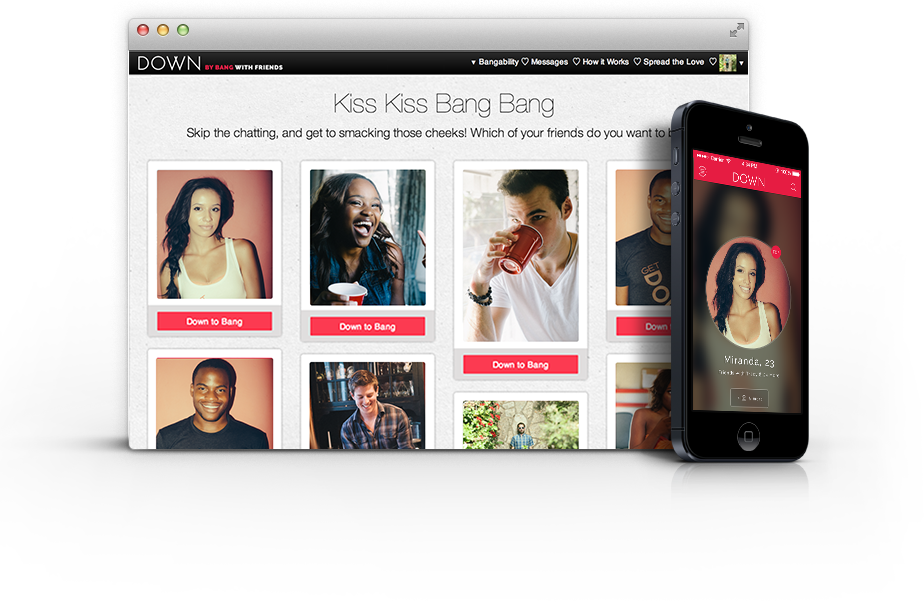 Down looked at its data for 2013 to try and understand our year in sex… and found some oddities regarding how we hook up. For instance, according to the numbers, a Brazilian man achieved the highest "bangability" score on the app by posting a picture of Miley Cyrus to Facebook. The man resembles Miley's bearded bestie Cheyne Thomas, who appeared in the picture, so it's likely that he achieved his sky-high bangability measurement because people mistakenly thought he was actually Thomas or thought that their Facebook friend had somehow buddied up to Cyrus.
Down's findings weren't limited to discovering its user base is seriously bad at identifying people and seriously obsessed with La Miley. In addition to finding out which individual user had the highest "bangability" score, Down looked at which cities topped the list. San Francisco is apparently the global nucleus for sexy (or, of course, the tech haven may just have a higher number of users overall). Los Angeles, New York, and Austin, TX, were next on the list, suggesting that cities where people use Down in larger numbers also have a higher instance of people marking their friends as bangable or dateable.
What else does the average Down user look like? 23-years-old and college educated—which I'm motivated to suggest also sounds a lot like the average social media user.
Sao Paulo, Brazil, is on the list for cities with the sexiest user base and cities where you're most likely to get a response, suggesting that Down has gained a Brazilian following. London, Taipei, Toronto, and Berlin are other international cities with the largest active user bases, so even though Down lost much of its name recognition when it relaunched, people from all over are still using it (although if you look at its app rankings, Down is just a teeny tiny fish in the teeming cesspool of hookup apps).
Since the ascent of Tinder, it may be hard for Down to move up in the app rankings. The dating app market has exploded in the past year, and even though Down is now less alienating to people who felt the "Bang with Friends" title sounded too much like an idea pitched by a high frat boy, it now suffers from a lack of name recognition.
Then again, it appears there's no discernable pattern to app success, or bangability scores for that matter. "We were surprised to see an eclectic mix of model hotties, uber-intellectuals and even single moms with profile pics featuring their adorable babies," Slusarenko says. Apparently he doesn't know that every time an app marketing executive implies that they are surprised their user base finds single mothers attractive, a piece of Farrah Abraham's soul flakes off into the abyss.
Down's 2013 stats aren't terribly surprising, at least to people who don't find the continued sexual viability of women who have reproduced unexpected.
The big takeaways? Miley Cyrus draws attention, and cities with lots of people with smartphones draw more active userbases. The most surprising thing about the stats Down shared is that a mobile dating app was able to rebrand itself and hang onto users without entirely shedding them to Tinder.
[Photo credit: Guillame Paumier/Flickr]