If you're the type of person who likes to oversee every single aspect of their food-delivery experience, you were probably pleased when Domino's Pizza introduced its pizza delivery tracking system a few years ago. It provided customers with a glimpse into the lifespan of a Domino's pizza, from some guy named Kevin shoving it into an oven to some guy named Dinesh carrying it right to your doorstep.
But maybe Domino's pizza tracker isn't enough for you. Maybe you need to personally oversee every aspect of the pizza construction process, from the selection of the toppings to the diameter of your double-stuffed crust. In that case, you'll be happy to hear that Domino's is introducing a 3-D custom pizza-builder app, which allows customers to have final say over every individual pepperoni and banana pepper that goes on their pizza.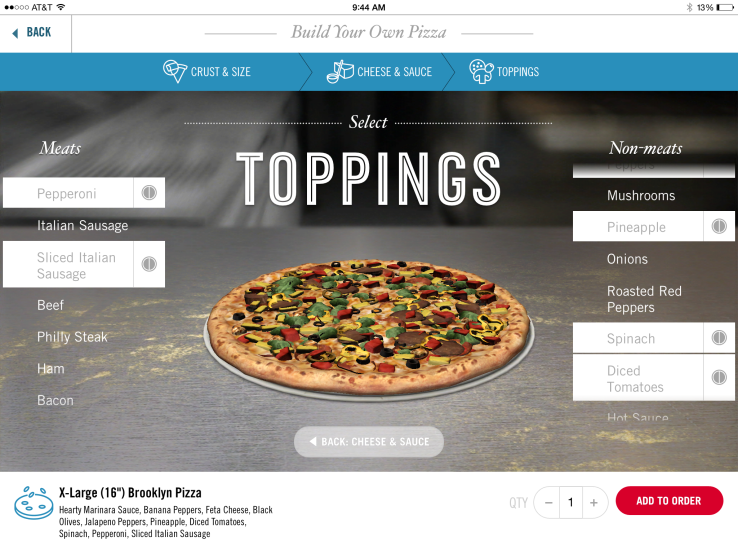 This Monday, Domino's will launch its new iPad app, which uses OpenGL 3D technology to give you a "realistic" view of what the pizza you're ordering will look like. The app allows you to customize your pizza by selecting the cheese, sauce, toppings, crust, and size, allowing you to view your new culinary creation from multiple angles.
Domino's has been in the digital delivery business for a few years now, and more than 40 percent of its sales come from online orders. (I can still feel the metallic taste of the double-cheese pineapple pizza my roommate made me order freshman year in my mouth. It was 2am, we were drunk, it was the only thing open, and whatevs.)
But this is the first time that Domino's has given users the ability to customize their pizza orders on a 3-D app. "The new Domino's iPad app takes the experience of ordering pizza to a whole new level," Kevin Vasconi, Domino's Pizza chief information officer, recently told TechCrunch. "This is the coolest technology we have launched since Domino's Tracker, and we are excited for customers to use the beautiful custom pizza builder that lets you visualize your order in a whole new way."
Excessive use of technology in the name of pizza? Maybe. Hypnotizing way to interact with your food that's also more interesting than checking your phone to see how long it's been since you ordered? Absolutely. You've done it again, Domino's. 
H/T TechCrunch | Photo by the Pizza Review/Flickr (CC BY 2.0)