Don't count Rep. Devin Nunes (R-Calif.) among the millions of Los Angeles Lakers fans who were happy that NBA superstar LeBron James would be joining the team next season.
Nunes, a staunch supporter of President Donald Trump and seemingly at the center of almost all of the right-wing conspiracy theories, reacted to the news that the best basketball player in the country would be joining the Lakers by warning him about his own state's high taxes.
"LOL! Prepare to pay the highest taxes you ever have in your career!! You should have held out for more just to afford the Moonbeam weather tax!!!" the California Republican wrote on Twitter, quote-retweeting the California Democratic Party's tweet welcoming James to the Lakers.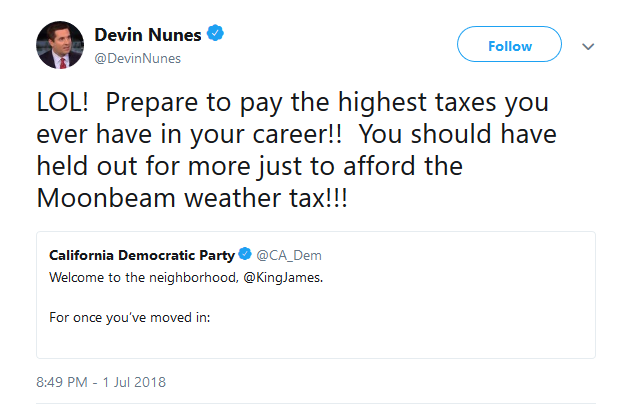 It's not likely at James, who signed a $154 million four-year deal with the Lakers on Sunday, had California state taxes on his mind when he chose to join the Lakers.
In fact, as For The Win points out, James already owns two houses in California, making him keenly aware of the taxes in California.
Perhaps not shockingly, Nunes' tweet was quickly mocked.
Politicians typically welcome star athletes who come to their state. Congressman Devin Nunes is taking a different approach. https://t.co/Sl4keYOnEC

— Sahil Kapur (@sahilkapur) July 2, 2018
https://twitter.com/mattyglesias/status/1013851004624924673
LeBron's gonna make $38M per-year. i think he can cover the taxes you dope https://t.co/fzYp9zxHm5

— Eric Boehlert (@EricBoehlert) July 2, 2018
https://twitter.com/addysue/status/1013851164150988800
I thought this was a parody account. He got a taxpayer paid college education, his farm gets an $800,000 subsidy and he voted a huge tax break for people in LeBron's tax bracket. No self awareness whatsoever. https://t.co/EEUilK8AkW

— Pamela Walker (@pamelarwalker) July 2, 2018
Given the reaction to Nunes' tweet, maybe instead of sports he should stick to his comfort zone—fanning conservative conspiracy theories about intelligence agencies.
READ MORE: