Sometime in late 2011 or early 2012, I committed a grave strategic error. Terrified at the prospect of Republicans cruising to easy victories in the 2012 election cycle on piles of super-PAC cash, I made a few paltry donations to the Democratic National Committee and the Democratic Congressional Campaign Committee. 
This decision turned out to have unforeseen and catastrophic ramifications for my inbox. What began as a trickle of relatively harmless emails offering me bumper stickers and even the chance to enter a raffle to meet President Obama eventually became a daily onslaught of increasingly desperate, histrionic, and shameless attempts to goad me into giving more money.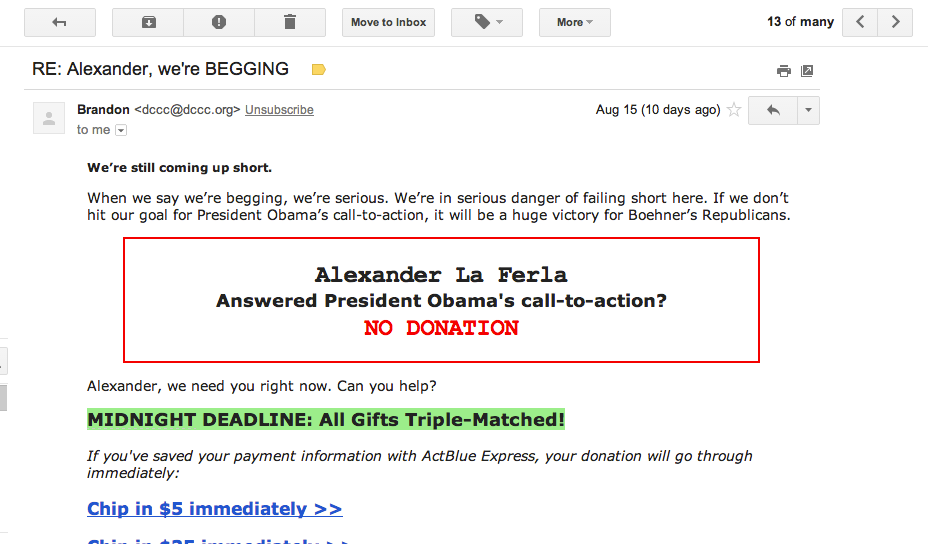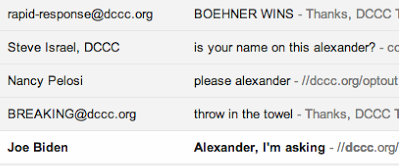 Below are the actual subject lines of a handful of the hundreds, if not thousands, of emails I have received from the DNC and the DCCC over the past two years. 
Stickers!

Get your free sticker, Alexander!

Which of these would look best on the back of your car, Alexander?

Pre-order your sticker, Alexander
I have absolutely no problem with this. I like free things, and even though I don't own a car, I have a pretty vivid imagination. I'm sure I can find a place for a sticker.
Hi, Alex. I'm Amy

I'm excited for you, Alex

I'm really excited for you, Alex

Hotel and Broadway show – all on us
Hi, Amy! Wow, I love the enthusiasm and that's a great offer… except I live in New York City.
Boehner STUNNED

Boehner SCREAMING (look)

Boehner INSULTS Obama

Alexander La Ferla hasn't denounced Boehner yet…
What's all this about John Boehner? I haven't denounced him yet? Oh. You mean I… haven't given enough money?
Alexander, sign your name:

Alexander, I need you to dig in

Alexander, I promise

I need you
This is getting a tad personal. Amy, is that still you? You were so nice before.
Alexander we're BEGGING

I'm pleading (again)

We've got nothing left Alexander

throw in the towel
Now wait just a minute! Where's all this negativity coming from? Chin up, Dems! Chin up!
We keep emailing

Must Read (DON'T DELETE)

NEVER in US History

Alexander we're BEGGING

kiss all hope goodbye

All Hope is Lost

TRAGIC Conclusion

email, email, email (WHY?)

What?!

sorry alexander

sorry
Yes, you should be.
Photo by Tony Fischer Photography/Flickr (CC By 2.0)