At first I was tempted to laugh at Novlr, seeing as it unconsciously echoes a 2009 article from The Onion about microblogging novels, but the closer I looked, the more it seemed like something I desperately needed.
Yes, I confess: I'm a novelist. And while I strive to avoid the fact in cocktail party conversation, preferring to talk about other writers—a friend told me that I recommend a dozen books each time we see each other—I'm working on something new. 

My first manuscript, composed in Microsoft Word, was nearly lost several times. The program crashed, wiping weeks of progress; my dogs chewed up and nearly destroyed a flash drive (which I also once lost and ended up diving into my apartment building's trash to retrieve); my laptop died completely, though I had learned by then to keep three backups of everything.
Was there a better way? Of course. But I wasn't about to write this stuff out longhand. For the short story collection I put together next, I constantly uploaded new drafts to Dropbox—though I remained at the mercy of Word. Google Docs seemed a fitting solution, but it worried me not to have a local file on hand, one I could edit without an Internet signal.
Enter Thomas Muirhead and Kimberley Pryor, a pair of literature-loving, London-based digital developers who recognized this niche set of problems and decided to address them. Novlr is the result: a cloud platform that boasts a thousand beta testers but needs a £20,000 boost if it's to have a full complement of features—most importantly, offline access.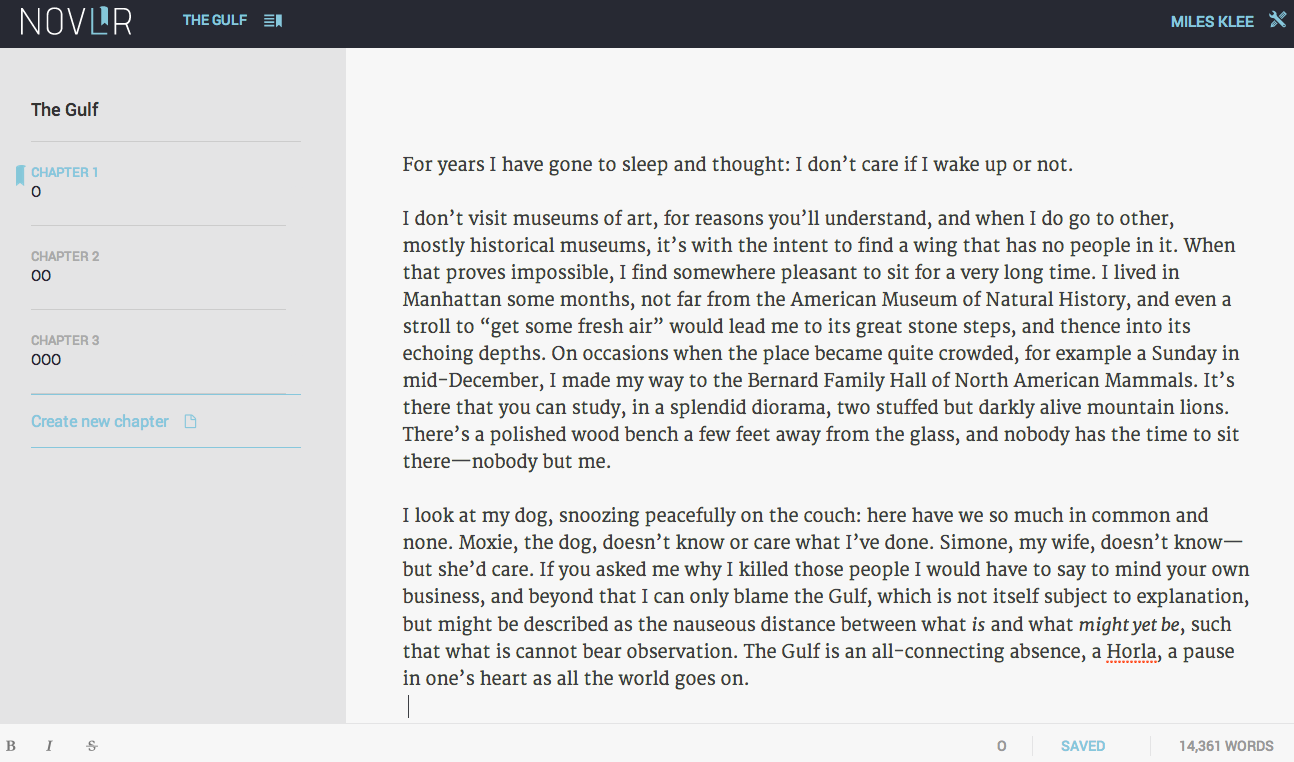 Novlr isn't just sleek and intuitive; it's also evolving to suit the needs of the fiction writers already using it. Bugs are regularly reported and squashed, while new tools—including pages for character profiles or other note-taking, word count targets, the ability to solicit feedback by sharing material, and an option to export your writing—are frequently added to the mix.
48 of you reported the same bug within 12 hours last week. That's impressive & how things get fixed quick. Thanks guys #novlristsfixingbugs

— Novlr (@novlrtweets) September 21, 2014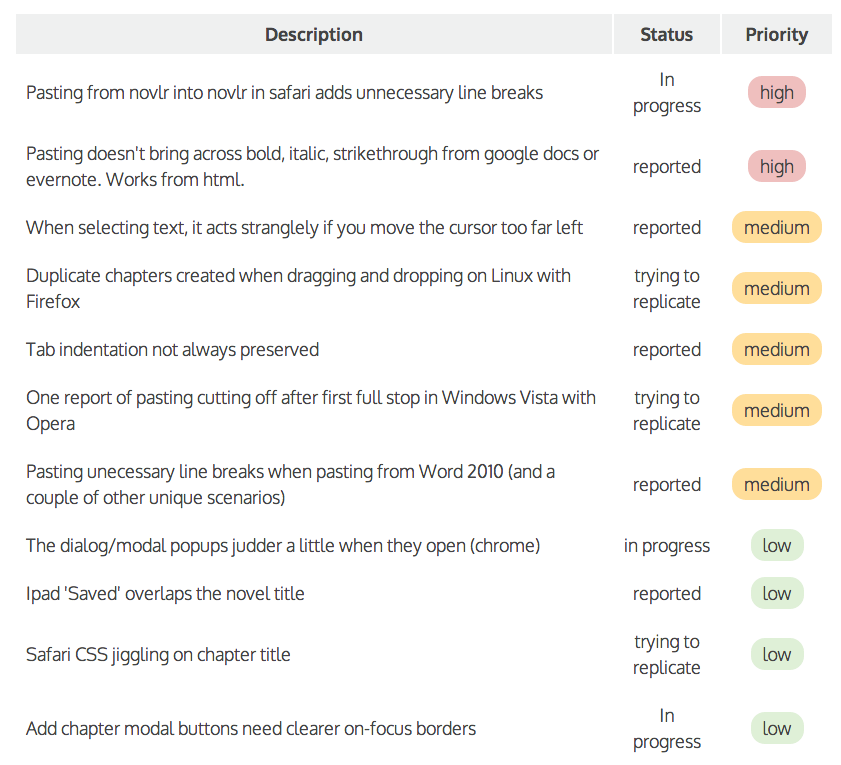 Testing out the @novlrtweets beta right now. I love it already

— T.S. Napier (@TS_Napier) September 21, 2014
Having uploaded my latest novel fragments to Novlr (beta invites are there for the taking), I still fret that some Internet calamity will cause the site to eat everything. Even so, I have a feeling it'll prove a useful element of what we pretentious types call "the process." I'll still keep by backups, naturally—Google Docs, Dropbox, Word files, printed hard copies, recordings of me reading the text aloud, and the fevered, encrypted etchings on my living room wall.
You can't be too careful with a masterpiece, after all.
Photo by Samuel John/Flickr (CC BY-SA 2.0)