Federal and state laws be damned, one Denver marijuana shop wants to send weed straight to your mailbox, and the company insists it's perfectly legal.
SouthernCoMarijuana purports to have started shipping marijuana products earlier this month even to states where pot is still illegal. In the first five days since the company began letting anyone buy over the Internet, it claims to have to sold $250,000 worth of marijuana products to people in 35 states.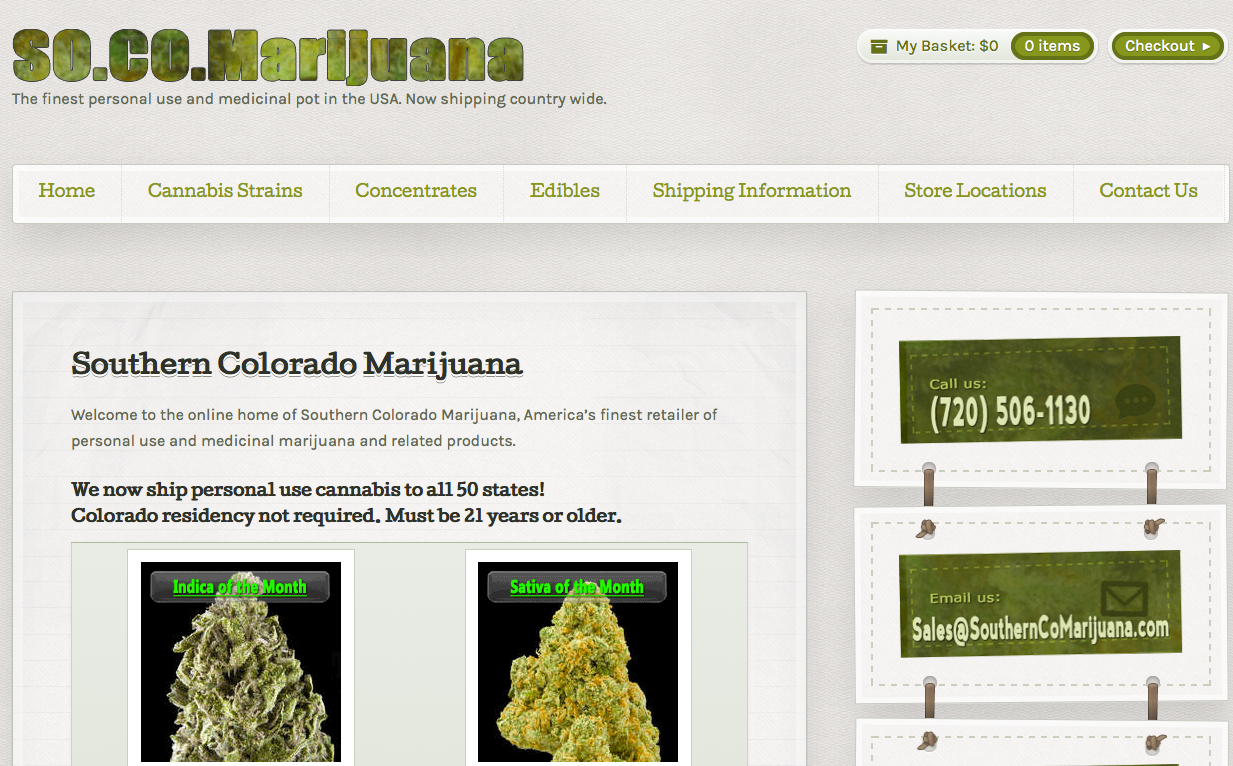 In a tweet from SouthernCoMarijuana's Twitter account, a representative insisted that the company has been so deluged with new customers that they've started to fall behind on processing orders and are in the process of hiring more support staff:
Apologies to anyone waiting for support inquires for https://t.co/HpacJhylCz massive influx of customers has left us backed up. Adding staff

— SouthernCoMarijuana (@SoCoMarijuana) April 1, 2014
In a recent press release, SouthernCoMarijuana founder Roger Hammond posits that the Colorado constitutional amendment removing the state's prohibition on medical marijuana has a loophole allowing retail pot clubs to sell cannabis to citizens of any state of union provided they are over 21:
The problem is that possession of marijuana is still illegal in nearly every state, so many of the customers who make purchases on SouthernCoMarijuana are most likely breaking the law once they receive the product. This is none of Southern Colorado Marijuana's concern, according to their terms, which say that it is up to the customer to make sure they are legally allowed to receive the products they order.
If the intended recipient of the the marijuana decides to be less than honest when indicating that he or she is legally allowed to possess the product, SouthernCoMarijuana has a number of security features geared toward ensuring their customers don't get caught. According to the company's website products are shipped in "childproof, scent-controlled, discreet shipping materials."
The site also allows users to encrypt their shipping address using a PGP key, meaning that anyone monitoring the data customers are sending to the company wouldn't be able to read it without also having access to a corresponding private PGP key.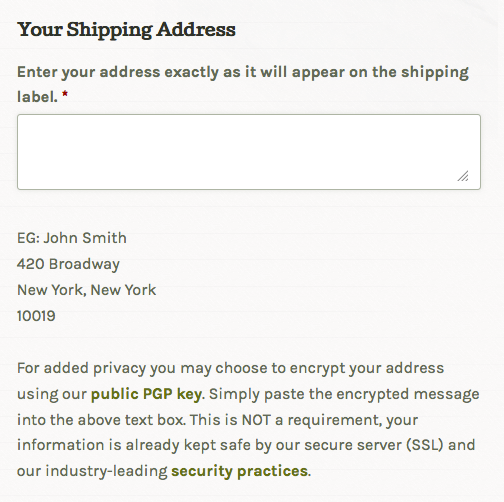 In addition, SouthernCoMarijuana only accepts payment using the virtual currency Bitcoin because, unlike other online payment systems like Visa, Mastercard, or PayPal, Bitcoin payments can be made without going through a central financial institution. Hammond notes in the press release that his company's decision to exclusively accept Bitcoin is largely based on the difficulties many marijuana businesses have had with banks refusing to work with organizations transacting in goods that are still illegal at the federal level.
Earlier this year, the Obama Administration issued guidelines aimed at quashing banks' fears about working with state licensed pot businesses, but many in the industry have remained reticent.
SouthernCoMarijuana's online shop has supposedly proved a fruitful venture from the company. Hammond said in a statement that the company's five-day quarter-million-dollar haul has far exceeded the sales of what the company's brick-and-mortar storefront typically makes in an entire month.
There's just one catch: It's unequivocally illegal. 
However, according to the state agency tasked with regulating Colorado's burgeoning marijuana industry, what the company says it's doing isn't legal—at all.
?If you purchase any type of retail marijuana in Colorado, you must consume it within the state or dispose of property before you leave," explained Daria Serna, communications director of the Colorado Department of Revenue agency, which is tasked with regulating the state's retail recreational marijuana industry. She added that this is the first time she had heard of a pot company in the state offering to sell products online throughout the entire country amd argued that it's against the law.
In fact, Section R-402.F of the Colorado Department of Revenue's Permanent Rules Related to the Colorado Retail Marijuana Code explicitly prohibits SouthernCoMarijuana's new business model:
A licensed retail marijuana store shall not sell retail marijuana or retail marijuana products over the internet nor deliver retail marijuana or retail marijuana products to a person not physically present in the retail marijuana store's licensed premises.
Additionally, there's no record of any business called SouthernCoMarijuana being licensed by the state of Colorado to operate a retail marijuana shop. There's also no licensed retail pot storefront permitted to operate at the address listed on the company's website.
Representatives from Southern Co. Marijuana did not respond to the Daily Dot's multiple requests for comment.
All in all, this offer may end up essentially being no different than the ones from a litany of Deep Web marketplaces—the now shuttered Silk Road being the most famous among them—where drug dealers accept payment in Bitcoin in exchange for mailing drugs to your front door. In those cases, everyone involved was breaking the law.
Or, considering that it appears as though the company may not even be licensed to sell pot, it raises the possibility that the entire thing might just be one big scam where customers send over their bitcoins only to get nothing in return. On a Reddit thread about the SouthernCoMarijuana's offer, users cast serious doubt about the entire operation's legitimacy:

Another Reddit user on the same thread was excited enough about the idea to place an order but seemed to get buyer's remorse almost immediately, writing, "Put in a order. No confirmation email has come up yet. Have I been scammed already?"
No matter what the real deal is with SouthernCoMarijuana, you kind of have admire the company's moxie.
Illustration by Jason Reed