One of the more interesting—and ostentatious—aspects of CNN's news coverage is the use of what has been nicknamed the "Magic Wall." It's essentially a massive touchscreen that allows news anchors to display all manner of information, and has become a staple of the network's election night coverage. Now, CNN is letting you touch its magic bits from the comfort of your own couch.
Using the new CNN Magic Wall website, you can explore past segments where the network used the huge digital collaboration tool and browse the data just like the journalists do. You can view election results down to the county level, compare results between past election cycles, and even apply filters based on age, race, and employment status. It's a stat lover's dream come true, and great if you feel like digging into the data.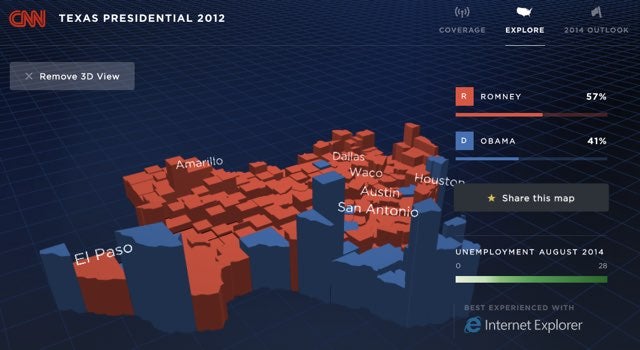 At the moment, the tool is populated with numbers from past election cycles, including every Presidential election since 2000 and the past four cycles of congress and state governor races. That's a whole lot of data to sift through, but the Wall is going to be a lot more useful once Tuesday hits.
This coming Tuesday, November 4, is election day in the U.S., and that means a whole new chunk of voter data is going to come flooding in, needing a place to go. CNN will be populating the web version of the Magic Wall with the results from all the races, and CNN's own John King even suggests in the Magic Wall introduction video that you "check his math" during election night.
You can use the Magic Wall on your laptop or desktop, but the real touchscreen experience can only be had when you bring the tool up on your tablet or smartphone. Regardless of your platform of choice, a little promotional note in the corner of the screen claims that the tool is "Best experienced with Internet Explorer." It works just fine in Chrome, but thanks anyway, Microsoft. 
Screengrab via CNN