This photo of China's leaders doing the "Gangnam Style" horse dance is the greatest Chinese Web meme that never was. The one that got away.
Or, rather, it was the one that got snuffed out of existence long before it could blossom into the trending Internet sensation it so deserved to become.
China blog Beijing Cream was the first English-language site to publish the image, which it found via a small Chinese Facebook group. The clearly Photoshopped image quickly jumped out in China's Twitter like microblog service, Sina Weibo, where user Gangsong Samha (港怂萨沙) posted it to his or feed.
The original text for the image read: "PSY's Gangnam Style has been really hot lately! Wuppa! [Ha ha] http://t.cn/zlPmUfa." (Translation via China Media Project)
About two hours later, it was gone, deleted by Sina Weibo censors.
Who will mourn for the meme that never was? Beijing Cream, for one, who quite reasonably can't wrap their heads around the deletion. What's so offensive about a freakin' horse dance?
Are we making fun of Hu Jintao? Are we saying Wen Jiabao has a horse-face? Are we commenting on Xi Jinping's inability to move his hips laterally? Help me out here. How is 1) this picture at all political, other than the politicians? and 2) this picture at all insulting?

I know the answer, of course. Because censorship. Because censorship.
Hong Kong University's China Media Center, whose Weibo Scope tool tracks censored posts on the network, explained the rationale as follows:
The images of Chinese leaders are carefully managed by propaganda leaders, and the suggestion that they would dance in formation and shake their hips is certainly unwelcome.
Last week, China underwent a once-in-a-decade leadership transition. So it's an even more dangerous time to make jokes about the country's leaders than usual. Chinese Twitter user Zhao Xiaobin discovered that on Nov. 7, when he was arrested and put in a Beijing jail. His only crime was telling a joke on Twitter.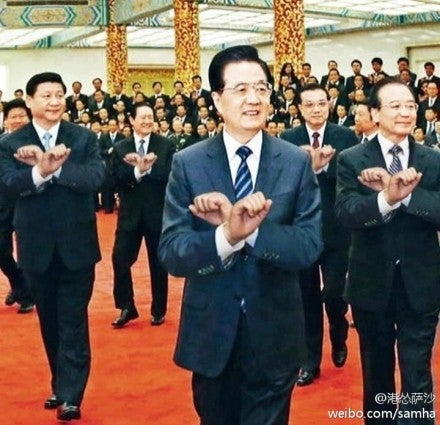 Photo via 太公云會報/Facebook