Attacking climate activist Greta Thunberg is a blood sport for conservatives.
Few relish going after the Swedish teen more than Candace Owens. Now, Owens is accusing Thunberg of being a paid propagandist.
Perhaps unsurprisingly, the "evidence" Owens points to doesn't even imply Thunberg's being paid. The leaked texts between Thunberg and an Indian climate activist that Owens claims prove this only establish that the pair are working together on a cause. The messages don't reference any exchange of funds.
The exchange in part formed the basis for arresting that climate activist, Disha Ravi, for sedition under India's anti-free speech law.
For months, farmers in India have been protesting government deregulations that they fear will pave the way for corporate agri-business to squeeze them out of their livelihoods. The cause has attracted support from environmentalists who believe that the deregulation will also contribute to climate change.
India has recently begun cracking down on dissent, to the alarm of free speech advocates.
Twenty-one-year-old Ravi is among their latest arrests.
Ravi is accused of sharing a Google Doc toolkit with Thunberg. The toolkit, identical to those used by activists the world over, contained talking points and contact information for groups who may be sympathetic to the farmers' cause.
Thunberg's tweet of the toolkit is the basis for the charges against Ravi.
Following Ravi's arrest, Jack Posobiec posted a link to an article reporting that she panicked after Thunberg accidentally tweeted a link to the kit. According to leaked WhatsApp chats allegedly between the two young women, Ravi asked her to delete the tweet.
Thunberg also reportedly referenced an anticipated "hate storm."
"I will receive so many threats because of this," she said.
Owens retweeted Posobiec and made further wild, unsubstantiated claims.
"We all knew it but @GretaThunberg really got caught red-handed in India," Owens wrote. "She is a paid, global propagandist that incites protests and unrest around the world. A disturbed child—just as Trump warned. Chill, Greta, chill."
The trolls who cling to Owens' every word piled on. Several likened Thunberg to Parkland school shooting survivor David Hogg. Some said her the saga somehow proves that former President Donald Trump was right about everything.
Owens' followers seemed not to appreciate the irony. Unlike Thunberg, who plans to donate her 1 million Euro humanitarian award, Owens literally takes money to spread propaganda.
She hosts a show on conservative propaganda machine Prager University's website, discussing topics like cancel culture with guests of the likes of Roseanne Barr and Charlie Kirk.
Prior to her 2019 departure, she was also a key figure at Turning Point USA, an astroturfed conservative student organization with murky financial backers that has been accused of enriching several key figures.
Turning Point USA offers activism kits on its website. Owens helped co-found its U.K. branch.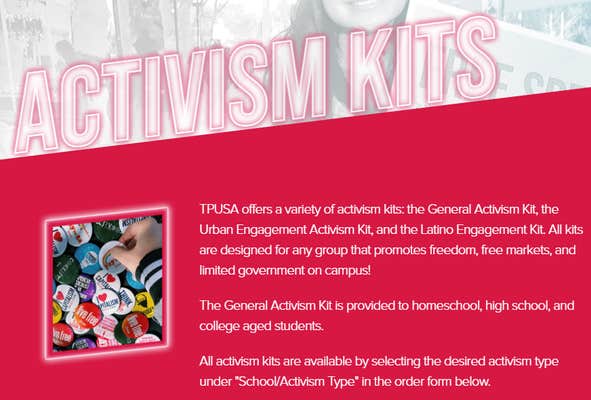 The organization is quite sensitive about these toolkits. Its site warns, "Tampering with official TPUSA materials or requesting with malicious intent violates our copyrights and will be prosecuted to the fullest extent of the law."
According to photos posted by a Reddit user, the kits contain buttons, flyers, posters, and business cards.
TPUSA also offers activism grants—literally payments to students who organize events to spread conservative propaganda.
Some called Owens on her "vile disinformation" and called her a grifter.
Some may also note the irony that a woman who holds herself out to be a free speech activist, and is even suing Facebook for allegedly violating her freedom of speech, would come out so hard against free speech in India.
Black Enterprise reports that Owens is using the lawsuit against Facebook to raise money.
"Support our legal efforts today as we fight back against Facebook's fact-checkers, confronting those who are suppressing free speech, thought, and expression across our great country," she wrote on her website.
---
This week's top technology stories