If you had to come up with a crazy plot for a science fiction movie, a team of researchers trying to wire the brains of two people together wouldn't be a bad place to start. That's why it's so strange that the team of psychology, computer science, and bioengineering professors, assistant professors, and grad students from the University of Washington aren't carrying out their seemingly insane experiments in secret, but right out in the open. Not only that, they even penned an extremely interesting research article about their remarkable findings.
The idea—which is exactly as crazy as it sounds—is to allow two humans to communicate and cooperatively complete a task in separate locations using only signals sent from one of the volunteer's brains to the other. The trials were conducted using a "Brain-to-Brain Interface" that was made possible by equipping the individuals with electroencephalography (EEG) headsets.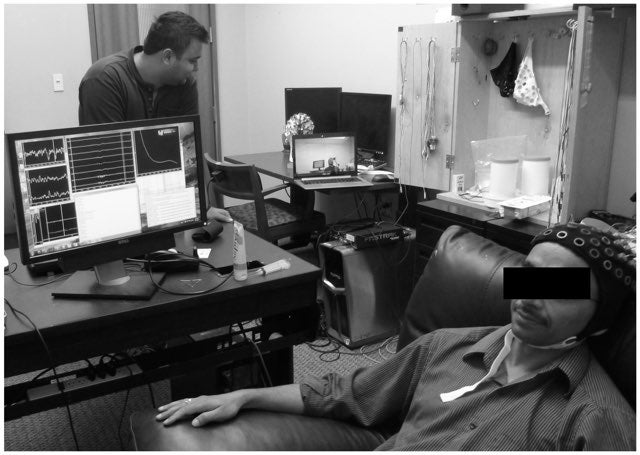 One participant, the "sender," viewed a simple computer game on a screen. The game required the players to shoot down enemy rockets as they passed by, but ignore the harmless planes that also flew from one side of the screen to the other. However, the sender did not have access to the touchpad that was needed to fire—only the receiver did. When the sender saw a rocket and decided to fire, that brain signal was transferred to the receiver, who couldn't see the screen at all. Ideally, the receiver would fire as soon as the signal was received and correctly interpreted by his or her brain.
The craziest thing about the entire experiment is that it actually worked. Compared to a zero percent accuracy in the control tests, the three pairs of testers who participated in the trials were able to successfully shoot down the rockets roughly 48 percent of the time, with one pair achieving a remarkable 83.33 percent accuracy. The teams also avoided shooting down the airplanes 81.25 percent of the time.
Those numbers might not seem super impressive, but keep in mind (no pun intended) that all of this was accomplished using just EEG data sent from one human's brain to the other while both were in separate buildings. The data was sent over the internet, which adds a whole additional level of creepy to the mix and conjures up images of nefarious brain hackers manipulating everyday citizens into doing their bidding. Thankfully we're not all hard wired to the Internet… yet. 
Photo (top) via ajeofj3/Flickr (CC 2.0)