The federal government may not always use the most up-to-date technology where it counts, but many of its departments have at least mastered the art (and yes, it is an art) of operating awesome Tumblr blogs.
When you picture great Tumblr pages, the federal government probably doesn't come to mind first, or at all. But the executive branch's many agencies and bureaus have spawned a small army of blogs. It's an attempt to broadcast department-specific news and tips to the site's key demographics of Supernatural shippers, cat GIF enthusiasts, and Supernatural GIF enthusiasts.
Obviously, there's the White House Tumblr, but if you're not into that partisan stuff, there are still many options for you.
Here are a few government-run Tumblrs worth adding to your feed.
1) Today's Document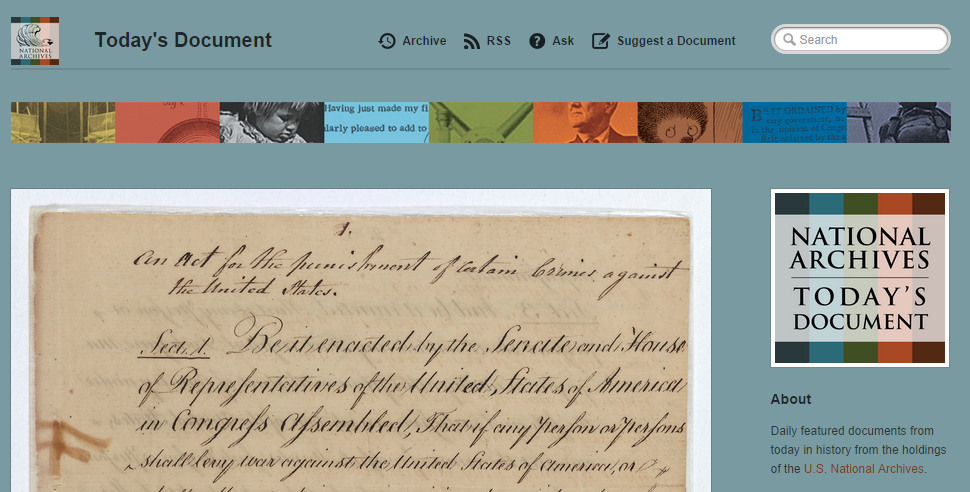 Some of the most important moments in history can be traced to memos. Brief missives from one official to another later balloon in significance, but the documents themselves are later forgotten in a filing cabinet. Other documents are not as earth-shattering in import but still tell interesting stories that have long since slipped off the front pages. The National Archives' "Today's Document" Tumblr shines the spotlight on these documents, photographs, and other digitized errata. Examples include the Apollo 11 flight plan, Thomas Jefferson's report on the storming of the Bastille, and correspondence between President Franklin Roosevelt and a young Bobby Kennedy.
2) Our Presidents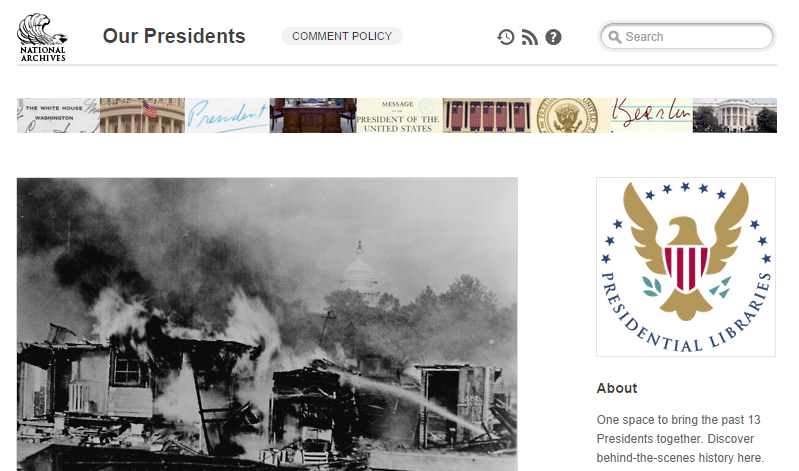 Few people in American politics receive more scrutiny than presidents, but once an administration ends, mainstream attention moves on to the new incumbent. Our Presidents, another National Archives Tumblr, shares stories, photos, and documents about every president since that guy with the cherry tree. Much of the content has nothing to do with their administrations or even their politics. These random tidbits and memories make for the some of the most interesting material. Our Presidents puts these commanders-in-chief in a new light, simultaneously answering questions we might have had and raising new ones we never considered.
A few things I learned from Our Presidents: FDR took trips to Germany as a small boy, the Russians gave Truman German cologne in Potsdam, and LBJ enjoyed deer-meat sausage.
3) National Archives Exhibits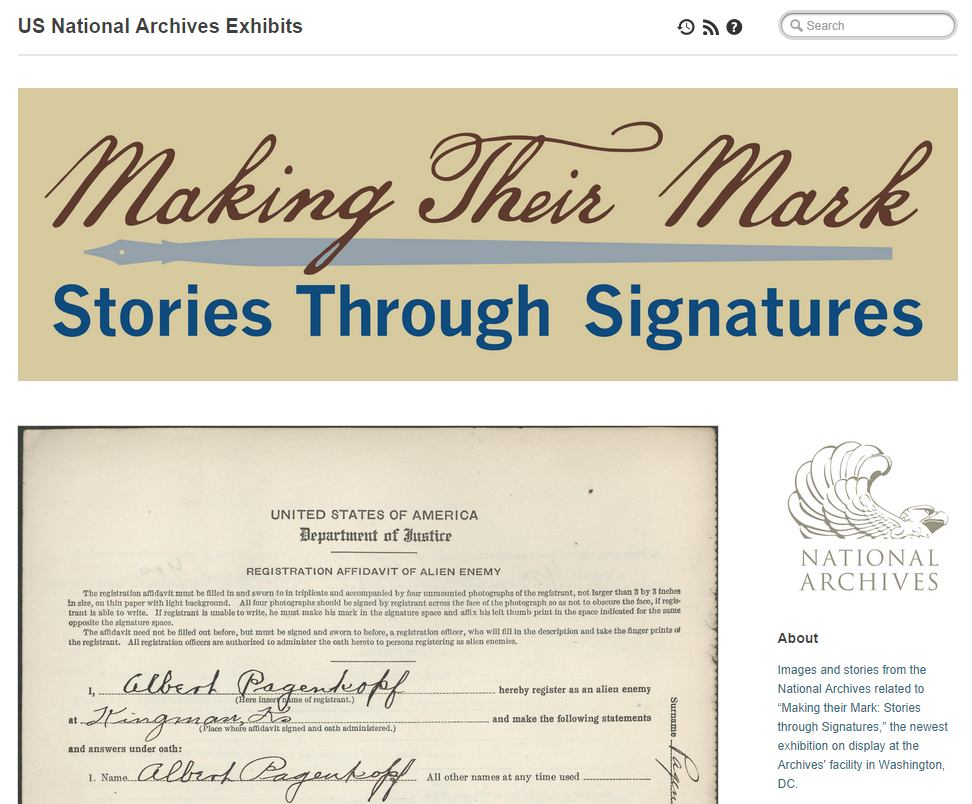 The National Archives has a Tumblr that features content related to their rotating exhibits, and right now the centerpiece is "Making Their Mark: Stories Through Signatures." It's similar in concept to Today's Document, but there is actually very little overlap. On the "Making Their Mark" Tumblr, you can find the Treaty of Paris, the Constitution of the State of Texas, and Amelia Earhart's letter to President Roosevelt describing her fateful 1937 world flight. ("The chief problem is the jump westward from Honolulu," Earhart wrote. It would appear she encountered other problems along the way.)
The post about Earhart's letter says, "Every signature tells a story." The documents on this Tumblr, authenticated by scrawled-out and calligraphed names both famous and obscure, tell a wide range of stories.
4) America's Great Outdoors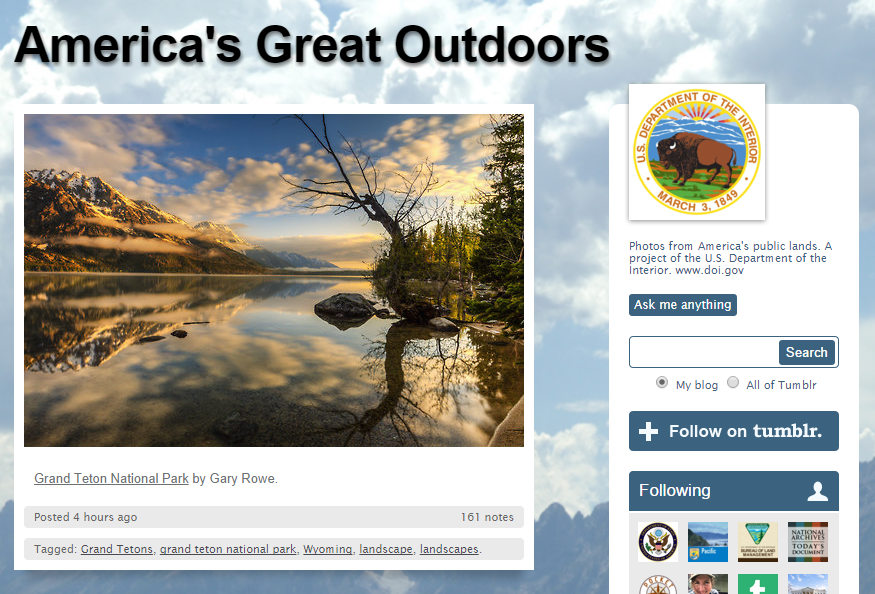 The Interior Department is, quite simply, winning on social media. Instagram profiles for the department and its Fish and Wildlife Service are some of the popular service's underappreciated gems. The fun continues on the department's Tumblr, where you can find everything from photos of the Milky Way shot in the quiet seclusion of a national park to snapshots of a racoon-vs.-sandhill-crane battle in a Mississippi wildlife refuge. If only Americans followed the Interior Department on Tumblr, maybe they would tell Congress to allocate more money for important conservation and research projects.
If nothing else, the department's photographs are excellent fodder for caption contests. Quick: What is this eastern screech owl thinking?
5) Congress in the Archives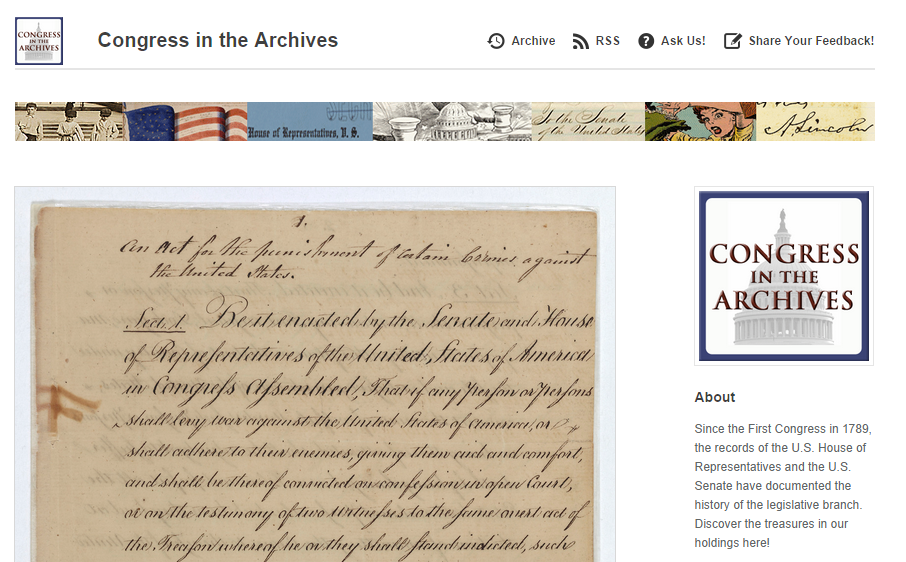 The National Archives continues to dominate this list of great government Tumblrs with its collection of historical records related to Congress. This is a particularly good to time follow this Tumblr, because from now until March 2016, its curators are celebrating the 225th anniversary of the first session of Congress, in 1789. As part of this commemoration, Congress in the Archives is sharing documents like the acts establishing the Treasury Department and the War Department. On this Tumblr you'll also find records of seminal moments in U.S. legislative history, like the Senate roll call tally on the Civil Rights Act of 1964 (73-27) and the first bill identifying federally punishable crimes. (Fun fact: The only crime specifically mentioned in the Constitution is treason.)
If Congress' low approval ratings depress you, follow this Tumblr for reminders of its highlights and historical milestones.
6) Presidential library Tumblrs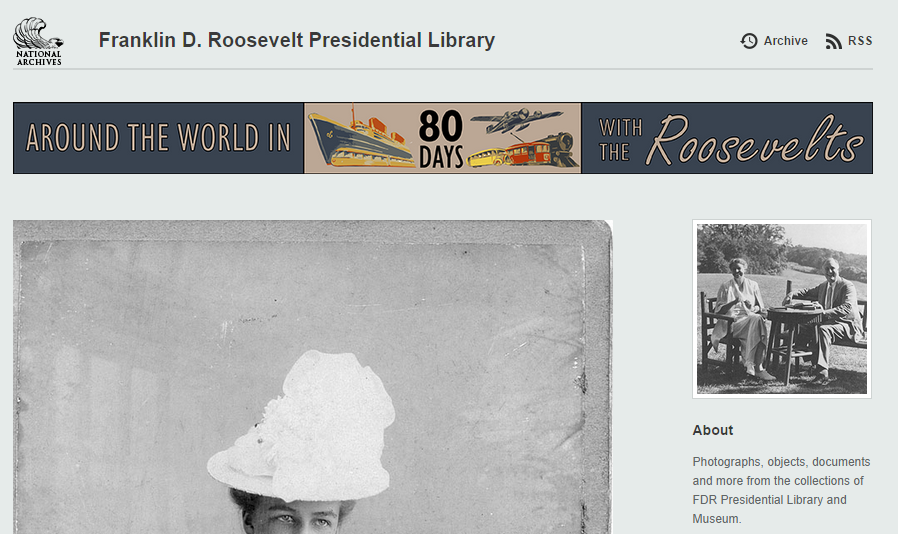 Every president gets a library, but how many presidential libraries get their own Tumblr? Abraham Lincoln and Franklin Roosevelt have them. So do John F. Kennedy, Lyndon Johnson, and Gerald Ford. If these presidents fascinate you, follow their Tumblrs. It'll be just like walking through their libraries in person, minus the temptation to touch Lincoln's stovepipe hat or FDR's wheelchair. (Disclaimer: I have no idea if those items are even on display.)
Image via ctj71081/Flickr (CC BY 2.0)