Facebook just expanded support for stickers, its own homebrewed flavor of emoji, and thank goodness. Facebook is losing teens to less bloated, newer social networks and still lacks support for GIFs and traditional emoji. Old features continue to bog down the social network's appeal to the Snapchat set, but all hope is not lost. If you listen closely to the hum of the Internet's vast, ancient social networking capital, there's a signal to be found. Singularly delightful and whimsical to no end, that signal, that ray of light shining over the bland blue sea, is stickers.
Stickers were originally conceived in Facebook Home for Android, an ill-fated experiment that also introduced chat heads, one of the social network's most reviled features to date. The team behind Facebook Home has since moved on to other things and the project was abandoned, but stickers lives on.
"I think stickers will allow people to reply to a variety of posts in a more fun way than words alone," said Bob Baldwin, the Facebook engineer who created the stickers-in-comments feature at a hackathon. "You can now easily show your excitement for a post with good news, cheer up a friend who's feeling down, and express a variety of more nuanced reactions."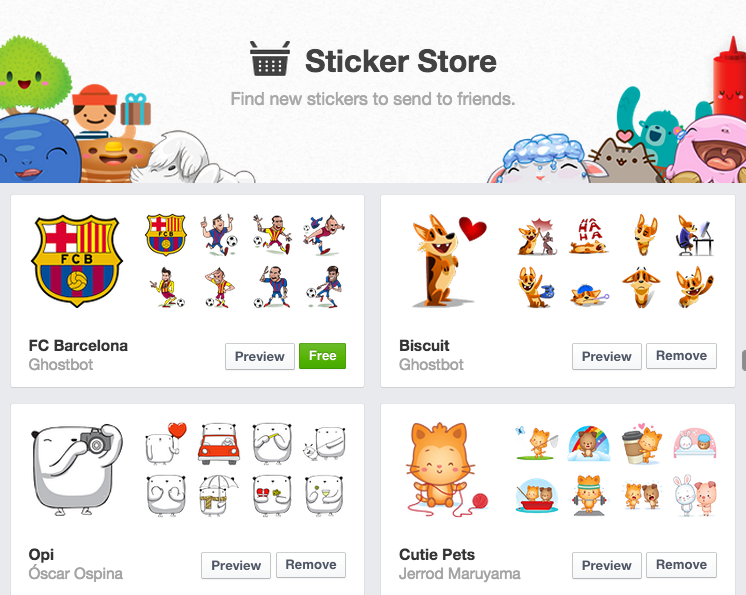 Since its first sticker pack, a set of variations on the iconic Facebook like, was introduced in 2013, the social network has added a ton of colorful options to its so-called sticker store. Some, like Snoopy, are familiar cartoon characters, but many are somewhat obscure, often adorable, and usually a bit strange. There are almost 100 sticker packs in total, including timely and event-related stickers (like the soccer set that was so popular during the World Cup).
With so many stickers to choose from, one must be discerning in their tastes. Once you install a sticker pack, it'll appear next to your existing stickers… meaning if you install them all, you'll be in for quite a long scroll. In pursuit of ridding Facebook of meaningful human interaction altogether, we've brought you our top picks for Facebook's best little not-so-sticky-cartoon-emoji-things. Some stickers are indispensable while others are inscrutable or just plain creepy. This is the cream of the crop, handpicked by our staff's Facebook sticker enthusiasts.
1) Pusheen 
This is a no-brainer. Pusheen is a virtual gray tabby cat that inspires inexplicable love in all who encounter her. Pusheen is such a popular cat, in fact, that she has a book with a glowing five-star rating on Amazon. There is a Pusheen for everything. Some of our favorite Pusheens include Pusheen-baking-biscuits, Pusheen-attacking-yarn-ball, and Pusheen-eating-noodles (all animated!).

Once you have mastery of the essential Pusheen sticker pack, you can move on to Pusheen Eats, the expansion pack. According to our own Greg Seals, the Pusheen-baking-biscuits sticker "is so real I feel like I hear her purrrrring through the screen as she kneads her dough."

2) Likes
This Facebook-made sticker pack is a classic for good reason. That reason? The thumbs-down. Without an unlike button, the thumbs-down sticker is your best bet for native, nonverbal, negative communication on Facebook. It's the loophole we've been looking for.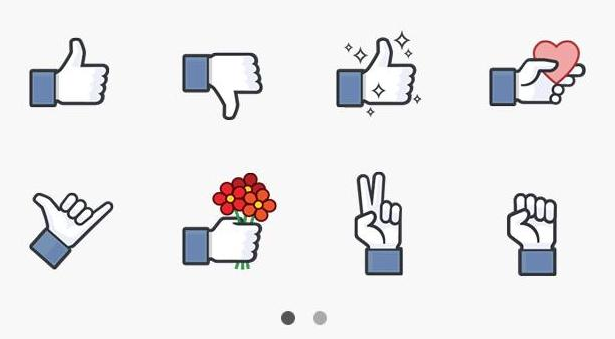 3) Power Rangers
In our admittedly informal poll of sticker favorites, we noticed a lot of love for this one. According to the Daily Dot's Ramon Ramirez, the Red Ranger in particular is "great to use as a totem for your thoughts because [he's] sad and looks at his watch and flexes and it's the best." Anecdotally, the Red Ranger really does seem to hang around quite a bit. Talk to the hand!
@tayhatmaker the power rangers ones

— Armando Rodriguez (@megapenguinx) October 15, 2014


4) Pride
Facebook's Pride sticker pack is equal parts cute and heartwarming. Introduced this June to celebrate LGBT Pride Month, this set has it all, from drag queens and leather daddies to disco balls and asymmetrical haircuts. It's like Facebook gets us.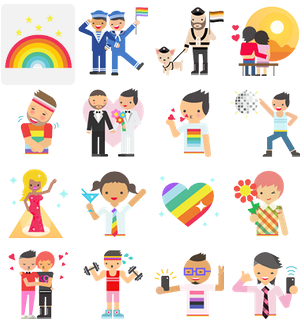 5) Prickly Pear
Rounding out our top five is the adorable prickly pear cactus sticker pack. The cactus has a lot of feelings, which it expresses with aplomb. Among them, you can use this sticker set in lieu of words to express everything from "let's get trashed" to shyness, grief, and a variety of physical ailments, like puking. As a bonus, there's a luchador cactus, so keep that one in your pocket.
@tayhatmaker the sassy cactuses doing things

— Rachael Horrorspawn (@zenparty) October 15, 2014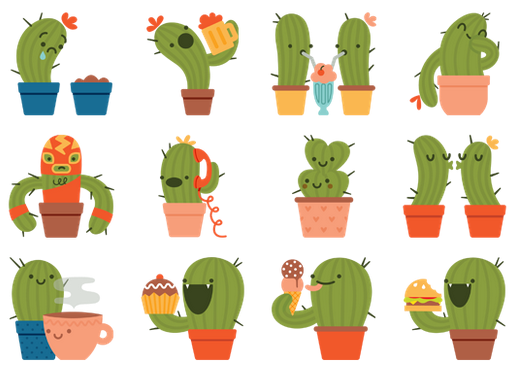 So what's the deal with this @Facebook sticker thing? Decided I will only comment using #HamCat from now on. pic.twitter.com/9drjo7mAUQ

— Jennifer Kubus (@JenniferKubus) October 14, 2014
Other staff favorites include "THE HAMBURGER ONE, WITH THE HAMBURGERS," HamCat (exactly what it sounds like), and the eminently unsettling "Mr. Baldy." The one with bigfoot high-fiving the yeti and Facebook Foxes also scored honorable mentions, but ultimately, we know where our loyalties lie.
@tayhatmaker is there any other answer than Pusheen?

— Sporkchop (@Orkchop) October 15, 2014
 Image via Jayde Fish