A few months ago, Facebook quietly rolled out the "Ask" button on select user profiles, which allows people to request information that users have opted not to share. You can ask for information like their workplace or even their relationship status. Although the "Ask" feature has apparently been around since January, it started showing up on more users' profiles last weekend, prompting everyone to flip the eff out about it on Twitter:
Ughh RT @wesleyverhoeve FB added an "ask" button to profiles of ppl who choose to not share their relationship status pic.twitter.com/V7ALuKTCDg

— Taylor Lorenz (@TaylorLorenz) May 19, 2014
Facebook's new "ASK" button is terrible. This is what you get when someone asks you: https://t.co/XeTgs4hMdk pic.twitter.com/XOzwHOZbkv

— Caroline Moss (@socarolinesays) May 19, 2014
Basically, the consensus was that the "Ask" button was creepy and invasive, part of Facebook's larger effort to guilt their users into revealing more data, so the company itself didn't have to. But when I saw the ask button pop up on my profile, I felt otherwise. I thought, "Damn, this would be an awesome way to troll people."
So I decided to do just that. Last night, I tested out Facebook's new "Ask" button on a random sampling of my friends, some of whom I hadn't spoken to in years, a handful of whom I'd never spoken to at all. I wanted to see how people would respond when I asked them to reveal one of the most personal details about their lives—i.e., their relationship statuses—on Facebook.
I decided to limit the selection to people I knew named "Alex," because I happen to know like 95 Alexes (including my boyfriend, with whom I happen to be in a relationship on Facebook). And, of course, the sampling was limited to people who had opted out of providing their relationship statuses on Facebook.
At first, I was coy: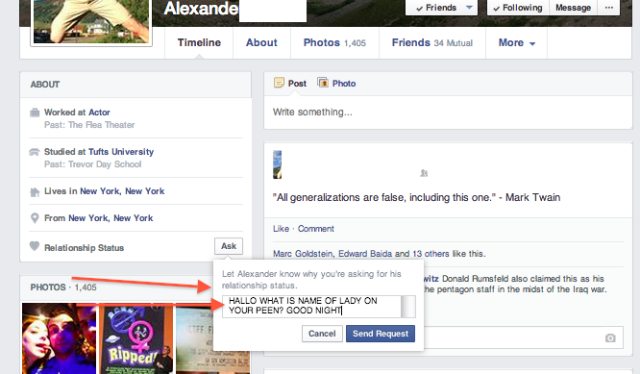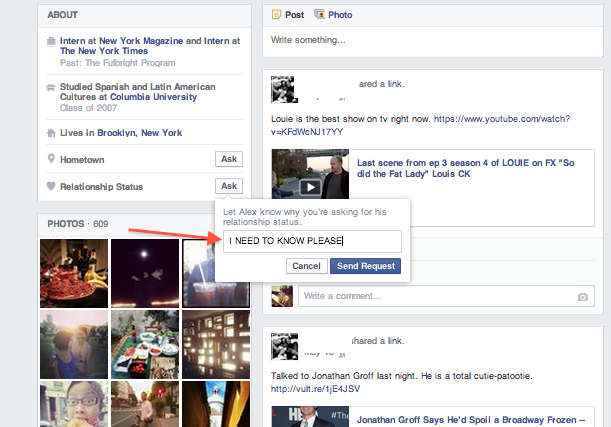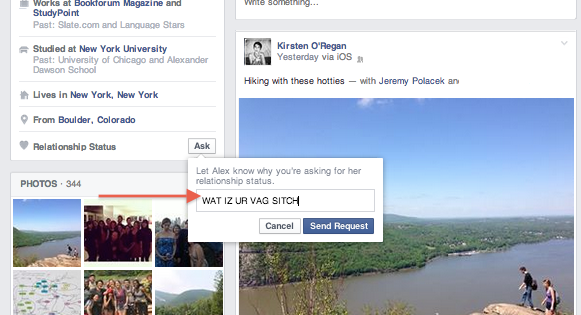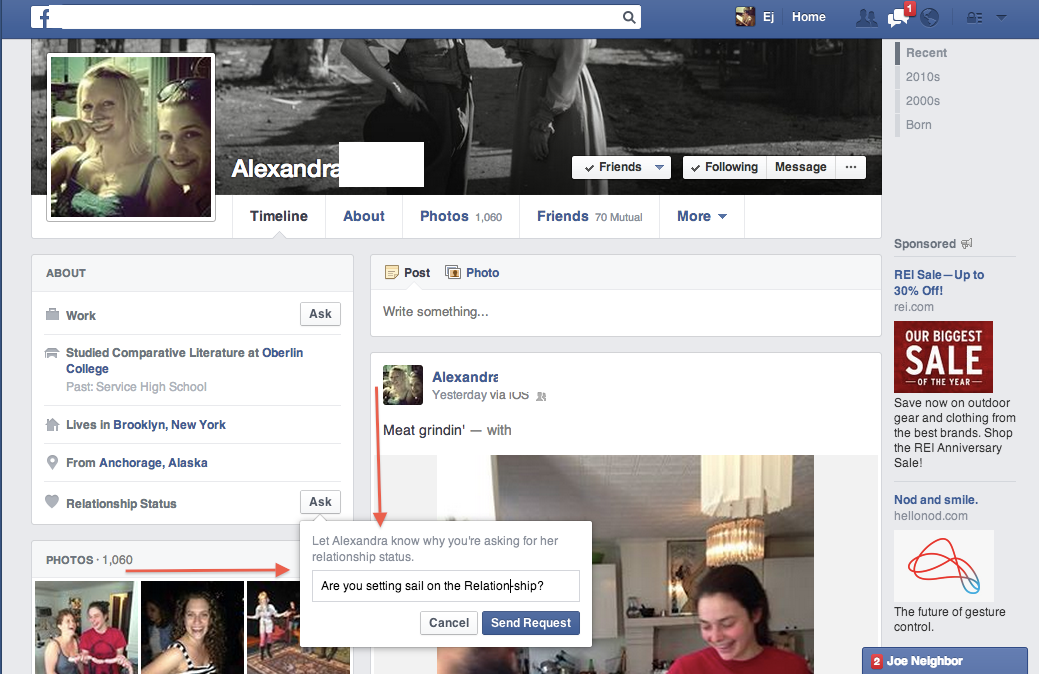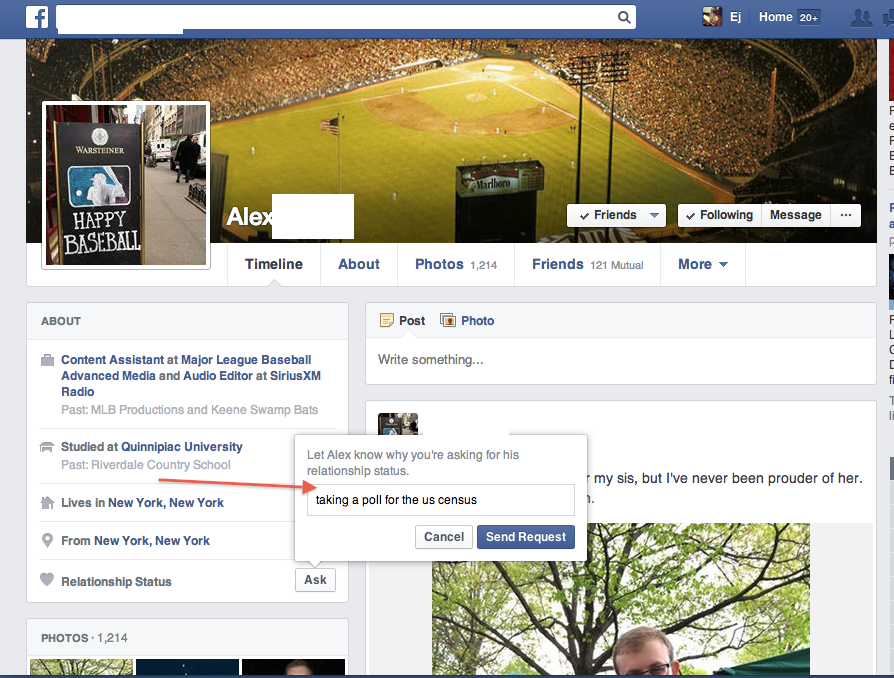 In other cases, I was slightly less so: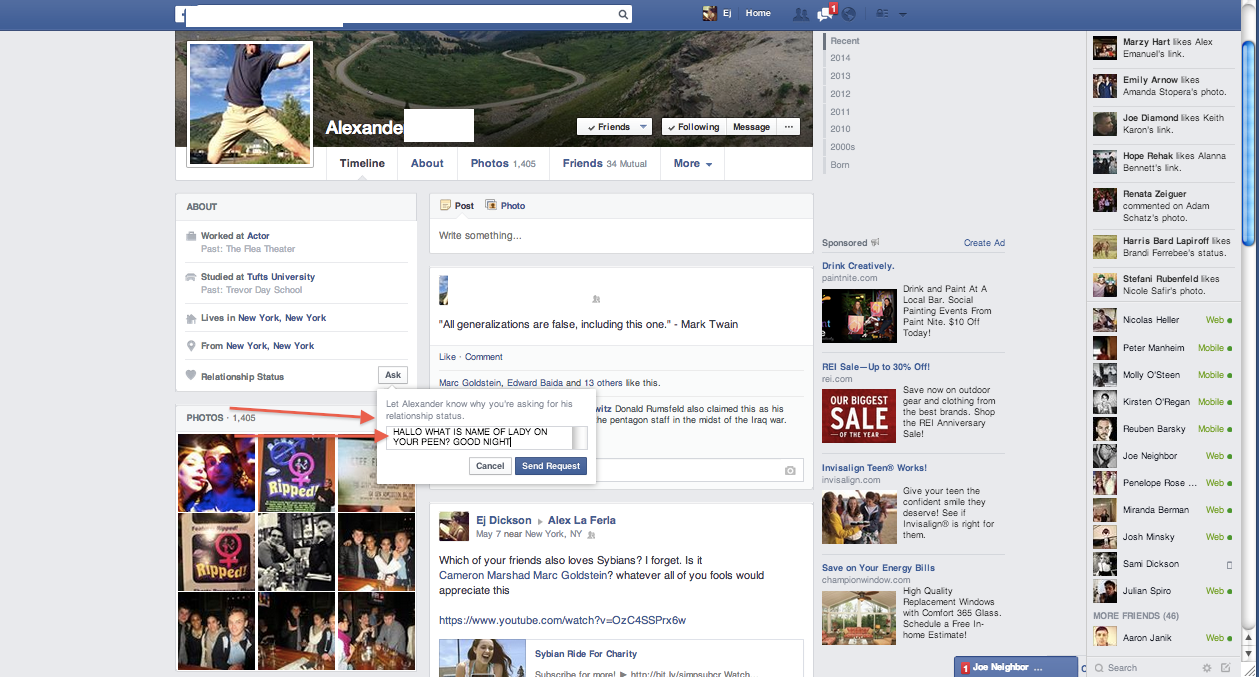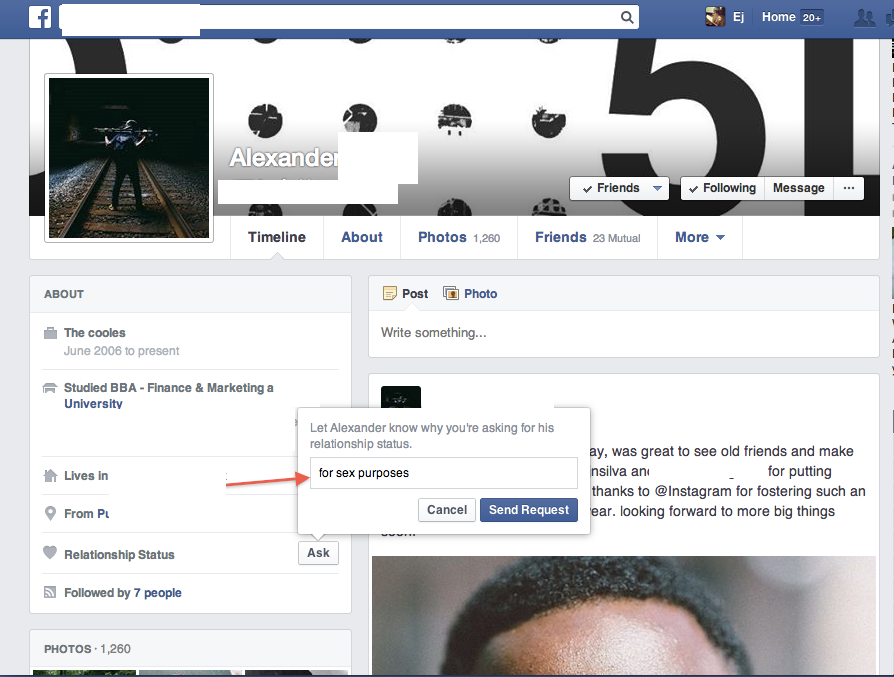 It's unclear why Facebook doesn't give you the option to ask anonymously, which I assume would give the "Ask" button a heightened level of romantic intrigue for the recipient. Instead, Facebook actually forces you to include a note with your relationship request, so you don't even have the option of doing the online equivalent of wordlessly sending over a drink to someone and slinking away sexily. You have to let them know exactly why you're asking them for their relationship status.
Which I would say I definitely did.
I haven't heard back from any of the Alexes I "asked" about their relationship status yet, so it remains to be seen whether I—or anyone else who uses the Ask button, for that matter—will find love with Facebook's new feature. But one thing's for sure: We should make an "Ask" button for Facebook's Facebook page, to ask them how we can obtain whatever drug they were smoking when they came up with this dumbass feature.
Illustration by Jason Reed