Although the Apple Watch debuted a little less than a week ago, people are already flipping their wigs over it. Some are saying that the device heralds the future of wearable technology; others, that it'll make people not want to hang out with you. But whatever you think of Apple's latest nerd-chic gadget, we can all agree on one thing: Like any other technology, people are going to use it to have intercourse with one another.
Case in point: Close Encounter, an upcoming blind dating app for the Apple Watch. Brought to you by the good folks who made 3nder, an app that lets you find a willing third party (or "unicorn") for your threesomes, Close Encounter will ostensibly alert you when "someone awesome is close to you," according to this spelling error-riddled post on Medium:
A real-time blind dating app for open-minded people.
The new product category from Apple inspired us to create something that will help all of us. A new way to connect with open-minded people.
Create instant connections with humans around you. The watch will vibrate to tell you that there is someone awesome around you. If the feelings are mutual, 3nder will take care of the rest.
Although the Apple Watch isn't going to be released until early 2015, making any discussion of the Close Encounter app largely theoretical, basically it'd work like this: You'll get a vibration alert telling you if there's another user in your area, and then you'll tap on the screen to pull up their basic profile info. A map will display users' approximate locations, and you'll be able to use the Apple Watch's digital crown to zoom in and out to find more people.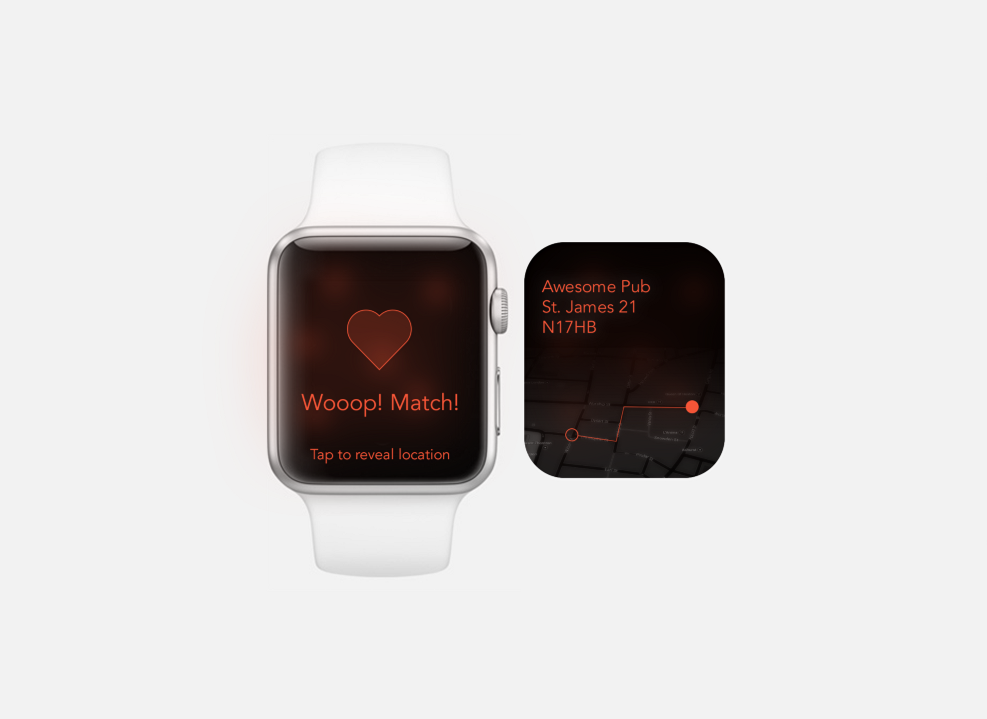 What's truly crazy about Close Encounter, however, is that the app won't show you user photos or let you exchange messages with them: It'll just display their approximate location. A mapping feature will let you follow a line that'll lead you right to them—and, presumably, the location of your corpse when cops find you stuffed inside a trash bag the next day.
By paring down the design of the hookup app to include basic profile details and little else, Close Encounter is ostensibly trying to make it easier for you to get laid, with "no chat, no bullshit." I don't know about you, but I hope I never get horny enough to be willing to walk to an undisclosed location to have intercourse with a person I'd never seen or communicated with. But at least we can add another item to the Apple Watch's list of impressive features: Helping you get murdered via hookup app.
H/T Betabeat | Photo via Apple.com | Remix by Jason Reed