"This helps keep women safe. It helps keep children safe, it keeps you from being unfairly taken advantage of by someone who has a lot more information but may appear as if they don't."
Eric Schiffer, the creator of a product called Anti-Glass, is trying to convince me that his service will protect me from high-earning creeps who use Google Glass-based facial recognition software to exploit and manipulate people. He's making a decent, if extremely paternalistic, pitch. I am now kind of scared of cyber-rapists with cutting edge technology.
Anti-Glass is a service from Reputation Management Consultants, a company used by, in Schiffer's words, " the wealthiest men and women in the world […] some of the top CEOs in the world, some of the top brands in the world, some of the biggest celebrities in the world, from rock stars to movie stars." And possibly me?
"There are multiple layers of privacy protection," Schiffer explains. "Which will result in you going to a club one night with your girlfriends and not being stalked, and hit up on by some guy who just happens to know exactly what to say and how to say it, to present himself as the modern day Prince Charming but he turns out to be your worst nightmare, because he's figured out who you are and what makes you tick because of the interviews that have appeared online, or videos or social media profiles that already exist," he tells me. "This is it."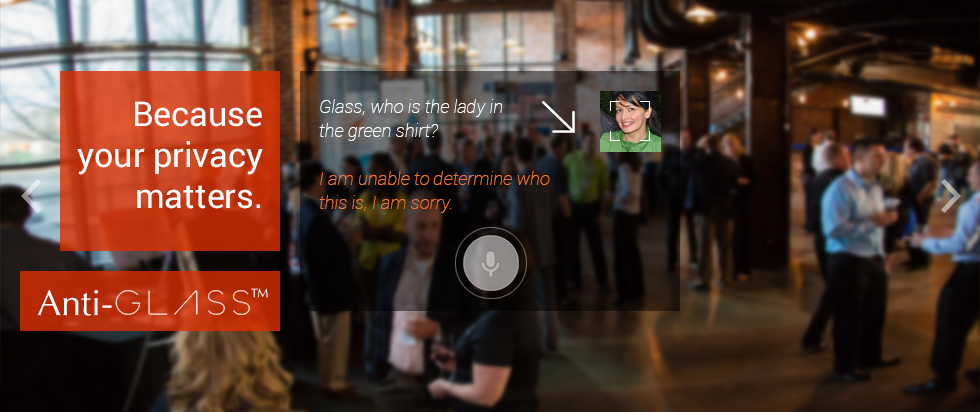 To use Anti-Glass, the company asks clients for five up-to-date images from various angles, to accurately measure out your face. They use those images as a baseline to block facial recognition. One of the basic blocking methods is to obscure your Google Image search results as part of its identity-blocking technique, so if you use the service, it will be harder for anyone to look up pictures of you through Google, not just through Glass-based facial recognition software.
But there's a lot more to it than Google Image blocking, although Schiffer was coy about the specifics. "We stop the process on two levels: One is that we make sure the facial recognition applications are blocked, and we have several means of doing that that are lawful," he explained.
"Let's just say we have a very effective way of dealing with databases, we have a very effective means of dealing with suppression, and it works. The system gets results," he said. So the exact methodology is mystifying, although the Anti-Glass website notes that the technology is similar to a police radar jammer.
Schiffer emphasized that Anti-Glass is meant to stop harassment and bad behavior, not to help people evade authorities. It will make you invisible from predators, not help you skirt the system. He intends to allow law enforcement officials to use the company's proprietary technology, and wants it to be an asset to law enforcement. But I wonder how the reception will be from police departments who want to use Glass, since the Anti-Glass technology would scramble efforts to look up bad guys as well as good guys. Schiffer pointed out that his company is highly selective about what kind of clients they take on, and since one of his goals is to work with police, I suspect people with criminal backgrounds will have a difficult time signing up for Anti-Glass.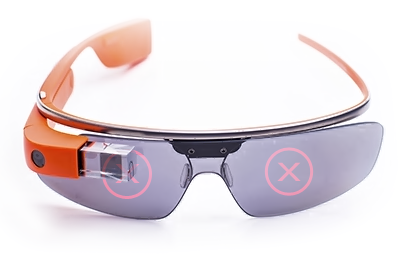 It should be pointed out that Google does not allow facial recognition software on Glass. "As our Glass Developer Policies make clear, developers are not allowed to distribute facial recognition Glassware, and Google will not approve any such Glassware for our MyGlass destination (which is currently the only approved distribution point)" a Google spokesperson wrote the Daily Dot when we asked what they thought about Anti-Glass.
So what Schiffer's product protects against isn't authorized facial recognition tools. Anti-Glass is focused on facial recognition software that people manage to sneak onto Glass—and there are already working facial recognition softwares created specifically for Glass that mine databases to identify strangers, which is exactly the type of creepy thing Schiffer is trying to protect against.
And Schiffer doesn't believe Google's moratorium on facial recognition software is effective. "Yes, Google has said that they don't want to use it for those purposes, but the reality is, the public is dictating utilization," he said. "The person who is going to use it with bad intentions is the same type of person who isn't going to follow Google's guidelines. And that's who we're trying to protect against. The criminal. The con-artist. The scammer. The wolf. And there are a lot of them out there, in every country," he said.
"Look at the data of women that have been raped, with things in their drink," he continued. "Those are people who didn't know who they were dealing with. Imagine now if you have a man who suddenly knows how to say the right thing. It's kind of scary for a woman." At this point in the interview, I am half-convinced Schiffer has seen the movie Taken too many times and half-convinced that I am going to be assaulted by a dastardly Glasshole.
Although Schiffer says the focus is on Glass, this technology could really be used for any facial recognition software, not just the kind developed for Google's fancy headwear. (That's interesting to note considering reports of how accurate Facebook's facial recognition software has become.)
Schiffer's hypothesis that facial recognition software will become a more common and accessible tool is completely reasonable, and the Anti-Glass effort could be part of a meaningful privacy movement against facial recognition in the future.
Right now, however, it's a prohibitively expensive safeguard against an uncommon threat. Yes, the idea of someone equipped with Glass using facial recognition software to pull up information about us is a 10/10 on the scary scale. But it's also not a very likely scenario at this point. Pepper spray is more practical than spending a fortune on the Anti-Glass service: Prices run between $3,000-$15,000 per year (Schiffer did note the company makes pricing exceptions if you're being stalked, however).
Most people don't have the kind of dough to drop on Anti-Glass and other high-end reputation management services  ("high-end reputation management services" might be one of those distinctly 1 percent phrases, like "my yacht" and "dividends."). And right now, that's fine, since there aren't that many people who even own Glass, let alone use it with intent to prey on you.
But Anti-Glass isn't building for now: It's building for a future wherein facial recognition devices—be they implanted in Glass, smartwatches, storefront windows—are a dime a dozen. When, and if, this all reaches a point where it's threatening, and not just "creepy." 
Photo via Davy G./Flickr (CC BY 2.0) and teydeytan/Flickr (CC BY-SA 2.0); remix by Jason Reed