One of the largest initial public offerings just went down in the United States, but the company name is unfamiliar to many Americans. Here's the basics about what just went down. 
Alibaba is a Chinese e-commerce giant with international aspirations.
Alibaba, the Chinese e-commerce company analysts have described as a mashup of Amazon, eBay, and PayPal, dominates around 80 percent of the Chinese e-commerce market. It made around $248 billion in 2013, and intends to grow. The company officially filed their F-1 registration with the Security and Exchange Commission today.
They filed the IPO for $1 billion, but that is a placeholder. This IPO is expected to raise between $15 and $20 billion, which will make it the largest U.S. public offering since Facebook, a name that's far more familiar with Americans.
Wait, so what does Alibaba do exactly?
Alibaba is an online marketplace, like eBay. On its Taobao site, where businesses sell to customers, it mostly features Chinese companies, although there are Western companies as well. But it's much more than just a marketplace. It functions as a business-to-business portal that helps Chinese companies connect with international buyers. And the company pulls in millions with its cloud computing services. It has a popular shopping-based search engine. It also created Alipay, a major online payment service in China, though Alipay is not part of the IPO… if it were, it'd be even larger.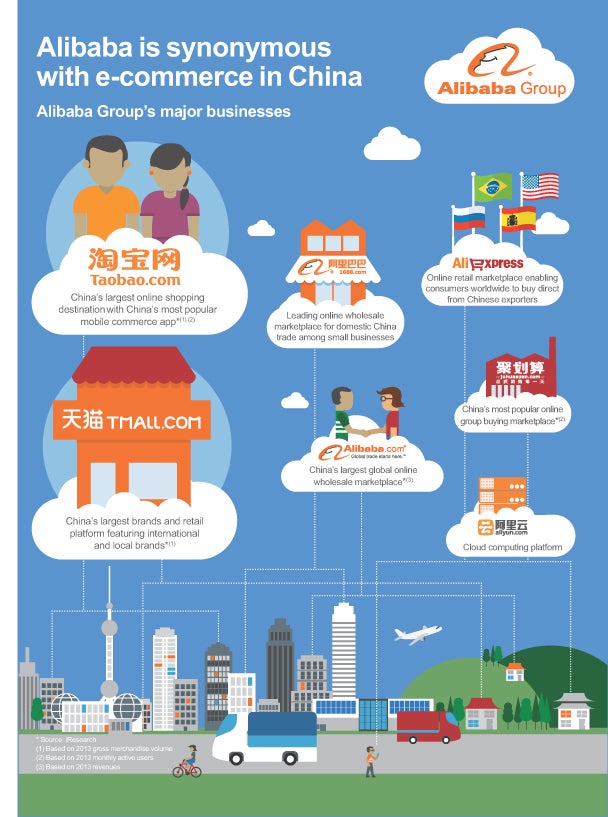 What does that mean for Silicon Valley?
Although most of Alibaba's business is in China, the company has an international mission, and ties to Silicon Valley. Lots of Northern California investors will benefit from this IPO.
This IPO is critical for Yahoo, which has had a strategic partnership with Alibaba since 2005. Yahoo owns 22.6 percent of Alibaba. Alibaba is valued around $150 billion, which means Yahoo's stake is around $34 billion. Yahoo, right now, is worth around $36.7 billion. And that's a conservative estimate; when it hits the New York Stock Exchange or Nasdaq, some analysts believe it will be worth $200 billion. Whether it turns out Alibaba is a $150 billion or $200 billion dollar company, it will provide Marissa Mayer with an enormous increase in spending power.
Meet Jack Ma, the eccentric founder
Alibaba's primary founder and chairman Jack Ma is already a billionaire. But this IPO will make him even richer. He owns around 7 percent of the company. Ma has an origin story to rival Steve Jobs. He started Alibaba from his apartment in Hangzhou, China, without knowing how to code or much about technology beyond how to answer an email. He's a charismatic figure who gives enthusiastic singing performances at company functions and is thought to excel at hiring the right employees. Although he stepped down as CEO, he is still considered a central figure in Alibaba.
So, who should be worried?
Ebay and Amazon. But that doesn't mean Alibaba is perfect, or even ready to really infiltrate the U.S. market. It has been criticized for selling counterfeit goods, and while it will be much easier for a Chinese e-commerce platform to break into the U.S. than it would be the other way around, Alibaba is still primarily geared for Chinese consumers and would have to make some serious adjustments to compete against domestic e-commerce services in a major way. Then again, Jack Ma is one determined dude, so we'll just have to see.
Photo via Flickr/David_Shankbone (CC BY 2.0) | Remix by Fernando Alfonso III