Last summer, far-right shock jock/fake news maestro Alex Jones and his site, InfoWars, were banned by tech giants Facebook, YouTube, Twitter, Spotify, and Apple. Citing repeated violations of their policies against harassment and spewing hate, one by one the companies forced Jones to log off their sites forever.
Jones reacted to the bans by crying censorship and claiming there was a conspiracy to silence him. But almost immediately, he quietly returned to Facebook, and it's business as usual for the conspiracy theorist. Just under a slightly different name. 
Facebook, which had mulled banning Jones at the highest levels—by founder Mark Zuckerberg himself—had initially only temporarily blocked him, but ultimately decided to permanently kick him off.
Facebook even took the extraordinary measure of explaining why it had banned Jones in a lengthy post, citing him for violating its hate speech and bullying policies, as well as glorifying violence and "using dehumanizing language to describe people who are transgender, Muslims and immigrants."
But it left up at least one of his pages, and Jones' team quickly pivoted to it. You can now get your InfoWars on NewsWars. 
Jones has spent much of the last several months whining that he is being censored, and casting the bans as a left-wing conspiracy to suppress the truth. But he has also spent what appears to be an increasing amount of time publishing to Facebook, in what could be considered a violation of his ban.
In November, the Washington Post reported that the Facebook page NewsWars has replaced Jones' other accounts. Jones told the outlet that his company operates NewsWars.com, but denied personally running the Facebook page. He did concede that his social media staff sometimes suggests content to post. InfoWars also has another page, InfoWars Live, despite the main account's ban. 
NewsWars purports to be the Facebook page of Newswars.com, but a vast majority of the posts on it are content rehosted from InfoWars and The Alex Jones Show. A typical Facebook post on NewsWars will take you to a post penned by InfoWars, with a video of Jones embedded.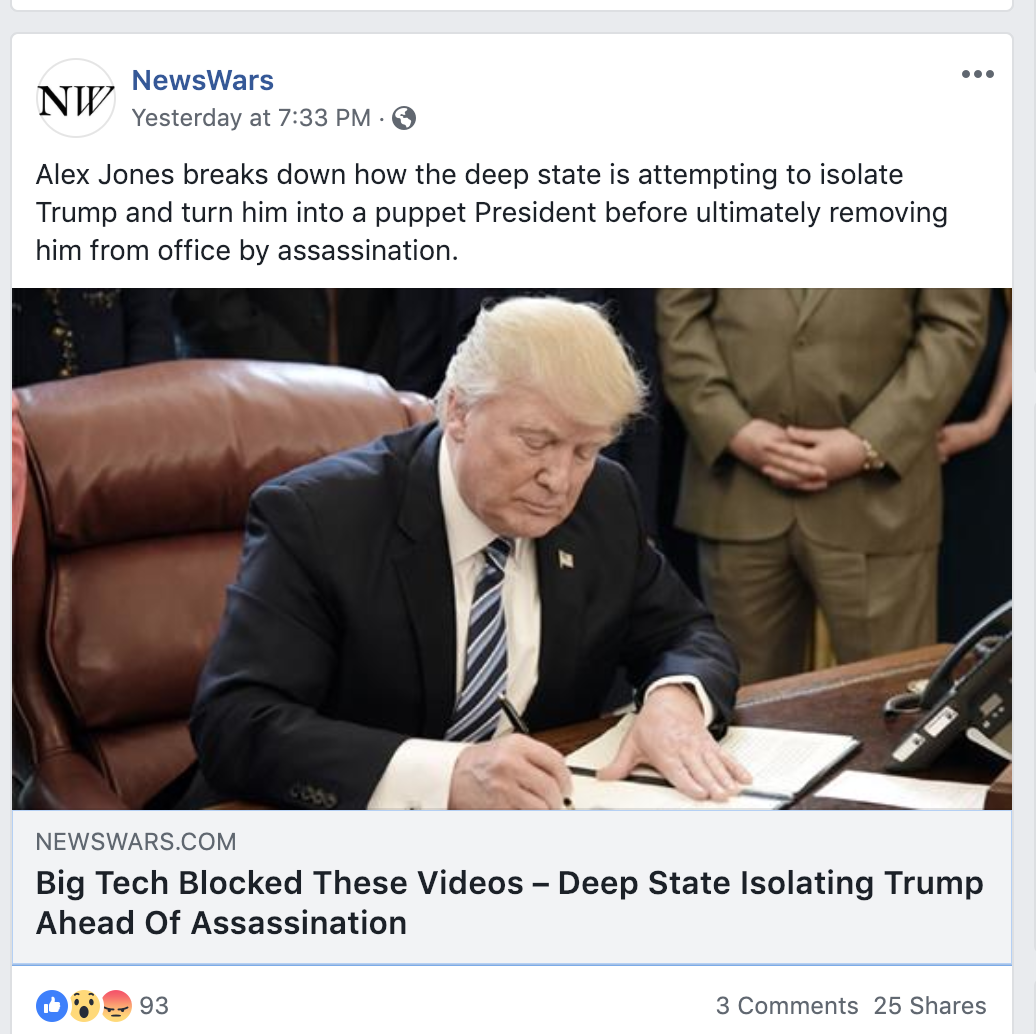 Jones announced the creation of the site in a 2017 InfoWars blog post, the Washington Post reported. NewsWars also has a presence on YouTube, which banned Jones as well.
Facebook did not respond to the Washington Post's request for comment then. In a statement to the Daily Dot, Facebook said, "We are continuing to review reports that we receive from people on Facebook and take action in line with our Community Standards."
NewsWars, which has nearly 30,000 likes and 35,000 followers on Facebook, and which the Washington Post reported had racked up 3.9 million video views from August through November, has stepped into InfoWars' void.
It routinely posts videos of Jones' and other InfoWars shows, often several a day, including many that likely violate Facebook's terms of service, and the very reasons the company gave for banning him in the first place. Muslims, LGBTQ people, and immigrants are favored targets, and violence is often glorified.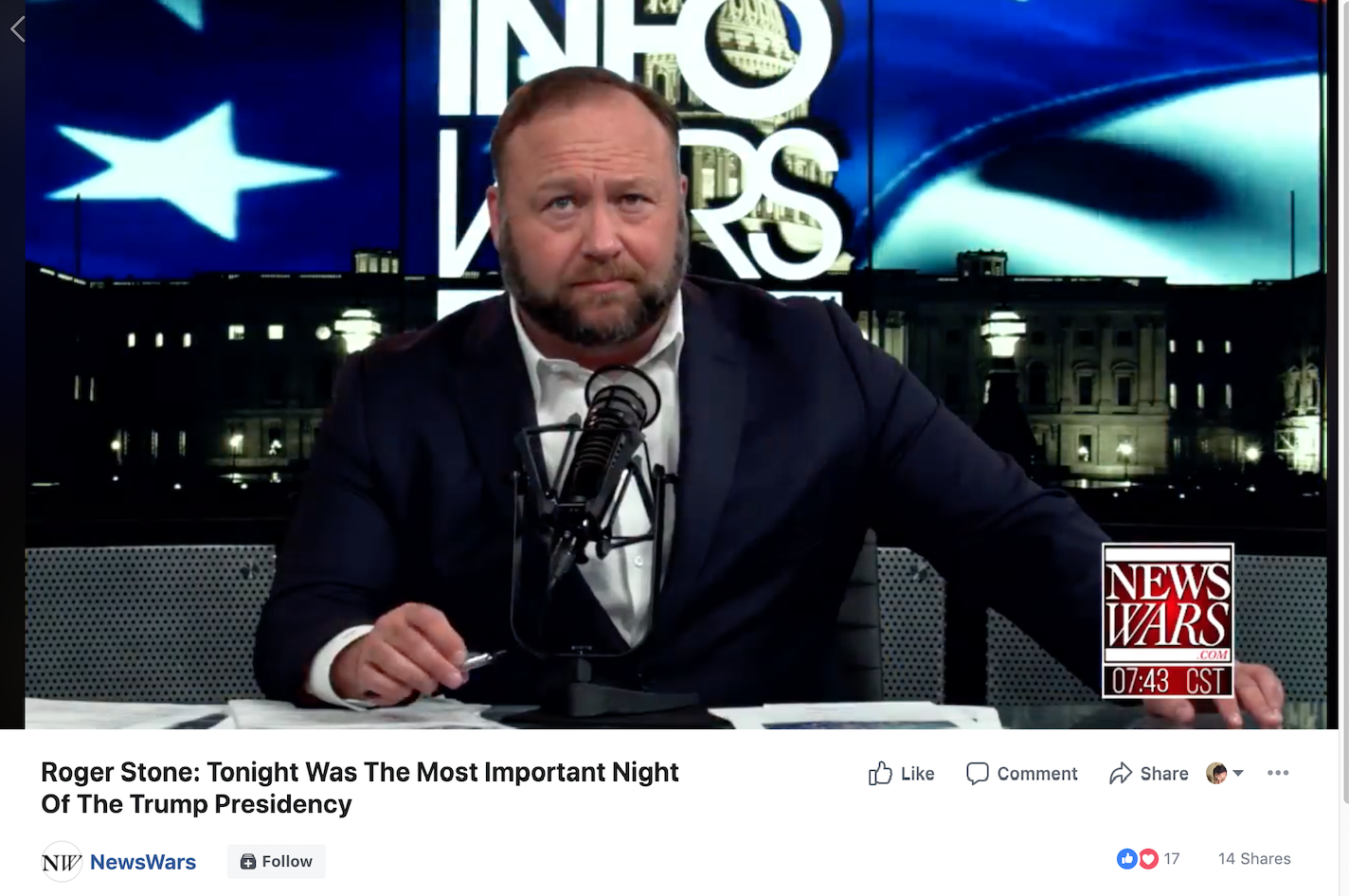 In a video posted on Tuesday, Jones goes on a tangent about U.S. Marines during WWI being sexually turned on by killing German soldiers.
"The Germans said it's like they're crazed dogs, they love the killing and death even more than we do," Jones said. "These weren't pedophiles raping some kid depraved deal. These were men overwhelmed three to one with bayonets, killing Germans, frothing, getting off so bad that it sent a shock wave through the Germans."
(Jones' comments about World War I begin at the 18:00 mark.)
https://www.facebook.com/theNewsWar/videos/370302900214489/?t=1091
This diatribe occurred in the midst of a conversation about CNN reporters and InfoWars' social media bans.
"We have to have that spirit of the joy of fighting these people," Jones concludes of these "enemies," implying his followers should fight against the mainstream media with the same kind of vehemence.
https://www.facebook.com/theNewsWar/videos/884795711690724/
Pedophilia remains a favored topic of Jones and his cohorts, who routinely push false conspiracy theories associating liberals with child molestation in videos that also frequently demonize LGBTQ people.
A video posted three weeks ago, "The Sordid History of Pedophilia and the Political Left" claims that liberal political movements have a long history of supporting pedophilia.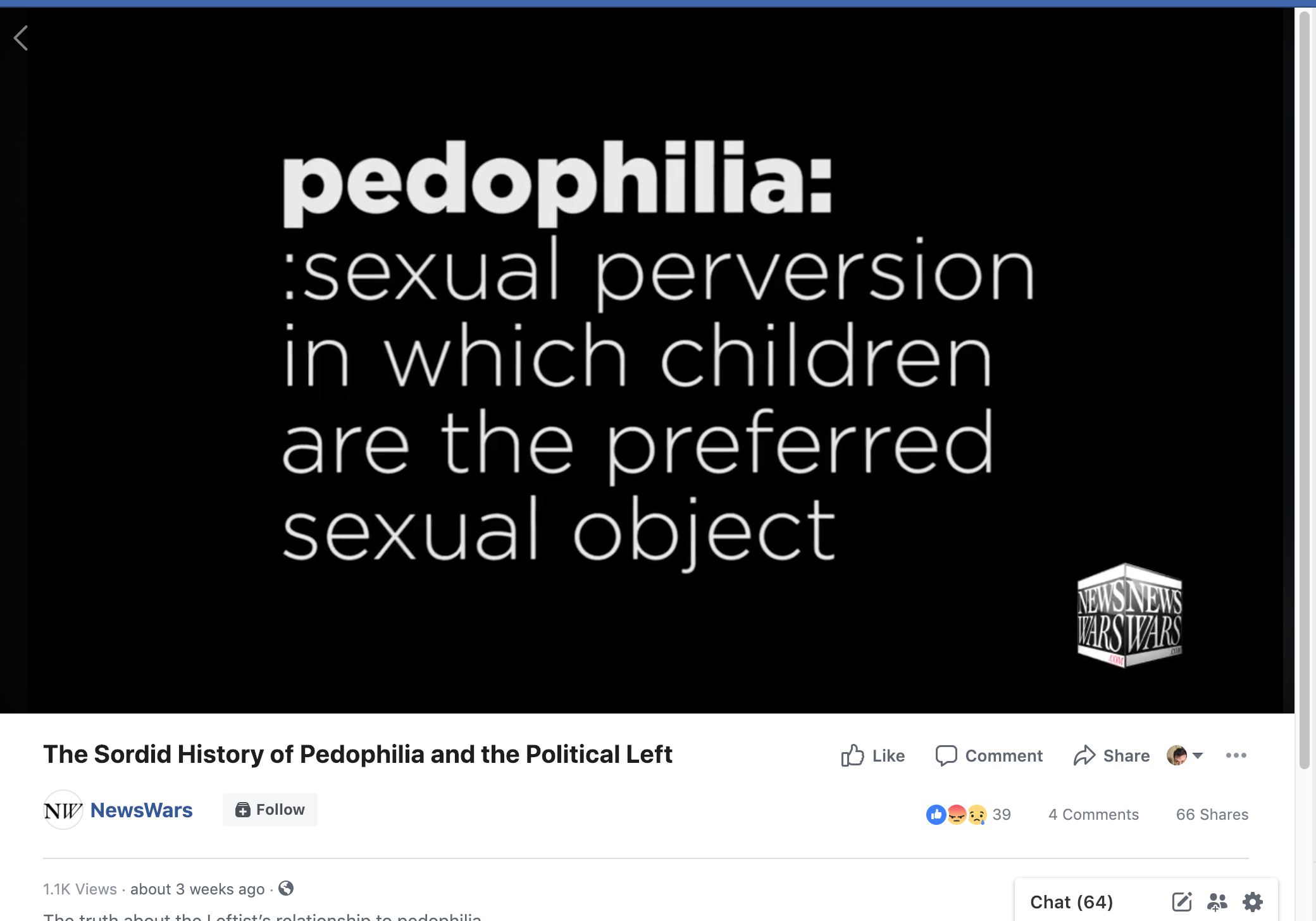 A video posted on Monday, "State Approved Pedophilia," likens parental acceptance of LGBTQ children with pedophilia and child abuse.
In that video, which has already racked up 7,500 views, InfoWars reporter Millie Weaver references another pack of lies the site promotes: conspiracy theories about vaccines, tying it somehow to LGBTQ people. 
"Because I don't want to vaccinate my child full of your vaccines full of chemicals that have this high occurrence of autism and auto-immune diseases, that somehow I'm abusing my child," Weaver says. "…All the while our children are being attacked by this progressive community that wants to indoctrinate them with LGBTQ propaganda belief systems."
Hate for LGBTQ people is rampant on the page, exemplified by videos like "Failing Penthouse Run by Lesbian Man-Hater Mocks Alex Jones," "Drag Kids Prove Cultural Marxism Alive and Kicking," and others. In the former, Jones' guest Gavin McInnes says, incredulously, "[The left] have less scruples than Bloods and Crips … Gangbangers are more moral than these political activists."
In the latter video, a voiceover likens 11-year-old self-styled "drag kid" Desmond is Amazing, who in November appeared on Good Morning America, as an example of "the evil debasement of children," resulting in the "[cratering] of a moral society," which he claims is an objective of the left. Other ways the left pursues this goal, he says, include "creation of racism offenses," "huge immigration to destroy identity" and "dependency on the state or state benefits."
Such statements appear on their face to violate Facebook's prohibition against vilifying protected classes of people. 
NewsWars isn't the only way InfoWars content makes it to Facebook. The "Drag Kids" video is credited to Prison Planet.TV, yet another Facebook page and website that is affiliated with Jones. Its Facebook page has nearly 30,000 followers, the handful of videos posted there all also appear on NewsWars' page,
Prison Planet is the Twitter handle of Jones' longtime co-worker, Paul Joseph Watson, who escaped the wrath of most tech companies in 2018. Prison Planet TV did not immediately respond to an inquiry sent via Facebook Messenger.
Vilification of Muslims and immigrants also continues on such videos as "Muslims Launch Terror Attacks Across Europe for New Years" and "Why The Murder Of An American By An Illegal Should Be Politicized."
In the intro to "Muslims Launch," Watson rips the "globalists," a group Jones purports to believe is part of a shadow world government, but in reality seems to refer to anyone in government he disagrees with. "They've aligned themselves with a force [Muslims immigrants] that wants to bring down Western civilization and remodel it in their own image, which is what the globalists want to do as well, which is why they've made that alliance.
"The more concerning thing for me, Alex," Watson continues, "is not really the terrorism, it's the cultural imposition. It's this idea that integration works. It doesn't work!"
In the video, Watson demands immigrants be educated and references "Islamic no-go areas" where whites are "chased out." Watson goes on to talk about how immigrants celebrate New Year's by "raping" hundreds of women.
All these videos are no different than the kind of fear-mongering and race-baiting Jones has always done, which is what got Jones banned from Facebook originally.
The company bans hate speech in its community standards, calling such speech any "direct attack on people based on what we call protected characteristics — race, ethnicity, national origin, religious affiliation, sexual orientation, caste, sex, gender, gender identity, and serious disease or disability. We also provide some protections for immigration status."
Speech that is violent or dehumanizing, calls for segregation or exclusion, or refers to a protected class as inferior, can be deemed hate speech, and users can be punished up with bans, such as those given to Jones and InfoWars. The terms of service also prohibit those whose accounts have been disabled from using the site. 
It is understandable that a company like Facebook with billions of users posting millions of times daily cannot possibly track and police every single post. But given previous coverage of NewsWars' affiliation with Jones and InfoWars, and NewsWars' seemingly exclusive posting of InfoWars' videos on Facebook, including some that appear to violate the very policies cited in the ban, Facebook has either been not paying attention, or turning a blind eye.
This article has been updated to include a statement from Facebook.