If you're a struggling artist who can still somehow manage to afford a smartphone, good news! There's money to be made through making videos on Vine.
At the Moving Image Contemporary Video Art Fair in New York, artists were selling off their six-second masterpieces. Marina Galperina, art editor for Animal New York, and Kyle Chayka, an editor at Hyperallergic, created a project called The Shortest Video Art Ever Sold, in which they enabled artists to screen their vines and sell them to art aficionados.
According to the Guardian, the project generated 22 videos looping on a TV, which were dotted with promotional vines from the curators. Buyers could take home a USB drive which contained the vine, allowing them to do whatever they liked with it. A single vine ran $200, or $4,500 for the set.
In the end, one vine was sold. The work by Angela Washko, titled "Tits on Tits on Ikea," sold to Dutch collector Myriam Vanneschi. The video shows a woman holding an image of two pink balloons to her chest while sitting on an Ikea couch.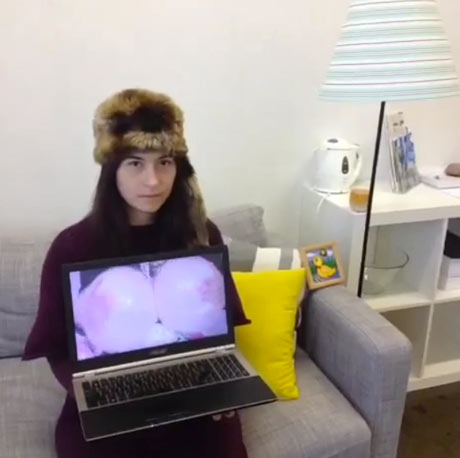 "It represents an alternative model to the gallery system," Vanneschi told the Guardian. "When art becomes solely a commodity, I find it very uninteresting, but I see buying Internet-based art as very interesting, as an alternative."
Meanwhile, someone's figured out how to hack Vine so you can post a video of any length. We can't wait to see someone vine their 30-minute description of Vincent van Gogh's "The Starry Night," sell it for $3,000, and pulverize the Internet into self-referential pulp.
Photo of Angela Washko via @angelawashko/Twitter