The voice assistance software shipping with Apple's new iPhone OS makes an easy target for inappropriate questions and hilariously unaware answers.
Can a robot be charming? If Siri is any indication, yes.
Siri, the voice-recognition software in the latest version of Apple's iPhone software, has charmed thousands of users with all the witty and philosophical things the app has already said in its very short life.
It launched this week for current iPhone owners who updated their software, and hundreds of thousands more will meet Siri when their preordered iPhone 4S devices arrive Friday, the first day the new iPhone goes on sale..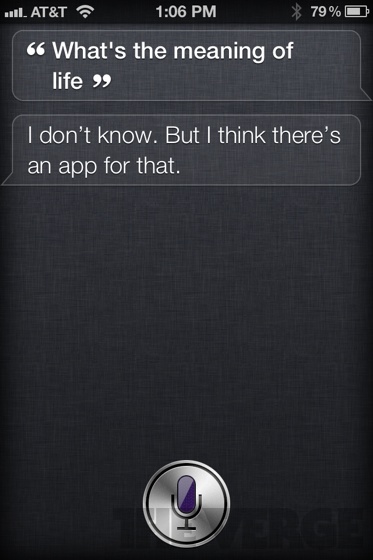 One Tumblr blog, Shit That Siri Says, not yet 24 hours old, has already become the place to go to share all the fun things Siri says.
It may even replace Damn You Auto Correct! as the most popular collection of iPhone-mediated expression.
According to a post on the Tumblr account, STSS collected more than 4,000 thousand followers overnight, and viewers have made over 500 requests for Siri's wisdom.
To get a handle on how clever Siri actually is, see the four different responses Siri offered to the question, "What is the meaning of life?"
(Why someone would ask this of a robot is a philosophical question in and of itself, but it shows that Apple's engineers have a sense of humor and are familiar with the work of Douglas Adams.)
The first entries to the blog appear to be from an article titled  "Siri says some weird things" written by Joshua Topolsky, a well-known gadget blogger.
Siri even addresses "Joshua" in its responses, suggesting to some that Topolsky himself was behind the Tumblr account. According to Topolsky's Twitter, however, he is not. (Topolsky and the makers of the Tumblr were unavailable for comment at time of publication.)
Pure, uncut internet. Straight to your inbox.