This morning, the Internet got a little bigger. Quite a few generic top-level domain names became available for pre-registration—prompting a land rush for online properties with extensions like .tips, .kitchen, .buzz, and .singles. Confession: I could barely sleep last night, such was my excitement about waking up early and planting my flag in some valuable new corner of the Web.
I started searching the already dwindling list of available URLs at name.com. Naturally, my editors wanted to lock down dailydot.pizza, but the .pizza domain is still tantalizingly out of reach… for now. As a placeholder, we quickly settled on dailydot.sexy (a steal at $19.99!), which will soon redirect to our porn vertical. Other great ideas, including daily.dot, whiteguys.golf, and internet.dad, would also have to wait for those very promising domains to officially debut.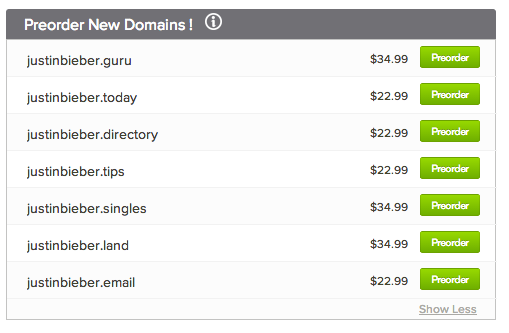 We briefly considered sex.plumbing, but somehow it didn't seem like we'd be able to flip it for more than the retail price of $34.99. Likewise, weiner.holdings and boner.limo would both set us back $59.99, though we could have saved almost 50 percent by going with weiner.guru or boner.guru. Almost every other .guru name, from socialmedia.guru to butt.guru, was already spoken for, which is perhaps unsurprising. But we needed a potentially profitable investment.
Hello, what's this? It looks as if I just paid $22.99 to become the proud owner of justinbieber.photos. Sure, he won't be famous much longer, but think about it—as Bieber continues to self-destruct, photographic evidence of his fall from glory will be in high demand. Wouldn't be surprised if I got a call from TMZ later this afternoon, honestly, or maybe just an irate fan with plans for some elaborate stalker blog. Let's start the bidding at a million dollars.

Thus far, our cart was looking pretty good, and yet there persisted this nagging sense that we could do even better. Surely there was another unclaimed URL so elegantly simple that it had the ring of genius to it. After a long struggle (in which cash.cab was revealed to be unavailable), we finally saw what had been staring us in the face the whole time: cool.guitars. Guitars are cool, right? Well from now on, they're only cool on my website, COOL.GUITARS. You know, I think I may have a real knack for this squatting-on-virtual-real-estate thing.