Singles, get ready for the best Valentine's Day yet. Pizza Hut has an OkCupid account.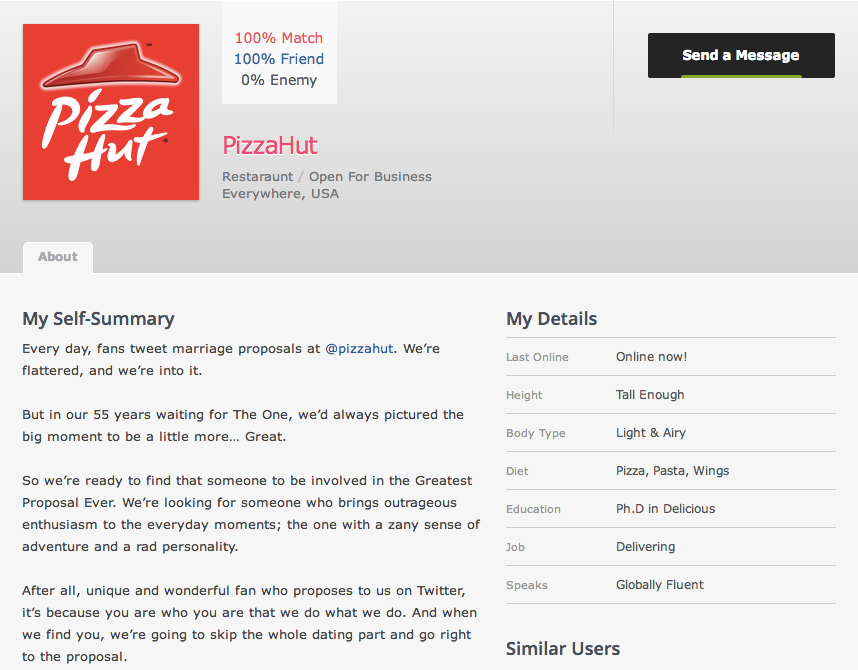 It's part of some dumb marketing campaign involving marriage proposals. It's inspired by the fact that people tweet "Marry me!" at the brand's Twitter account. (Unfortunately, yes, this is a real thing.)

It doesn't work very well, either. When you try to send Pizza Hut a message, you're redirected to the brand's Twitter. Why isn't some poor intern monitoring the OkCupid account 24/7?
A hundred percent match? A hundred percent friend? Zero percent enemy? Not likely. I'm from New Jersey, and I live in New York City. I'd rather die than be caught with a slice of this ersatz pizza. Pizza Hut is the catfish of pizzas. It is, I'll admit, better than Two Boots.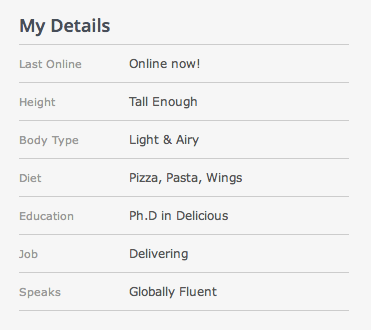 Also, not to pizza-shame, but if you are literally pizza, there is no way you can list your body type as light and airy. Just saying.
(And what is "Tall enough" even supposed to imply? That's creepy, Pizza Hut.)
My favorite part of the Pizza Hut OkCupid account is that the "Similar Users" are just… regular users. In what way, exactly, are they similar to Pizza Hut? Do they endorse Pizza Hut? Are they brand ambassadors? 
I reached out to OkCupid asking whether the Pizza Hut account is going to start showing up in users "matches," but they have not yet responded. It's a shame, too, because according to OkCupid metrics, we're a perfect pair.
H/T Adage | Image via Thomas van de Weerd/Flickr