Are the images in your Pinterest feed not quite manly enough for you? If you think the virtual pinboard site is a little too feminine, you're not alone.
In a recent Pew study of social media users, 25 percent of women said they used Pinterest, compared to a meager 5 percent of men.
Since Pinterest's creation, a number of similar websites have popped up that offer pins in what they consider manlier topics. While the men who use these sites abandoned Pinterest because of what they saw as a lack of subjects they could relate to, a number of Pinterest's power users are actually men.
If you look hard enough, you can find everything from power tools to men's fashion on Pinterest. Some of the site's most popular categories, like food and drink, also have broad appeal across genders.
Still, Brandon Harris, president and cofounder of manly Pinterest alternative Dartitup told the Daily Dot the majority of the site's content makes it awkward for men who want to like it.
"It's even something of a taboo subject among guys in social settings. In some male circles, a guy admitting he uses Pinterest is sort of weird, for lack of better words," Harris said.
If you love Pinterest's concept but not its content, here are three alternative sites where you can get your manly fix.
Dartitup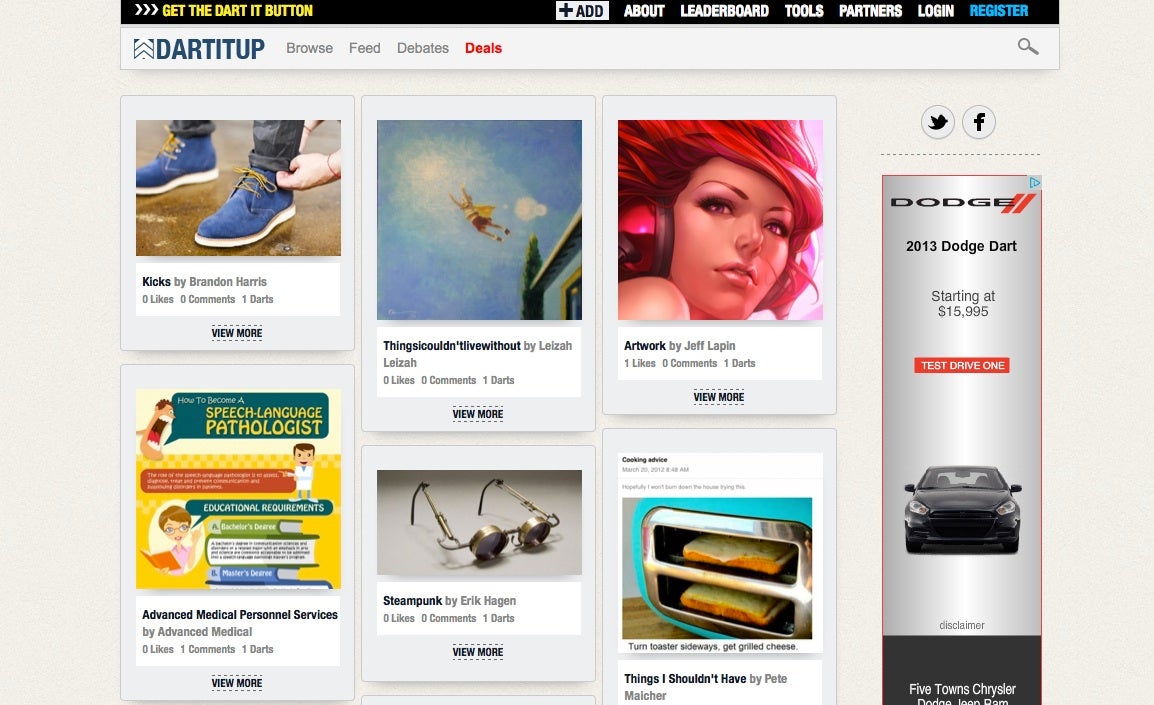 Screenshot via Dartitup
Harris was inspired to start his own pinboard website after personally trying Pinterest.
"During Pinterest's big splash last year I was engaged. I couldn't help but to see my fiancée endlessly use this site that I knew nothing about. I tried it out for myself, but couldn't get into it because 90 percent of the content didn't interest me at all. Thus, Dartitup was born," he said.
While 85 percent of his site's users are male, Harris said he loves seeing women use the site as well.
"During our launch last year, one of the first tweets I read that mentioned Dartitup came from a woman and read something like 'I'm in love with Dartitup. Goodbye, Pinterest.' That tweet made us feel like we can certainly cater to women as well," he said.
The most popular "darts" are about men's fashion. Fashion received so much buzz that the founders of Dartitup are launching a brother site, GuyRacks.com, where guys can find help dressing better at affordable prices. The beta for GuyRacks will launch before June.
Dartitup also differentiates itself from Pinterest and other male-oriented pinboard sites by being very interactive with features like debate boards, where members can upload images in answer to administrator's posts and receive points for uploading the best image. They say the interaction they've seen so far is a major reason why the Internet needs alternatives to Pinterest.
"The bulk of criticism revolves around the idea that men don't need a site dedicated to man things. My typical answer to that is how do successful publications like GQ, Maxim, Men's Health, and others survive?" Harris said. "There is definitely a huge audience out there that really appreciates the content shared on our site and we love being able to provide it."
Dude Rank: 7/10. Cool community interaction but darts in some categories don't seem much different than what's on Pinterest. Great variety, but may not be focused enough on manly content for some.
Gentlemint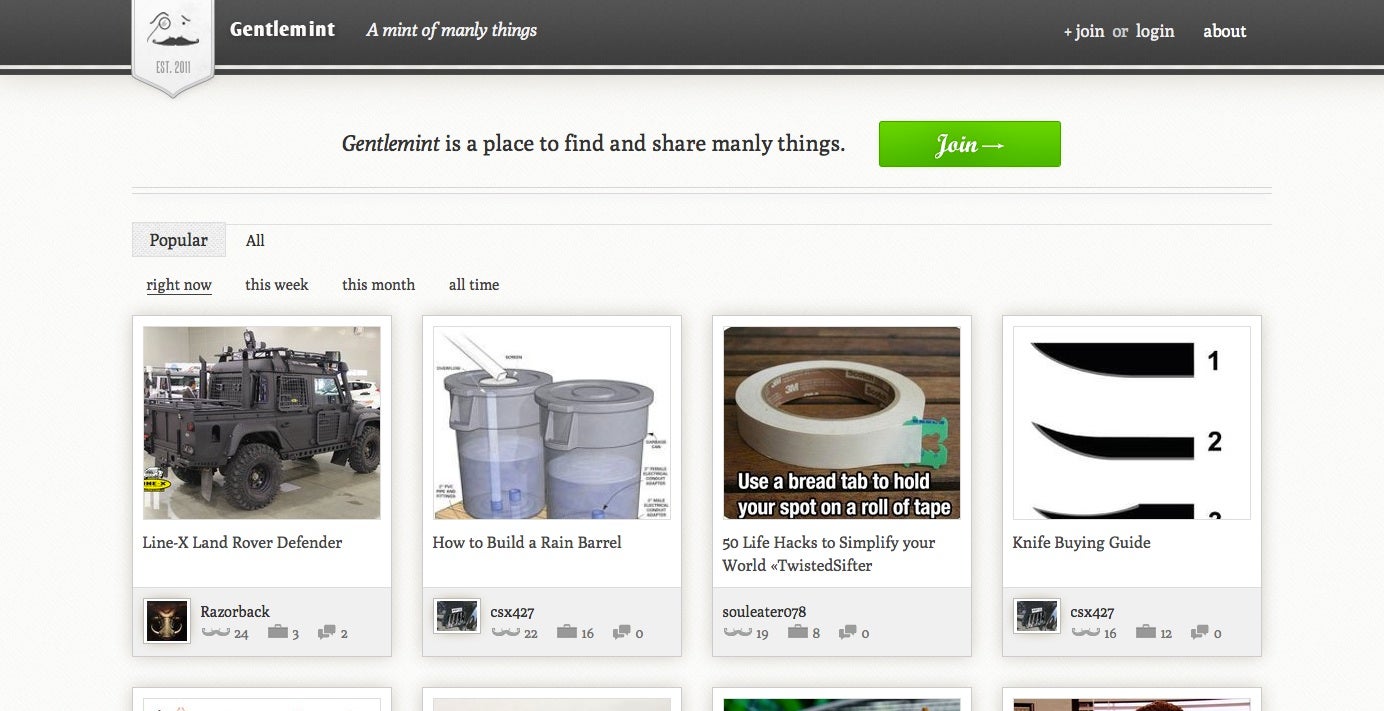 Screenshot via Gentlemint
Gentlemint, the site that offers "a mint of manly things," was founded in November 2011 and featured in PCMag's Top 100 Websites of 2012.
What started as a 12-hour hack day experiment has grown into a site where invited users can "tack" popular topics like barbecuing, DIY projects, bacon, Ron Swanson, alcohol, and interestingly enough, necktie knots (who knew there were so many different ways tie a necktie?) onto "collections" instead of boards.
"Pinterest is for sharing everything under the sun, and at Gentlemint we're just focused on 'manly' content. We don't care who is using the site—men, women, aliens—we're just interested in a subset of content," said cofounder Glen Stansberry.
Stansberry told the Daily Dot that one of the reasons Gentlemint stands out from the other pinboard sites is because of its stance on objectionable content, such as tacks that objectify women.
"We take pride—as does our community—with the fact that our site is very safe for work," Stansberry said. "We wanted to build a site that made the Web a better place, and one that we could be proud of. Content that objectifies was never part of that equation."
Stansberry said it's always been about content, not members' gender, and women who find Gentlemint's manly focus appealing are welcome to join the community.
"I think the fact that we try to make the site as respectful as possible to everyone keeps most of the criticism at bay," Stansberry said.
He's clearly trying to put the 'gentlemen' in Gentlemint.
Dude Rank: 9/10. A wide variety of topics with a clear male slant, though being invite-only may discourage some potential users.
Dudepins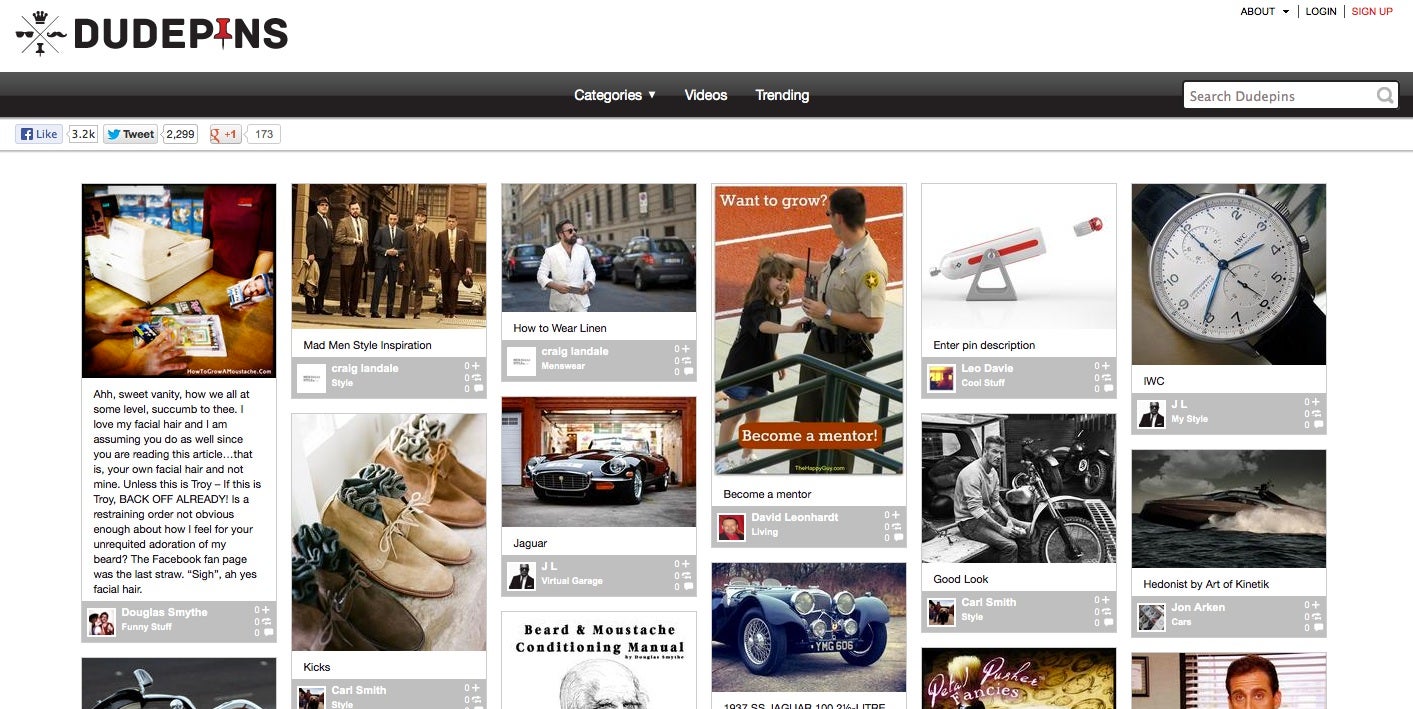 Screenshot via Dudepins
Dudepins refers to itself as "the site for men and manly interests," hoping you'll "man up. sign up. pin up."
"We built Dudepins with the goal of being the place to discover, share and buy interesting stuff for guys," cofounder Kamil Szybalski told the Daily Dot. "Our goal isn't to be an alternative, or 'male version', but rather as a place where people can easily discover cool stuff for guys."
Similar to Gentlemint and Pinterest, you can like and comment on images, which you can pin onto Dudepins's version of boards—montages. Anyone can join the site and, according to Szybalski, Dudepins actually has a growing "dudette" base.
"As a guy I ask myself, how many times have a sought the advice of a women when dressing up for a night on the town? Exactly," Szybalski says. 
He believes guys search the Internet in a unique way, and Pinterest doesn't fit with that style.
"People need a place to discover, share and buy manly things. Dudepins is becoming that place."
Dude Rank: 8/10. The categories and content clearly scream "dude," but might not be right for those who want more than "Man-Caves" and "Dude-Stuff."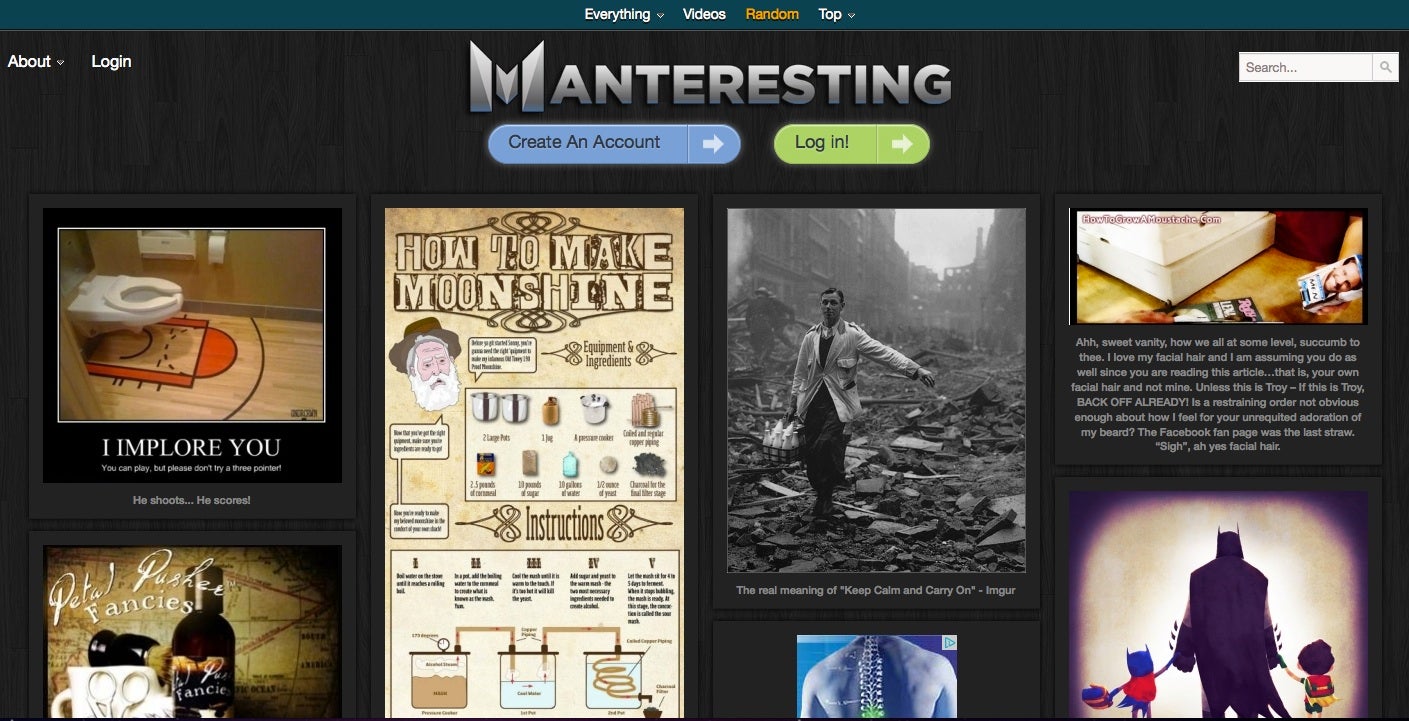 Screenshot via MANteresting
If one of these three sites doesn't interest you, there are other options, too. MANteresting and Mancray are also similar to Pinterest with a focus on more manly content. So if you can't get your man-fix through pinning on Pinterest, jump ship and see what other tack, pin, or dart is right for you.
Illustration by Jason Reed