The city of Austin has long tangled with companies aiming to bring app-based ride share services to the city. The city takes the position that it needs to regulate transportation services so not just anyone can pretend to be a taxi without the proper license and insurance. Ride share startups, however, have bristled at what they see as unfair regulation that prevents them from doing business.
But for Uber, a loophole that lets it to operate during SXSW through a corporate event contract means it's back in the city for South by Southwest.
While weary and rain-soaked festial goers might be thrilled, the city has issued a warning about using the service. 
Unpermitted ground transportation services are possibly recruiting for drivers in Austin, so the City of Austin wants people to be aware of the rules and risks before unintentionally breaking the law and incurring legal costs. 

In order to drive a ground transportation vehicle, a compensated driver must carry an operating permit, a chauffer's permit and commercial insurance. Violating any one of these requirements could result in up to a $500 fine, totaling a possible $1,500 fine if all requirements are violated.  Additionally, drivers who do not comply with the law risk having their vehicle impounded.

The Austin Transportation and Police Departments encourage South by Southwest festival goers to use permitted transportation services and to learn the law before registering as drivers for vehicle for hire services during SXSW.
The site goes on to list services like Car2Go and carpooling app Carma as alternatives. When I called the Austin police department to ask about the statement, I was told it was more like saying you could use Uber at your own risk, and that the police simply wanted to warn people that some of the drivers may not have the correct licensing or all of the permits that are required to operate. 
Really, it sounds like a warning for drivers that are working for Uber this week more than anything else. The company has been recruiting in Austin to staff up for SXSW, and apparently there's cause for concern regarding whether these new contract employees have all of the paperwork they need.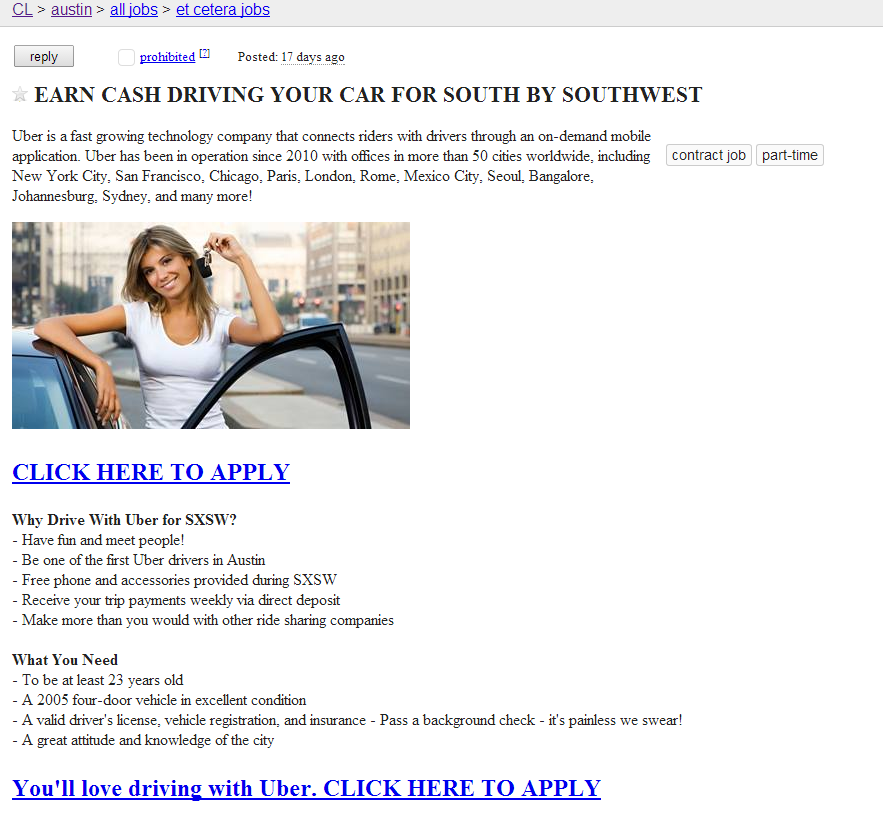 "All our UberBLACK and pedicab partners are licensed with the city," an Uber rep tells me, also mentioning that there are a limited number of uberX (it's ridesharing option, so non-professional drivers) cars on the system for promotional purposes only, and that these are free so they aren't breaking any laws. 
Austin has a tumultuous relationship with crowd-sourcing and sharing economy apps. Lyft also isn't allowed in the city (though it too has been busy drumming up SXSW per the aforementioned event loophole; see the Facebook ad below) year-round, and recent ordinances are making it more difficult for residents to rent out their homes and apartments via services like HomeAway and Airbnb. 

Thus the tension between crowd-sharing and Austin continues. And as we are witnessing with the city's perhaps preemptive strike against Uber, SXSW is certainly highlighting some of this hostility. 
At least one thing remains clear: Surge-pricing is the worst. 
HOLY #surgepricing @uber_atx is expensive #SXSW pic.twitter.com/u4asgaXm1I

— Kyle Mills Hall (@llllMills) March 8, 2014
 H/T TechCrunch | Photo via Uber blog