White Famous is a good show trapped in a bad one. There's a lot of potential here, but it's all dragged down by hackneyed cliches and tone-deaf zingers.
The premise is a great one. Up-and-coming standup Floyd Mooney (Saturday Night Live's Jay Pharoah) is at a crossroads in his career. He wants to keep killing in the same Black clubs for the same Black audiences that got him noticed in the first place, hanging out with the mother of his child, Gwen (Lyndon Smith of Last Man on Earth), and living with his best friend, Balls (Jacob Ming-Trent, in a very enjoyable performance). But everyone in Hollywood is telling him he has to be bigger—he has to be "white famous"—from his agent, Malcolm (Mindy Project actor/rapper Utkarsh Ambudkar) to the show's producer, Jamie Foxx himself. Floyd wants to be a good provider for his son, but he's torn between the authenticity his comedy career has earned him and the possibility of soulless but lucrative stardom.
Pharoah is excellent here, and almost the only reason to watch the show. Anyone still under the impression that he's nothing more than a collection of great impressions can put that assumption to bed. As Floyd he's cantankerous and rebellious, despite also being completely charismatic. He makes the struggle of a Black entertainer being told on all fronts to sell out feel real and important. Floyd isn't always likable, but you have to respect his unwavering commitment to his principles.
Which is why it's ironic that White Famous feels like such a blatant attempt at pandering. Showtime obviously realized this is the right moment for this show. But the end result here is one that wants to push boundaries and provide commentary, yet can't help but to fall victim to jokes so bad (or offensive) they would be more at home on a Chuck Lorre sitcom.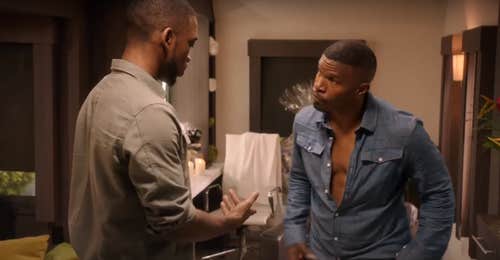 If you're wondering who to blame here, look no further than creator Tom Kapinos. Kapinos co-created White Famous with Black writers Buddy Lewis and Chris Spencer, who came up in Hollywood at the same time Foxx did. Their involvement, along with Foxx's, lends the show built-in credibility. However, it's Kapinos' voice which shines through most consistently.
Kapinos previously created Showtime's Californication, which ran for seven seasons. Following the adventures of a hard-living novelist played by David Duchovny in Hollywood, Californication started out merely regressive before descending into full-blown sexism by the end. As Duchovny's effortlessly charming Hank Moody fell ass-backward into bed with one naked woman after another, one eventually had to ask whether Kapinos' fixation on the vapidity of Hollywood was pointed or just gross. Almost any goodwill the show amassed in its time is now buried under a layer of leering masculinity which simply wouldn't fly if Showtime tried to put it on the air today.
This is the thing about intersectionality. You can't make a show expect people to applaud its depiction of Blackness when its depiction of women is so hollow. Racial politics don't negate sexual politics, and vice versa.
Consider the character of Stu Beggs, a creepy Hollywood producer played by Stephen Tobolowsky (a stalwart character actor whose talents are wasted on Kapinos' sophomoric dialog.) Tobolowsky previously portrayed Beggs for several seasons on Californication, and as was the joke on that show, the depiction here seems to be, "look, it's funny how racist and sexist he is because, you know, that's bad." But even racist and sexist characters who we're meant to laugh at can be paralyzingly toxic. Kapinos almost seems to be suggesting there's something endearing about this guy because he just can't help himself. But there's only so much offensive humor an audience can take before the joke feels like it's not on the character, but on us. On top of which, was there a single person alive who actually wanted to see this guy back on their TV screens? And what does that make White Famous anyway: a sort of sequel to Californication? Is this the latest installment in Kapinos' extended L.A. universe? All of the options are bad here.
Kapinos, like many writers before him, is clearly fascinated by the idea of outsiders in the entertainment industry. This has long been a classic Hollywood story, one which is often very worth telling. However, Kapinos is so obsessed with roguish male characters who can't help but attract troves of beautiful women, most of whom are used as props, that any goodwill from actual Hollywood outsiders is sure to be erased when they actually see the show.
I'm starting to think the cardinal sin of most Showtime series is that they're poorly directed. Showtime and the other creative forces behind its shows too often make no effort to forge a distinctive or interesting look. On another network, who knows what we might've got. Instead, on Showtime White Famous is a mix of soft lighting, stagnant camerawork, and bad transitions, reminiscent of Kapinos' own Californication.
I want to believe this show can get better. It's unfair to dismiss it as nothing more than a vanity project for Foxx (whose own appearance in the first episode is surprisingly funny). This is partially because White Famous is a showcase for Pharaoh, despite being somewhat based on Foxx, and because there really is a great idea at its core. But this is also why shows like Atlanta and Insecure have mostly Black writing staffs. 
Maybe I'll give White Famous a few more episodes. Maybe I'll even give it a whole season. But I can't get all the way to the end of another show and end up shaking my head like I did with Californication. I just can't.
https://www.youtube.com/watch?v=6A75xVUKFzo