Waves, the latest film from Trey Edward Shults, isn't one that invites an easy read. 
Waves
RELEASE DATE:
11/15/2019
DIRECTOR:
Trey Edward Shults
Shults takes old scars and opens up a new family drama.  
At its core, it's about an upper-middle-class family living in South Florida: Tyler (Kelvin Harrison Jr.), a star wrestler; his younger, quieter sister Emily (Taylor Russell); mother Catharine (Renée Elise Goldsberry), and father Ronald (Sterling K. Brown). Tyler is our initial guide into this world, conveyed in a dizzying 360-degree opening shot of him and girlfriend Alexis (Alexa Demie) driving with the windows down, music blaring. It disorients but also pulls you in. 
Shults tells the Daily Dot that the images and music of Waves have been in his head since high school, where he was also a wrestler. The 31-year-old, who grew up in Texas, sustained the same shoulder injury as Tyler does in the film. He had a stepdad who pushed him competitively. The movie was always with him, even when he was doing other projects.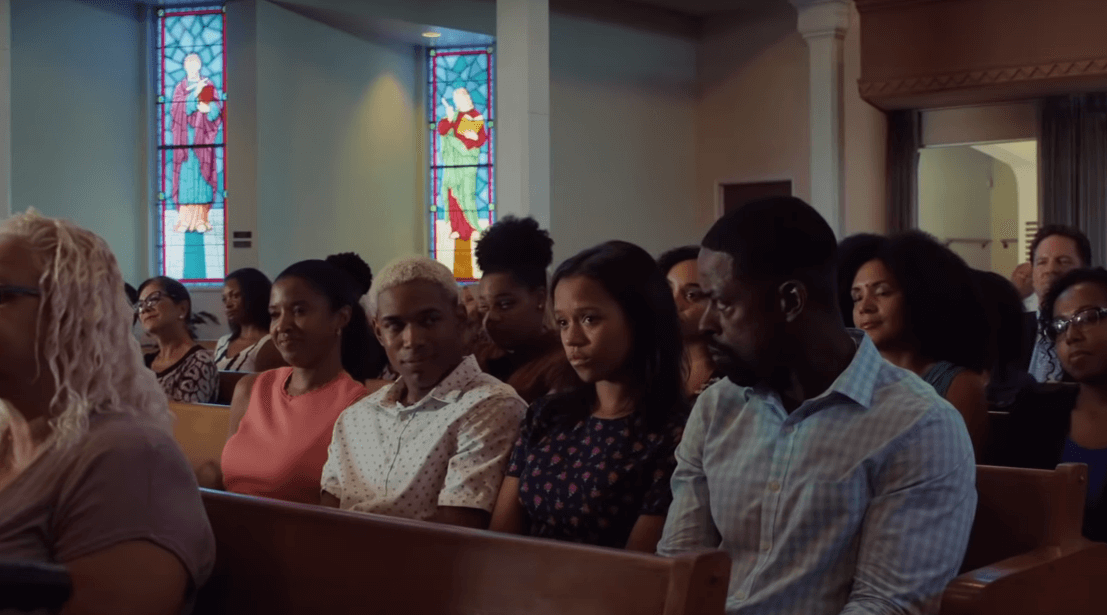 After working with Harrison on 2017's It Comes At Night, the two struck up a friendship and the "broad strokes" of the film in his head started to bleed into a more cohesive family narrative. Once Harrison was on board as Tyler, their conversations turned into "mini therapy sessions," as the two discussed upbringings and struggles with paternal relationships, which informed the characters of Tyler and Ronald. Shults was aware that a white director telling a Black family's story could be scrutinized, and wanted to make sure there was a balance. The relationship between Tyler and his dad dominates the first half of the film: Ronald conveys that Black men have to "try ten times as hard" to get ahead. In a locker room scene, a sign reads, in part, "The pain is temporary." 
Waves mirrors parts of Shults' 2015 debut Krisha, which features some of the same dizzying camerawork from longtime cinematographer Drew Daniels. As with Krisha's titular character (played by Shults' real-life aunt), we follow Tyler with a mounting feeling of dread, amplified by Atticus Ross and Trent Reznor's score. A pivotal wrestling match is filmed like a scene from a horror movie; a tense text exchange between Tyler and Alexis bottles up the panic. But Tyler is also a young Black man in America.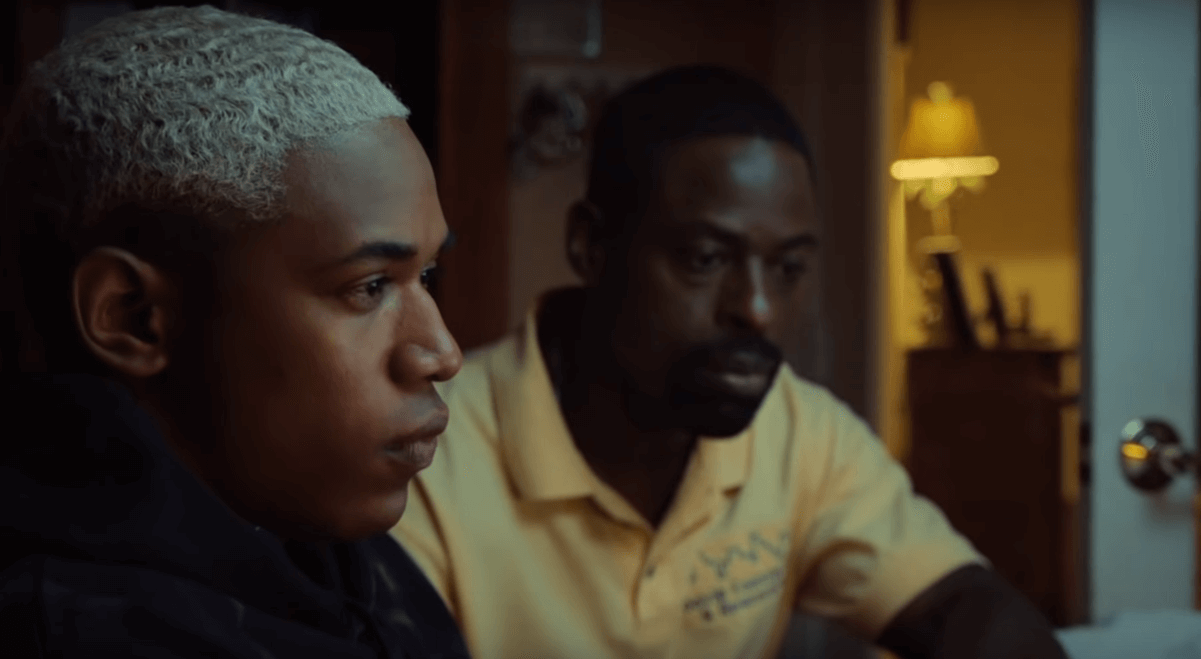 At a certain point in Waves, it feels like a denouement is coming, due in part to a shrinking aspect ratio and series of tragic events. Then it pulls you in even deeper, as Emily becomes the focus. The bifurcation is a bold choice; Shults could potentially lose some of his audience, and the second half does require a little readjusting. It's also an incredibly emotional and sensual depiction of nature and place. Moving to Florida from Texas was influential for Shults: The film has been "shifting and morphing forever but it really started clicking into place when I was living there." 
Emily, played by standout Russell, starts wearing her hair differently, dressing differently; the second half is completely different in color and tone. She meets Luke (Lucas Hedges) and the two become inseparable. Shults films Florida beaches, afternoon rainstorms, and their unfolding love story with a painterly eye. They travel to see Luke's estranged father before he dies, which is something Shults really did. Days after watching the movie, flashes of color or image would come back to me, like remnants of a drug trip. It might be hard to get a read because Waves isn't about events as much as the feelings you leave the theater with.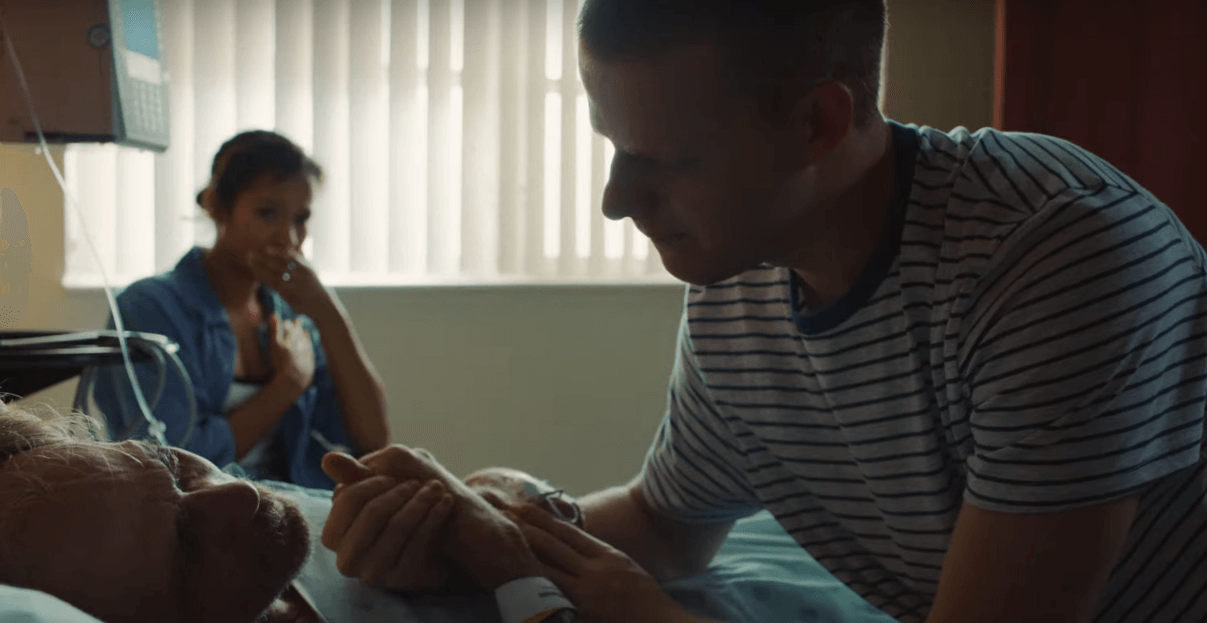 It's clear that A24 is trying to draw in a younger audience here; Waves shares a few parallels with HBO's Euphoria, including Demie, who filmed Waves before she started working on the series. (Daniels also got hired on the show.) There's a deep-bench soundtrack, including Animal Collective and Frank Ocean; Shults wanted the songs to inform different scenes, from a well-placed Tyler the Creator song to an ominous rendition of Kendrick Lamar's "Backseat Freestyle." 
Kanye West's "I Am a God" is included in a pivotal scene. Shults previously expressed interest in a Kanye biopic, telling the Independent in 2017: "My dream is, he will see and like my movies and let me pick his brain apart." Shults says that even though they've never corresponded, he's even more interested after the release of Jesus Is King. 
"I have no actual idea for a movie," he adds. "But the idea of it is kind of amazing."