Si tienes cable o un paquete de transmisión de TV en vivo, deberías dejar de hacer lo que estás haciendo y descargar Fox Sports Go. ¿Por qué? La aplicación hace que sea fácil ver una transmisión en vivo de Fox Sports sin importar dónde te encuentres, qué dispositivo estés usando o en qué canal de Fox Sports estés interesado, todo sin costo adicional para ti. Ya sea que quieras ver fútbol americano universitario en línea o necesites una forma de retransmitir el béisbol de las Grandes Ligas, aquí encontrarás todo lo que necesitas saber sobre Fox Sports Go.
Cómo funciona Fox Sports Go
Con Fox Sports Go puedes ver cualquier canal de la red de Fox Sports incluido en tu suscripción de transmisión de TV por cable o en vivo desde una aplicación centralizada. Eso incluye Fox Sports, FS1, FS2, Fox College Sports, Fox Soccer Plus, Fox Deportes, la Big Ten Network y cualquier canal regional de Fox Sports a los que pudieras tener acceso. Puedes ver en la captura de pantalla que aparece a continuación que, en función de mi ubicación actual (en las afueras de Dallas), yo podría retransmitir dos canales diferentes de Fox Southwest.
Todo lo que tienes que hacer, después de descargar la aplicación o visitar el sitio de Fox Sports Go, es ingresar tus datos de acceso. Eso eliminará el ícono en forma de llave que ves arriba, que señala el contenido para cuyo acceso se requiere una suscripción. La aplicación y el sitio se cargarán automáticamente con los canales disponibles en tu zona. También obtienes acceso a repeticiones (la Copa del Mundo de 2018 aún está disponible), los momentos destacados y todos tus programas favoritos.
¿Quieres asegurarte de poder ver una transmisión en vivo específica de Fox Sports? Puedes hacer clic en la pestaña A Continuación para ver un calendario completo de eventos.
Dispositivos compatibles con Fox Sports Go
Fox Sports Go funciona con la mayoría de los dispositivos de transmisión, incluidos Roku, Apple TV, Google Chromecast, Amazon Fire Stick y Fire TV, y dispositivos iOS y Android.
Costo de Fox Sports Go
La aplicación Fox Sports Go se puede descargar gratis. Sin embargo, necesitarás una suscripción de transmisión de TV por cable o en vivo para acceder a la mayor parte del contenido que quieras ver. Eso significa que el verdadero costo de usar Fox Sports Go depende de tu proveedor de servicios.
Transmisión en vivo de Fox Sports: 5 formas de ver eventos en línea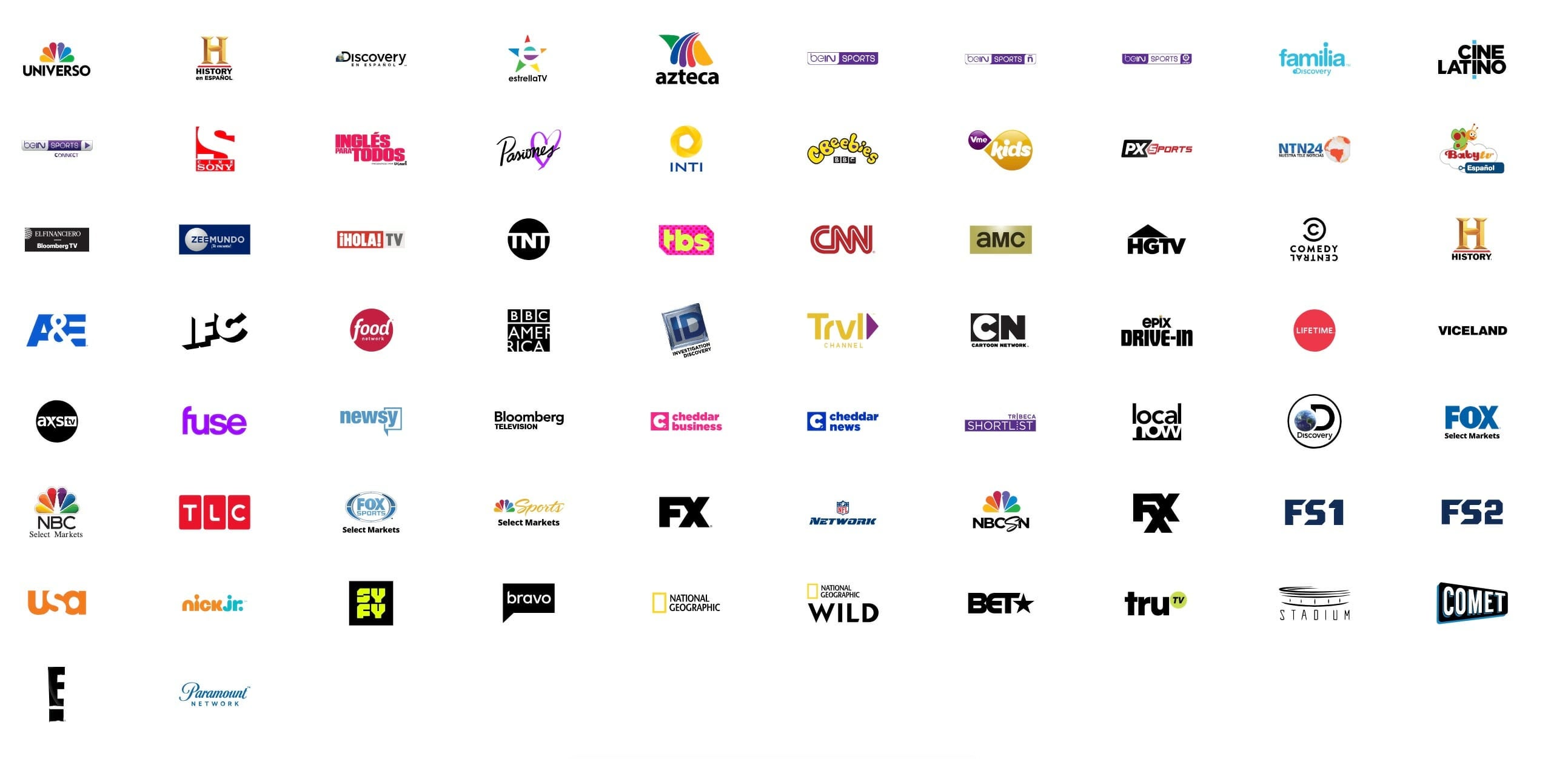 Sling TV es una de las opciones más accesibles y flexibles para ver televisión en vivo por Internet. Puedes escoger entre dos planes básicos, cualquiera de los cuales cuesta $30 al mes. Sling Orange ofrece tres canales de ESPN, Disney Channel y Freeform, junto con otros 20 canales. Sling Blue ofrece aún más canales, incluyendo algunas opciones locales, FS1, FX y canales especializados en deportes como NFL Network. Por $40 al mes, puedes combinar los dos paquetes en el bien llamado Sling Orange + Blue. Sling TV te permite personalizar aún mejor con más de una docena de paquetes adicionales de deportes, comedia y mucho más. También podrás rentar películas o suscribirte a canales premium como Showtime y Starz.
Para las familias bilingües, también hay Sling TV Latino, un paquete que incluye más de 15 canales en español imprescindibles por $10 al mes, incluyendo NBC Universo, beIN Sports y History en Español. También puedes añadir el paquete Best of Spanish TV a Sling Orange o Sling Blue por solo $5 al mes para tener canales como ESPN Deportes.
---
Hulu ya es la mejor manera de estar al día con tus programas de televisión favoritos. El servicio de streaming cuesta solo $5.99 al mes (con anuncios), y te permite ver todas tus comedias y dibujos animados para adultos favoritos actuales (y clásicos) a la carta, por no hablar de los originales de Hulu como El cuento de la criada (The Handmaid's Tale). Pero ahora también puedes ver televisión en vivo. Por $44.99 al mes, Hulu con TV en vivo ofrece más de 60 canales, incluyendo ESPN, ESPN2, The CW, HGTV, TNT y CNN, además de todos los canales locales que acostumbras ver. (Aquí está la lista completa los canales de TV en vivo de Hulu). También puedes agregar canales premium como HBO y Showtime. ¿Lo mejor? Tendrás acceso al resto del catálogo bajo demanda de Hulu de forma gratuita, aunque es posible que quieras adquirir la versión libre de comerciales.
Las familias bilingües podrán ver Telemundo en el paquete básico, y el paquete adicional en español de $4.99 al mes incluye ESPN Deportes, NBC Universo, CNN en Español y más.
---
FuboTV es conocido principalmente como un servicio de transmisión de deportes y es sin duda la mejor opción que hay para el futbol internacional, pero es mucho más que eso. Además de las opciones especializadas en deportes como NFL Network, Big Ten Network y NBA TV, tendrás buenos canales como HGTV, CNN, Bravo, AMC, BBC America, Hallmark y Lifetime Movies. De hecho, el paquete básico de FuboTV ofrece más de 85 canales sin siquiera incluir Comedy Central, MTV, Nickelodeon, Paramount Network, VH1 y otros canales que serán añadidos pronto gracias a un nuevo acuerdo con Viacom. Lo único que le falta es ESPN.
Para las familias bilingües, es difícil ganarle a FuboTV. Cada suscripción tiene UniMás, Galavisión, NBC Universo, beIN Sports, Univision y Fox Deportes. Por $7.99 más al mes, Latino Plus agrega CNN en Español, TyC Sports y otros.
---
YouTube TV logra un equilibrio perfecto entre los deportes (MLB Network, NBA TV y un paquete completo de canales de ESPN), las noticias (CNN, MSNBC y BBC World News) y el entretenimiento (AMC, HGTV y TBS). Tiene un par de inconvenientes: no puedes agregar HBO ni usarlo en dispositivos Amazon Fire y, con excepción de Telemundo y NBC Universo, no tiene canales en español. Pero puedes crear hasta seis cuentas con cada suscripción, y cada una tiene DVR ilimitado en la nube. Eso por sí solo hace que valga la pena considerar el servicio.
The Daily Dot puede recibir un pago en relación con las compras de productos o servicios que aparecen en este artículo.
Este artículo fue escrito originalmente por Austin Powell en inglés.