Former FBI Director James Comey's Trump tell-all is set to drop next week, so snippets are starting to leak to drum up interest.
Not only are they juicy—saying he thought Hillary Clinton would win the election and revealing that Trump asked him to investigate the pee tape—they've cemented Comey's status as a messy bitch who lives for drama. At least according to Twitter.
Did not expect that Comey's book would be as catty and self-serving as Michael Wolff's

— Christopher Hooks (@cd_hooks) April 12, 2018
https://twitter.com/rrd3564/status/984597913954344961
Just look at the CNN front page.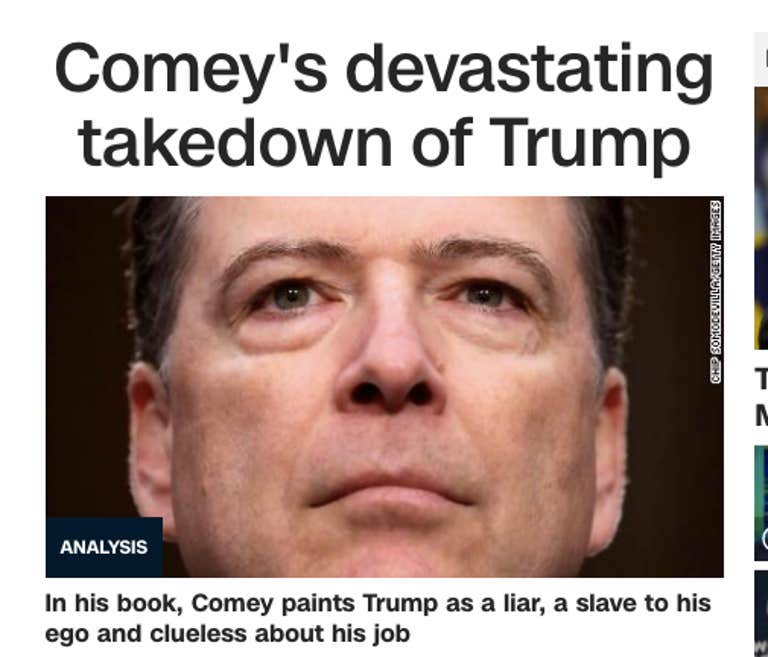 That is some messy bitch stuff.
The phrase—in case you didn't know—originates from Joanne the Scammer and involves anyone who loves getting in other people's shit and watching it play out.
It's like someone who would get deep into salacious details, exposing a colleague or friend just to see how the rest of the world would react.
Basically, Comey's book.
And Twitter is living for it.
https://twitter.com/kevincollier/status/984547249672867840
Comey is a messy bitch

— Bernie's not done yet (@vodkasnowflake) April 12, 2018
Full disclosure: I absolutely will be getting Comey's book, for no other reason than I'm a messy bitch who loves drama.

— Rachie A (@GetFuktHoosier) April 12, 2018
It's all messy bitch stuff.
Lordy, Comey even included a bit about Trump's hands in the book.
'His hands were smaller than mine': James Comey thought @RealDonaldTrump was shorter in person and not very strong https://t.co/dtKUSBEiPu

— Sarah Burris (@SarahBurris) April 12, 2018
Comey a messy bitch https://t.co/GSnibGqZdp

— Wakawakawakanda (@DarthDandious) April 12, 2018
He dishes on Trump's chief of staff.
https://twitter.com/ctconklin5/status/984503543175532545
But it isn't just this tell all—his performance in front of Congress, his very obvious subtweets—Comey long ago cemented his status as messy bitch.
shaky logic here but love that Comey's owning being a messy bitch who lives for drama https://t.co/FzguLn3Lw1

— Owen Ellickson (@onlxn) February 1, 2018
Amy Klobuchar during Senate hearing: "Mr Comey, gay twitter has called you, and I quote, 'a messy bitch who lives for drama.' Is that true?"

— Phil (@prettygoodphil) May 18, 2017
comey is a sagittarius so you know he's a messy bitch who lives for DRAMA

— judgmentalgay (@jdgmntlgay) June 8, 2017
And to think, this messy bitch was in charge of the entire FBI. Now you start to see why he sent that last-minute Hillary letter.
And he sure knows how to rile up his haters.
James Comey is a proven LEAKER & LIAR. Virtually everyone in Washington thought he should be fired for the terrible job he did-until he was, in fact, fired. He leaked CLASSIFIED information, for which he should be prosecuted. He lied to Congress under OATH. He is a weak and…..

— Donald J. Trump (@realDonaldTrump) April 13, 2018
….untruthful slime ball who was, as time has proven, a terrible Director of the FBI. His handling of the Crooked Hillary Clinton case, and the events surrounding it, will go down as one of the worst "botch jobs" of history. It was my great honor to fire James Comey!

— Donald J. Trump (@realDonaldTrump) April 13, 2018
Look in 2018 we're all living for the drama.
H/T Jezebel