This article contains frank descriptions of disordered eating.
Movies take us anywhere we want to go. But movies can also take us places we need to go, even though we'd rather not.
That's the space Marti Noxon's directorial debut, To the Bone, lives in. And it is a film that feels lived in. It's about a young woman, Ellen (Lily Collins, who gives a breathtaking performance), struggling with anorexia. But that's not entirely fair, because Ellen isn't the only one struggling. The exploration of the struggle and desperation of the people in Ellen's orbit is where To the Bone distinguishes itself.
The film tracks Ellen's journey from being kicked out of a treatment center to her efforts in an experimental facility. The facility is run by Dr. William Beckham (Keanu Reeves), and it's here where Ellen, and the film, spends most of its time. The day-to-day life at the facility brings to the fore one of the movie's larger themes: The importance of accepting yourself and being comfortable in your own skin. That's so much easier said than done, and the thing I admire most about To the Bone is its commitment to showing that struggle.
When Ellen makes progress, it comes with an asterisk. You can sense that she's already accepted her fate. It's right there in every scene, whether Ellen is smoking and putting on a cool front, or hanging out with her best friend at Beckman's center, Luke (Alex Sharp). It's hard to watch someone who knows they're in trouble not take their situation seriously.
Inevitably Ellen (or Eli, as she rebrands herself) has to hit rock bottom before any real change can be achieved. Watching her sink isn't easy to watch, but Collins gives the kind of performance that makes you want to stay with Ellen and help her get to where she needs to be. Collins' physicality is front and center in the movie, and the way she moves around is as potent as any of her line readings. Ellen is all angles, wearing her wardrobe like a kite.
The film has been criticized for glorifying anorexia, but Ellen is shot to look harrowing and hopeless. Noxon uses these shots sparingly for maximum effect. In the lineage of hard-to-watch films, it's far from the explicitness of something like Requiem for a Dream, but no less effective.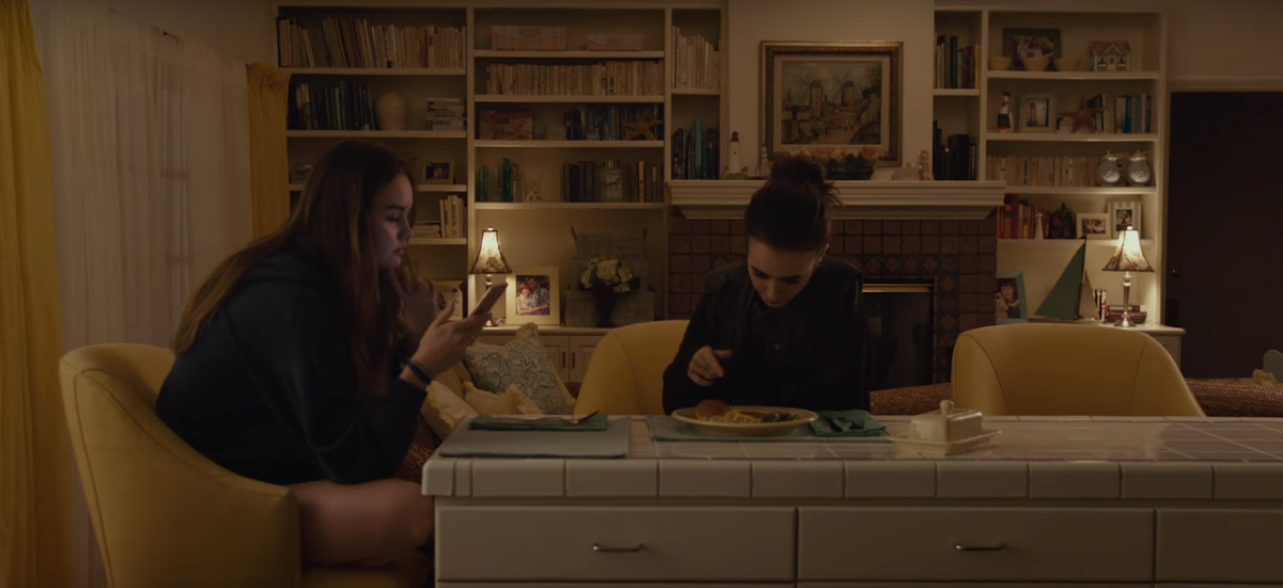 To the Bone is the kind of film where a character can say, "I'm a problem, and it's all my fault," and have it land like an uppercut. The characters, at one point or another, are brutally honest about themselves. But it's dished out with enough self-deprecation you can tell when the real epiphanies occur. The film's narrative is straightforward, with no tricks or cheats. The realizations are earned the hard way, and the film is better for it.
To the Bone is a showcase for Collins and Noxon. (How is this just Noxon's first film as director? Be better Hollywood.) But the supporting cast deserves recognition as well. Sharp, in particular, stands out. He plays Luke as the upbeat guy, everyone's cheerleader. He does it for himself as much as he does it for the others. Sharp's work reminds me of Ansel Elgort's Manic Pixie Dream Boy turn in The Fault in Our Stars.
Ellen's triumvirate of mothers (played by Lili Taylor, Kelly Preston, and Brooke Smith) add more layers, as all three wear their frustration and failure with Ellen on their sleeves. But above all they are desperate. They're desperate to help Ellen. Desperate for Ellen to get better. Desperate for someone to get through to Ellen. The moms are only in a few scenes, but those scenes tell us so much about the characters and their world.
To the Bone is one of the upper echelon Netflix films to date. Between this and Okja, Netflix is having a great summer. Despite dealing with heavy subject matter, To the Bone handles it deftly. There will be critics who say otherwise, but I hope people give the film a chance. To the Bone deserves it.