In late September, Tim Heidecker and Eric Wareheim debuted their commercial for GE's new "smart" lightbulb, featuring Jeff Goldblum. The comedy duo's no stranger to riffing on ridiculous products via their Cinco sketches, but they've started to blur the lines between real and fake brands, and it's wonderful.
The latest example: this commercial for Totino's pizza rolls.
It appears to be a legit collaboration; the sketch is featured on a Totino's website, alongside this distinctly Tim & Eric-esque couple. The Totino's Tumblr is a gallery of meme-ified pizza worship tweaked to appeal to the Totino's "lifestyle."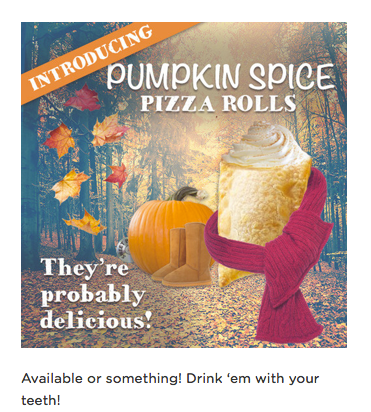 The video also includes a message from Totino's:
We asked some of our favorite comedians/TV stars/Cinco salesmen, Tim and Eric, to cook up some products aimed at helping you live that Totino's life. Everyone is a creator of that pizza life in their own way. That's why we created the Idea Oven, where your genius ideas go to fun harder.
The clip includes the usual assortment of Tim & Eric oddballs, or rather, "pizza freaks," espousing the Totino's life. All that's missing is Dr. Steve Brule biting into a piping-hot pizza roll and burning the roof of his mouth. 
I haven't wanted to eat Totino's pizza rolls since college, but after seeing them stuffed into a saxophone, they're all I want now. Great job.
Screengrab via Totino's Pizza Rolls/YouTube