One question has dominated every thought and utterance during this insufferable, two-week build-up to the Super Bowl: Will Stephen Gostkowski or Jake Elliott split the uprights for a championship-winning field goal when the Patriots and Eagles face off in Minneapolis on Sunday?
Kickers are always there, in the searing limelight of the final moments, lining up to determine which pack of rabid men go home winners, and which go home holding the proverbial L. We scoff at kickers until we don't: When everything is on the line, when every drop of sweat and blood has been spilled in the mad pursuit of glory, when there's nothing more to do but to watch a guy try to boot a football through two yellow posts.
Toxic masculinity explains why kickers aren't seen as an integral part of a football team. They're seen as something ancillary to the real men doing battle in the modern-day coliseum every Sunday.
Kickers aren't out there rattling guys' brains around their skulls or physically tormenting them at the bottom of a pile or humiliating opponents in the open field. A kicker's role in the game is far outside the bounds of the terrible, traditional manliness that pervades every aspect of action on the gridiron. (Kickers also aren't living like geriatrics in their 40s as their bodies malfunction thanks to a sport human beings weren't meant to play.)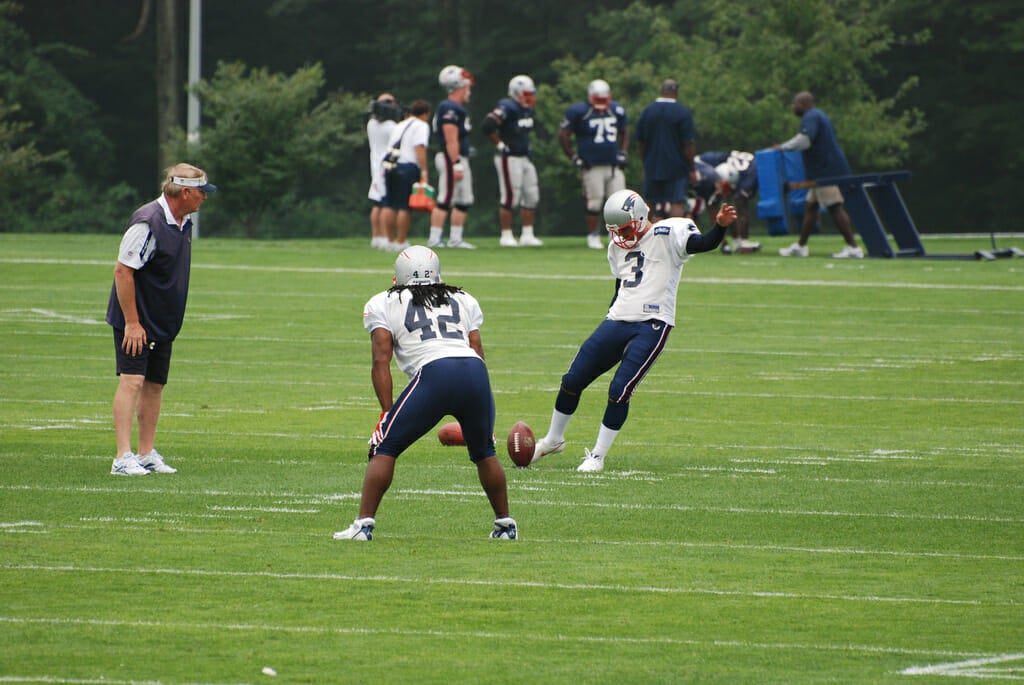 Lest we forget: Every Patriots Super Bowl win during the neverending Brady-Belichik era has been decided by a single score. Check out these final scores during the greatest championship run in modern team sports: 20-17, 32-29, 24-21, 14-17, 17-21, 28-24, and 34-28. It's the universe's answer to the string of hideous blowouts during the early '90s Super Bowls. Every New England title was in doubt until the final, harrowing moments.  
I write a weekly kicker column during the NFL regular season for fantasy football purposes, and while the losers and haters are apoplectic about my column, a lot of readers are thirsty for tips and tricks on how to project a kicker's production. This makes sense, as fantasy footballers are the thirstiest people on the planet, always looking for an edge on the competition. Their all-consuming obsession makes them both lovable and only occasionally dangerous.
A big part of predicting a kicker's weekly success is determining if his team will win or lose in the upcoming matchup. Kickers on winning squads are much more likely to attempt field goals in the second half of a game. Their team isn't chasing points in the third and fourth quarters, foregoing field goal opportunities and gunning for touchdowns. We usually determine a kicker's likelihood of benefiting from "positive game script"—when his team isn't playing from behind—by looking to Vegas.
The powers that be in Vegas have New England as a 4.5-point favorite over Philadelphia on the neutral Minnesota field. That's a not-insignificant point in Gostkowski's column. After all, the longtime Pats kicker has averaged 2.59 field goal tries in New England wins this season. Over his 12-year run with the Patriots, Gostkowski—one of the only kickers who fantasy players will unforgivably draft early—has averaged 2.18 field goal attempts in victories. Tack on his stellar 87.6 percent career field goal rate (the third-highest in NFL history) and his eye-popping 92.5 percent conversion rate in 2017, and you have a better-than-good candidate to rack up points in Sunday's Super Bowl. Maybe even the 3-pointer that wins it.
Elliott, in the other corner, was a revelation in 2017. Drafted by no one, known by even fewer, Elliott was signed by Philly after its opening-day starter succumbed to injury and swiftly converted multiple field goals in his first seven games with the Eagles. That included an absolute rocket-shot 61-yarder to beat the Giants in Week 3, sending Eagles fans into hysterics. You are technically deceased if Elliotts' parents' reaction to that game-winner doesn't stir some sort of emotion. I wasn't ugly crying when I came across this video. You can't prove that.
Elliott averaged a solid 2.25 field goal attempts in Eagles victories this season, so if you think Philadelphia can pull the upset, Elliott's opportunity should be there, perhaps late in a close contest. There are, by the bye, credible reasons to believe the Eagles can beat the Patriots, who aren't your dad's Patriots, or your older sibling's, or the ones from the George W. Bush administration. These Pats were by some measures barely above average for a good chunk of the 2017 campaign.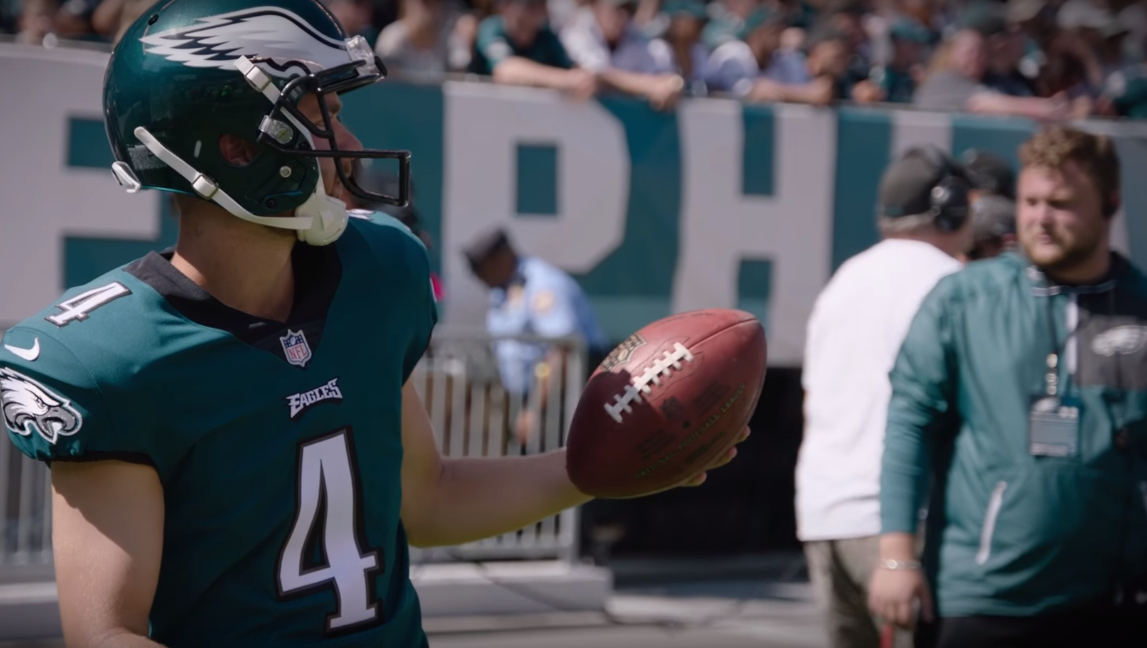 The good folks over at numberFire, the analytics-based sports site, have New England pegged with a 62.9 percent chance to beat the Eagles and take home the Lombardi trophy. That's what we in the business call a very high percentage, and a very good chance to do the damn thing. It's technical language—don't bother to understand. Similarly, numberFire's projection machine has Gostkowski with the slightest edge on Elliott. I thought taking a look at how many field goals these teams have allowed in losing efforts would offer some glimmer of insight, but alas, both teams have given up exactly the same number of field goal tries in their six combined losses this season, with teams that beat New England and Philly averaging a measly 1.33 field goal attempts. That's absurd, since losing teams are facing opponents who have the luxury of settling for field goals throughout the ballgame—not just in the first half.
Both teams' kicking outlooks are remarkably similar, making this little exercise the most maddening thing I've done since that time I had to untangle 40 feet of muddy extension cord for the Christmas lights. Even a longtime, committed Patriots hater like me can't pretend Gostkowski's experience on the most intense stage doesn't matter: He's made all three of his field goal tries in four Super Bowls. You read that right: Gostkowski has attempted a mere three kicks in four Super Bowl appearances. But with New England favored, the algorithms pointing its way, and Gostkowski's consistent opportunity to make kicks, I'm forced by the raw power of reason to lean his way and say that he, not Elliott, has the best chance to make the kick that evaded poor Scott Norwood, but never Adam Vinatieri.
Elliott, of course, has a word of warning.
"I don't really think about those [game-winning] moments too much," he told the Morning Call this week. "I kind of let the flow of the game take care of itself, and I'll be ready in those moments."