Just hours after Chrissy Teigen announced on Sunday that she's quit Snapchat, the app's stock value plummeted yet again.
On Twitter, Teigen explained she's decided to quit the app thanks to the controversial redesign, the fact that her fans say they can no longer find her updates, and because of the tone-deaf ad that used Rihanna to mock domestic violence.
I stopped using snap. The update, the constant complaints of people not being able to find me, plus the Rihanna poll…no bueno

— christine teigen (@chrissyteigen) March 24, 2018
After Rihanna deleted Snapchat, the company's stock fell 4 percent just hours after she announced it and when Kylie Jenner complained about the new redesign in February, the stock fell a whopping 8 percent. It looks like the company's headed for a similar day on the market—since Teigen tweeted yesterday, Snapchat stock fell a little over 1.3 percent.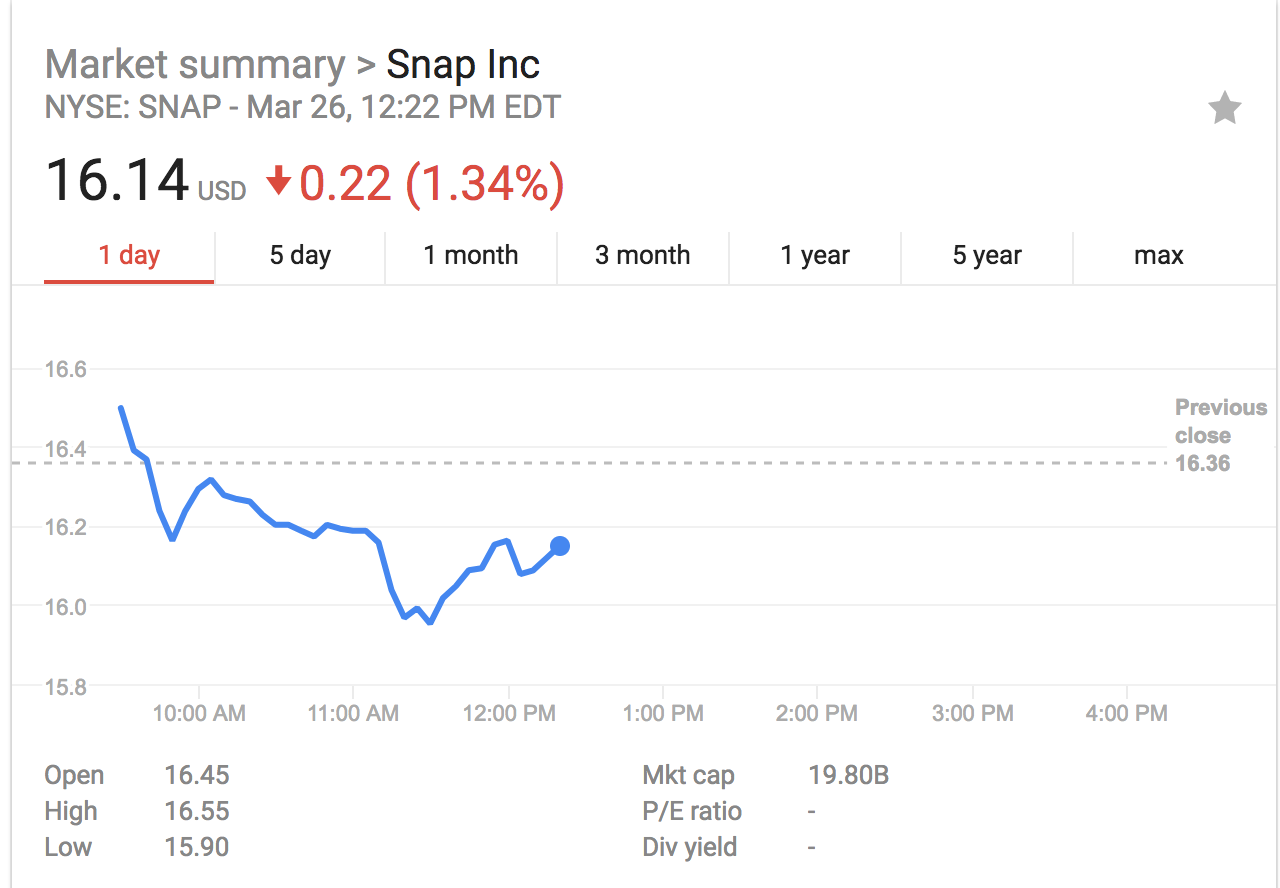 Some users on Twitter criticized Teigen and said instead of just quitting the app, she should work with the company to fix the issues, for the sake of employees who could potentially be fired. Teigen had no problem firing back at the haters.
Me / you pic.twitter.com/FGOaH7MU1J

— christine teigen (@chrissyteigen) March 25, 2018
Except concerns have been brought up for months and this isn't different from any other company where quality affects sales. Everyone has been very vocal about the changes and frustrations. Consumers shouldn't *have* to work with companies beyond that.

— christine teigen (@chrissyteigen) March 24, 2018
or do I pic.twitter.com/rt82Vvqcdo

— christine teigen (@chrissyteigen) March 26, 2018
This isn't the first time Teigen voiced her disappointment with Snapchat's new interface. When fans first expressed sadness that they couldn't easily see Teigen's story on Snapchat anymore, Teigen said she wondered how many people hating the app that it would take for the app to revert to its former interface.
I'm seeing this same comment so often. I liked that you guys felt like we were friends. I'm sad it doesn't feel like that anymore. How many people have to hate an update for it to be reconsidered? https://t.co/PI7OAf9Qlg

— christine teigen (@chrissyteigen) February 9, 2018
More often than ever, celebrities are finding their opinions wield a whole lot of power over brands—and clearly, they're not afraid to use them.