In the fading twilight of the 18th century, Jane Austen, the daughter of a middle-class English clergyman, began writing a novel called First Impressions. It received no interest from publishers. Years later, after publishing her first novel, she retitled the book and tried again.  
Pride and Prejudice was published on January 28, 1813. It sold out its first two printings in less than a year and has been a worldwide literary phenomenon—and, more recently, a pop culture phenomenon—ever since.
To celebrate the 200th birthday of one of the greatest love stories of all time, not to mention the story with perhaps the biggest fandom in history, we decided to go to the pros: the cast and crew of the The Lizzie Bennet Diaries, the YouTube series that retells Austen's timeless romance with social satire.
We asked the cast and crew to tell us their thoughts on Pride and Prejudice's 200th birthday. Enjoy—and share with us some of the universal truths this classic story has taught you!
Ashley Clements, actress, Lizzie Bennet
I love that P&P is a story that has actually made me reevaluate my own judgments and first impressions, as well as [being] a swoon-worthy romance.
Jay Bushman, Transmedia producer
I love how you can draw a fairly straight line from Pride and Prejudice to just about every modern romantic comedy. It's the blueprint."
Kate Rorick, writer
I didn't 'discover' Pride and Prejudice, so much as it was assigned to me sophomore year of high school.  Expecting it to be like other reading assignments, I dreaded it as homework, as a necessary duty, as something—*gasp*—old.  But as we all know, first impressions can be misleading.

It was the first book I ever read that engrossed me completely, that pulled me into its world and has never fully let me go.  It birthed a reader and a writer and a fan of empire waistlines.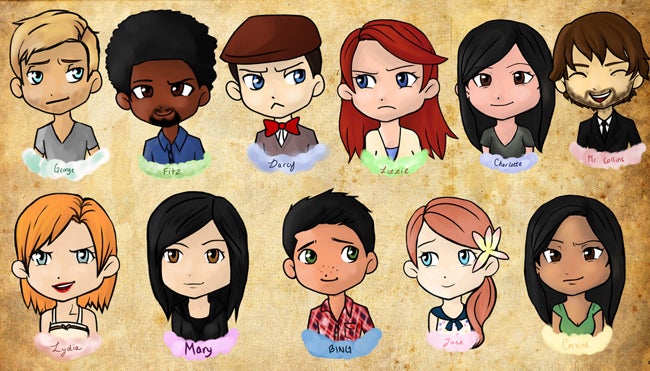 Then and now: Pride and Prejudice, illustrated in 1915 and fanart for the Lizzie Bennet Diaries
Illustrations  via Women's History/About.com and tetra-zelda/Deviantart
Margaret Dunlap, writer and coexecutive producer
I've always had a warm place in my heart for Charlotte, who decides not to hold out for true love, but still does okay in the end.  That probably says something horrible about my sense of romance, but it definitely speaks to the broad appeal of the book.  While we all might aspire to be as perfectly compatible as Elizabeth and Darcy, Austen gives us room to believe that there's more than one path to happiness.
Jenni Powell, producer
To me the book means family. Because not only it is about a family, in the Bennets, it brought forth a new family for me: the cast and crew of The Lizzie Bennet Diaries.
Mary Kate Wiles, actress, Lydia Bennet
Pride and Prejudice has been one of my favorite stories since I was a kid and Elizabeth Bennet one of my favorite female protagonists. Of course now I am loving experiencing this story in a brand new way, and my feelings for Lydia are much fonder than they ever were before.
Maxwell Glick, Actor, Mr. Collins
Pride & Prejudice was one of the first books I read in high school and it was taught to me by my favorite English teacher. It introduced me to what great literature is, and to get the chance to portray Mr. Collins years later is just an absolute thrill for me. I'm sure in another 200 years, Pride & Prejudice will still be one of the most read and most loved books of that generation as well.
Looking back on 200 years of fandom, we can't help but agree.
Illustration by flominowa/Deviantart